Notes from the heart
In the city to support Kisan Swaraj Yatra, Punjabi singer Rabbi Shergill comes across as a man of few words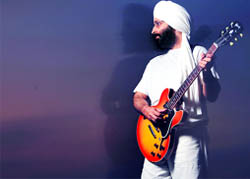 You mind if we say that Punjabis are plain lucky? We squeeze the statement and apply it to the music industry. To begin with, first with the Punjabi music industry—we all know about the zillion singers and their mushrooming growth. Now, cut to Bollywood music industry, Punjabi music has made a successful entry into it as well. Think about a Hindi movie that doesn't entertain the audiences with a peppy Punjabi track? Amidst all this aahun aahun, we caught up with Rabbi Shergill, the singer, philosopher who is not, certainly not in a hurry to touch Bollywood milestone.
Music knows no language
Traditional musical instruments dominated Day 1 of SAARC Folklore and Heritage Festival

We take so much pride in our Punjabi heritage; it's so much a part and parcel of our lives. But students of Shivalik Public School, Mohali, were in for a surprise on Friday as Algozas Orchestra presented Punjabi folk music during the ongoing SAARC Folklore and Heritage Festival. Quite different from 'Bollywood Punjabi', this troupe from Mansa, performed on traditional instruments, including sarangi, sapp, ghara, kaato and dhol.


Photos: Vicky Gharu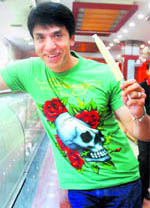 Number game
The TRPs for the first week weren't very encouraging. They remained constant for the next couple of months as well, until people started relating to the storyline. Now after completing 200 episodes, the statistics of Sasuraal Gandaphul have taken a 180-degree turn. "We began with the TRP of 0.5 and have now soared to 5.1. The reasons behind success are the usual ones-hardwork, dedication, storyline and improvisation," says Sooraj Thapar, who was in the city on Friday on a personal visit. Named after algoza, a Punjabi woodwind instrument that resembles a pair of wooden flutes, this orchestra delighted the audience with the beautiful sounds of traditional instruments.

Sooraj Thapar. Photo: S Chandan

Agony & ecstasy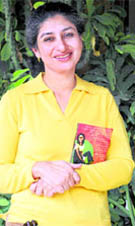 Aradhika Sharma, an agony aunt of a popular website, has come up with her latest venture Dear Agony Aunt
"I am always in agony." Such words from an agony aunt might sound like euphemism. But Aradhika Sharma, an agony aunt of a popular website, whose book Dear Agony Aunt was launched at Lajpat Rai Bhawan on Friday, as part of ongoing Rupa book fair, shares that it is precisely because she herself agonises over small little things of life that makes her understand the predicament of her subjects whom she in a tongue-in-cheek manner calls "inagonies." But for this aside, she is more than earnest in offering advice to those who seek it. Even when her knee-jerk reaction is "get lost", she takes a long breath and then goes about proffering advice with empathy and detachment, both.

Photo: Pradeep Tewari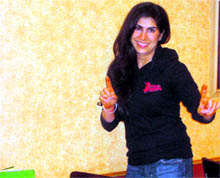 Spicy beat
Combining beats of bhangra with cardiovascular exercises, fitness guru Sarina Jain's Masala Bhangra is a workout that is suitable for all ages
She is the Jane Fonda of India, has followers all over the world and has one of the top five workouts regimens in the US. Dressed in jeans and black Masala Bhangra hoodie, this tall, toned up, beauty greets with a sweet Sat Sri Akal at a Sector 35 bistro.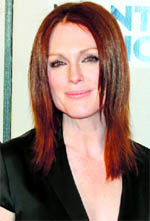 Give me some Mo(o)re
Hollywood actor Julianne Moore features as a Greek goddess in the latest Pirelli calendar
The actor, Julianne Moore, who celebrated her 50th birthday Friday, features as Hera, the Greek goddess of marriage in the black and white limited edition calendar based on the theme of mythology. It features men too this time. Moore is joined by other models as well in the Pirelli calendar, which is printed annually since past 40 years and is a limited edition publication given to special VIPs only. In the past, supermodel Kate Moss also posed for it, and four years ago screen legend Sophie Loren posed for the calendar at the age of 72. The latest calendar was unveiled in Moscow and was put together by designer Karl Lagerfeld.
Make-up man
Tom Cruise is stealing his wife's cosmetics
Hollywood superstar Tom Cruise is reportedly stealing cosmetics from wife Katie Holmes make-up supplies in a bid to look young. The 48-year-old actor is so worried about his appearance these days that he is taking help of his actor wife's cosmetics.
Simple life
Nicole Kidman has lost interest in fashion
Hollywood star Nicole Kidman has become 'less interested' in fashion after becoming a mother and describes her style as 'simple'. The 'Australia' star - who has two-year-old daughter Sunday Rose with country music star Keith Urban, as well as two adopted children, Bella, 18, and Connor, 15, with ex-husband Tom Cruise—was into style more when she was younger and believes having a kid has made her fashion-sense simpler.
Vegetables for vitality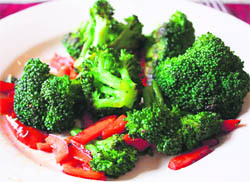 You may as well see the writing on the wall. Our body needs veggies like flowers need sunshine. Even meat-khorrs like me will find it hard to argue about the health benefits of fresh fruit and vegetables. They are the ultimate health food and have significant nutritional value, including vitamins, minerals and phytochemicals. Look for colour when picking veggies at the mandi or from the rehriwaala down the street, like the red lycopene in tomatoes, the orange beta carotene in carrots and lutein in green vegetables.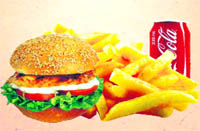 Mom, no junk please!
Be it junk or healthy food -- what you eat during pregnancy affects your child's food preferences as it helps to form their sense of smell, says a new study. A research team from the University of Colorado said a pregnant mother's diet sensitises her foetus to those particular smells and flavours and even shapes their brain development.
NGO Saplings—Care, We Share is spreading the message of cleaner and greener environment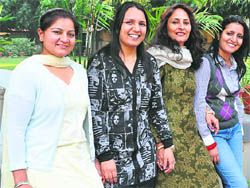 Saplings - Care, We Share is a group of people who are trying to contribute a part of their time, energy and ideas to the cause of environment. A brainchild of Neenu Vij and Pooja Nagrath, the NGO was conceived in August 2004, by a team of enthusiastic volunteers from diverse backgrounds. "We always hear about big policies, but what we can do as individuals was our main concern when we thought of Saplings," says Neenu Vij, the chairperson.

Photo: Parvesh Chauhan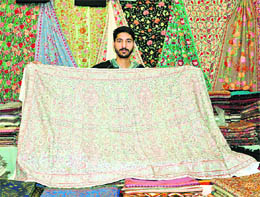 Warming up
Winter is here and if you are looking for some traditional woolies, Kashmiri sale at Panchayat Bhavan-18 (hall number-506) has brought shawls, stoles, suits and jackets for you. Stylish ponchos for all ages are available here and so is pure pashmina. One can pick up jackets, short and long, in aari work. Leather coats, traditional crewal bedcovers, running material for curtain and paper mashie knick-knacks are also on sale.


Photo: Parvesh Chauhan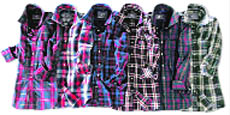 Chic look
ZOD! Club Wear takes eveningwear for men to a new level. With two-fold, 100 per cent Egyptian cotton fabrics and international-standard styling and intricate detailing on every shirt, this winter 2010 line is specially designed for the socially active male who wants a chic and sophisticated look.
POP art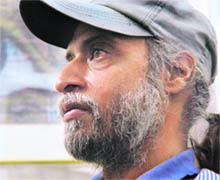 What are popcorns for? Simple answer, eating. But, if someone tells you that every popcorn has a picture hidden in it, will you believe it? Well, this has been proved by Tej Pal Singh, a retired teacher. "People eat popcorns, but they never try to see them closely. But if they do, they will come across images that will surprise them," he says. "I was eating popcorns one day when I realised that they present such interesting pictures. My first reaction was to click the photograph with my cell phone," he recalls.

Tej Pal Singh

Collector's delight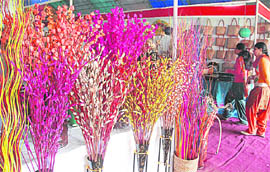 The Northeast bazaar in Sector 34 has a host of unique items to suit different tastes
We love exhibitions. And this was amply clear as craftsmen from Northeast opened their wares at the Northeast Bazaar, opposite the Sector 34 gurdwara. People immediately walked in and enquired about stuff they were interested in, even as young craftsmen settled their stalls.


Photos: S Chandan
Launch PAD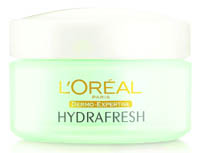 Skintillating
Discover Hydrafresh: L'Oreal Skincare Laboratories have formulated a hydration range with Pure SPA Water, directly extracted from the French Vosges Mountains. This incredibly pure water boosts the skin with essential vitamins and minerals and has proven efficacy on helping the skin to lock in moisture: it stimulates the skin's self moisturising process by strengthening the skin barrier so as to prevent water loss.