Familiar, with exotic highlights
Reviewed by Roopinder Singh
Granta: Pakistan
Ed. John Freeman.
Granta. Pages 288. Rs 599.
THE world seeks to understand Pakistan, even as that nation seeks to define itself, and who better to guide us than a collection of celebrated contemporary writers from the country that has gripped the imagination of the world for all the wrong reasons. We often forget that it is this land that gave such legends like Heer-Ranjha and Sassi-Panu, two of the most powerful love stories that form a part of our folklore; that the poets of the region have a centuries-old tradition of stringing together soul-stirring verses; the biting humour that expresses serious political critique—there is much more to Pakistan than terror, which it is experiencing as well as exporting.
Struggle for equality
Reviewed by Kanwalpreet
Changing Dalits: Exploration Across Time
By Paramjit S. Judge.
Rawat Publications. Pages 238. Rs 695.
PUNJAB is under turmoil and faces the threat of the emergence of long-term caste war." This grim prediction by Paramjit S. Judge about the future of Punjab is a warning to set its house in order. In fact, it is just not a warning for Punjab, rather for all the other states. Caste divides us horribly, and that is why it has become a big vote bank. The surprising fact is that its effect is not diminishing, even though education is spreading.
Shelf life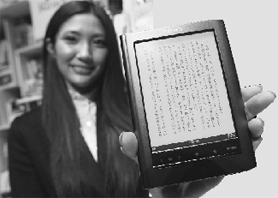 A model poses with Sony's new "Reader" e-book device at its unveiling in Tokyo last week Photo: Reuters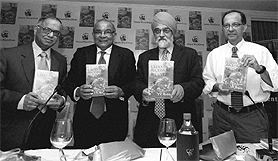 Deputy Chairman of Planning Commission Montek Singh Ahluwalia releases a book, Global Crisis, Recession and Uneven Recovery, written by former RBI Governor Y. V. Reddy (second from left), in New Delhi recently. Also seen are Infosys chief mentor N. R. Narayana Murthy and (extreme right) chief economic adviser to Prime Minister Kaushik Basu Photo: PTI

Innovative, indigenous practices
Reviewed by P. K. Vasudeva
Cost Management: A Strategic Approach
By S. C. Vaidya and Suveera Gill.
Macmillan India Ltd. Pages 355. Rs 298.
THE backdrop of the book is Indian industry. It is accumulated interactions, observations and research of the authors that has gone into the making of this book. The goal is to develop ways of cost accounting of the business and strategic approach to output-oriented management.
Flight to freedom
Reviewed by D. S. Cheema
Escape from Singapore
By Brig Jasbir Singh, SM.
Lancer. Pages 150. Rs 295.
THE book tells the story of a daring escape of three Indian Army officers from a Japanese Prisoner of War (PoW) camp in Singapore during World War II. Captain (later Brig) Balbir Singh, Capt (later Col) G. S. Parab of 4 Kumaon and Capt (later Brig) Pritam Singh of 5/6th Punjab Regiment fought another kind of war to travel thousands of miles on foot, boat and train in enemy territory and returned to their homeland almost after six months.
Sunset saga
Humra Quraishi
Khushwant Singh's new novel, The Sunset Club, looks at life through the eyes of three cronies in their twilight years
As you hold this latest book, The Sunset Club, from Khushwant Singh you simply marvel at his writing prowess — at 95, he is writing not just two weekly columns but also one book after another. No, no giving up. No slowing down. No retiring.


Dance internalised
Nonika Singh
While many aspersions having been cast over the organising committee of the Commonwealth Games, one person who has every reason to hold her head high is leading Kathak dancer Shovana Narayan, who incidentally is the Special Director- General, Ceremonies, Organising Committee, CWG. As the world gaped in wonder at both the opening and the closing ceremonies of the Games at New Delhi, she says, "It was a team effort. It started with me but soon as other,s like Bharat Bala and Bansi Kaul, joined in the ideas grew and we put it all together on a magnificent scale." The experience she recalls was fantastic. To compare it with her own dance performances would be fallacious, akin to putting oranges and apples together.
Short Takes
Gods, spiritualism and redemption
Randeep Wadehra
Where Gods Dwell
by Kusum Budhwar
Penguin. Pages: xxiii+271. Rs 299
Folktales form an essential ingredient in the evolution of cultures, reflecting prevailing observances, customs, traditions, beliefs, superstitions and prejudices of common people. Being a part of oral literature, folktales are heard and remembered from generation to generation. During the course of retellings, these get modified to suit extant socio-political-cultural requirements. Therefore, one would find mythological characters in folktales acquiring atypical antecedents and behaving quite differently from their "given" propensities/identities.

What Goes Around Comes Around
by Naveen BC
Frog Books. Pages: 237. Rs. 245
The Warrior's Mirror
by Sirshree
Penguin. xii+169. Rs. 150