ART & LITERATURE
'ART & SOUL
ENTERTAINMENT
TELEVISION
GARDEN LIFE
NATURE
FOOD TALK
CONSUMER, BEWARE!
FASHION
GLOBOSCOPE
BRIDGE
ULTA-PULTA
EARLIER FEATURE
TRAVEL
RELATIONSHIPS
DREAM THEME
TIME OFF

Separated, not split
Vimla Patil
| | |
| --- | --- |
| Leela Savlani is an executive chef in a famous restaurant chain. Her 20-year-old marriage – with two children – collapsed last year, thanks to the violent nature of her husband. "He would beat up the kids whenever he was in a foul mood and use objectionable language all the time," she says, "After he beat my daughter till she passed out, I applied for a divorce. But he made such an impasse about the custody of the kids that I finally turned the tables on him by refusing to go through with the divorce. | Gulzar and Rakhi's daughter Meghna could not accept their break-up, hence they did not get a formal divorce |
Dance of disrepute
Shyam Bhatia
There may have been stray attempts to rehabilitate these dancing girls, but their lives and future remain mostly bleak
Delhi's past and future come together on a road that has been celebrated for more than 100 years as the heart of the red light zone. Flanked on its northern axis by the Lahori Gate, and with Ajmeri Gate to its south, this is the controversial urban stretch of 150 m, where an estimated 3,500 to 4000 young girls eke out a living from the looked-down-upon profession of selling their bodies for a price.


FRUIT FACTS
GOING BANANAS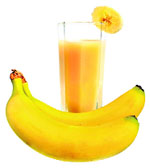 A team of Indian food scientists at Mumbai, led by Dr K.K. Surendranathan, for the first time have been able to develop a process for extracting juice from banana fruits. As known to all of us, bananas are not juicy fruits though these contain over 80 per cent water. The water forms an integral part of the edible pulp and therefore juice extraction is not possible by ordinary means.
— Dr Chiranjit Parmar
Master Artist
The works of Sobha Singh, who painted beauty and the goodness of life, have a unique place in the art heritage of Punjab, writes S. S. Bhatti
Creativity springs from an inner compulsion, is sustained by an inner conviction, and eventually rewarded by an inner satisfaction. Inner conviction for life is not possible without ultimate convictions. Even the sceptic is convinced that everything is doubtful.
Monkey business
Thought only human beings make friends? Not really, as a new study has found that unrelated male macaques in the wild form close social partnerships with select males in their groups that resembles human friendships. Moreover, it appears the motivation for those males to maintain close ties with other males is political in nature.
Theatre therapy
Chennai-based Ambika uses theatre as a rehabilitative tool for special children. With the help of dance and music, she has improved their communication and social skills, writes Hema Vijay
The young girl loved dancing and singing. Kuchipudi, Bharatanatyam and Carnatic music lifted her soul. So when young Ambika was asked to help out with the annual day dance presentation at Ramana Academy for the Visually Impaired in Bangalore, she took up the challenge enthusiastically.
Spouse and joy
It was always thought that happiness is related to money, success or good health, but a new study shows that happiness is hitched to your spouse. "What we saw over a long period of time is that if one spouse changed in terms of increasing happiness, the other spouse's happiness would go up," MSNBC quoted Christiane Hoppmann, professor of psychology at the University of British Columbia, as saying.
Rat reverence
It is the only place in the world where rats are worshipped. Karni Mata Temple draws people in droves to pay obeisance to rodents, writes Nutan Sehgal
Rats may be the dreaded carriers of plague but don't say anything nasty about this pesky rodent in front of a Rajasthani. He would frown at you — even turn ratty — if you were to talk ill of the species. Because rats are closely identified with Karni Mata, a 14th century mystic and an incarnation of Goddess Durga, one of the most revered deities in the desert state of India.
Typerighter
In the i-Pad era, typewriters still go clickety-clack, Jutika Chetia finds out
Ravi Robinson has been in love with his rusty but dependable typewriter for 40 long years and the bonds still go strong. In the era of the futuristic i-Pad and compact and high-speed laptop computers, Robinson has no intention of letting go the rickety machine that is his sole source of income. He is not the only one.
When words power images
A slew of new regional Indian films, set in diverse milieus, draw their inspiration from the enduring appeal of literature and mythology, writes Saibal Chatterjee
The power of the written word is as enormous as it is timeless. While commercial Indian cinema has abandoned literature as a source of inspiration, non-mainstream filmmakers around the country continue to tap its limitless possibilities.
'I still need to prove myself'
Steven Baker chats up Imran Khan, who is back with his latest release Break Ke Baad
Helmed by debut director Danish Aslam, Break Ke Baad, a film that Imran describes as "a young, urban love story", sees him paired opposite Deepika Padukone for the first time, in a production that has been shot in Delhi, Mumbai and Mauritius. Excerpts from an interview: