MODEL theory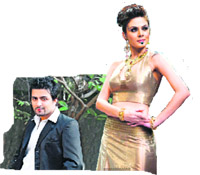 Good looks and the 'raring to go' attitude helps city's models carve a niche for themselves


Be it ramp walk, commercials or reality shows, models from our city register their strong presence. Does Chandigarh provide a good platform to those aiming at a career in the glam world or is it their individual effort that makes them stand out? We find out.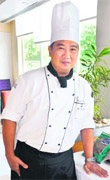 Even though on the home front it is women who rule the kitchen, most chefs in big restaurants continue to be men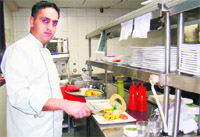 What's cooking got to do with men? Nothing if you see at the home front and everything when it comes to cooking a meal at a restaurant! Going by the industry standards — from Gordon Ramsay to Paul Bocuse, Bobby Flay, Anthony Bourdain to Thomas Keller all are men and are amongst the best chefs of the world, but when it comes to the home front it's women who rule the kitchen. We ask the men in business what makes them the king of a restaurant kitchen?

One for the road
Documentary FilMmaker Arjun Pandey spends as many as 250 days in a year travelling for his shoots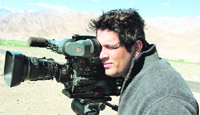 His friends know him as a swashbuckler, his family adores his warmth (with one or two odd instances when they want to retrace their judgment), and his friends see him as a teacher who likes to learn. Arjun Pandey, documentary filmmaker and CEO of 24 Frames, which is a full-fledged production house engaged in making corporate films, documentaries, training videos, current affairs programming and new media content development, including Narrowcasting, mobile content, IPTV et al. And nothing describes him best than the 'road'.
Winds of Change
Prem Chopra, Rahul Dev, Rannvijay and Jimmy Shergill are in the tricity for the shooting of Punjabi movie Dharti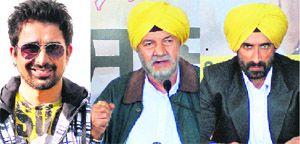 Punjabi movies — another word that describes it best is 'on the move.' Without much debate, it is evident that Punjabi cinema is headed for a change. As we catch up with the cast and crew of Punjabi movie Dharti in Mohali, we realise that actors from Bollywood have taken a liking to it.
Rannvijay, Prem Chopra and Rahul Dev
Best of folk art
The festive spirit continued with the same zest on the Day 2 of the SAARC Folklore and Heritage Festival. People enjoyed the performances by folk art groups from Bhutan and Pakistan.
Picks & piques
The Prized catch
Act 2

Bollywood actress Rani Mukherjee has signed a new movie with Aamir Khan and is all excited to be paired opposite her favourite co-star after a gap of five years. The actress said she is on board Reema Katgi's suspense drama opposite the 45-year-old actor. The film will go on floors in February next year. "Aamir and Shahrukh (Khan) are my most favourite co-stars. They worked with me when I was a newcomer and I have learnt a lot from them professionally as well as personally. I can do anything for them," Rani said. "After Ghulam and Mangal Pandey-the Rising, I am extremely excited to work with Aamir again," she added.
Family time on big screen
Life Goes On, the film which sees Sharmila Tagore share the screen with daughter Soha Ali Khan for the very first time, will hit theatres in North America before its release in India. Besides the unique distinction of casting the mother-daughter duo, the film boasts of the finest talent from Bollywood including veterans, Girish Karnad and Om Puri.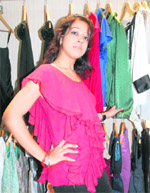 Right CUT
Designer store Vedic Belle opens in Sector 10
Looking for a garment that speaks of fusion in style? Well, your search has ended as the city has come up with 'Vedic Belle' in Sector-10. This store presents Indian art in contemporary designs. "Our designs are inspired by Indian art and we want to create garments that are a perfect blend of the contemporary and traditional," says the managing director Anuwant Pahwa. The store offers a wide variety of bridal wear, evening gowns and kurtas. "While creating the designs, we have experimented with both dark and light colours, as it is an autumn collection," says Shefali Bajaj, the designer.
Warming up to winter
As winter sets in, it's time to take out your woollens and get cozy in the warmth of those knitty knots. Liven up this winter with edgy styling, fashionable fits and playful detailing as John Players lines up an array of outerwear range from formal suits, casual jackets, to blazers and pullovers.
Wheel of life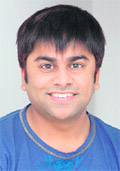 India's largest private radio FM network 92.7 BIG FM and Avon Cycles are all set to attempt the biggest ever Greenathon: Avon Big Greenathon. The Greenathon will engage the citizens of India to one unique pledge to cycle to work at least once in a week. The Radio Station - BIG FM has crafted Avon BIG Greenathon for all its 45 stations throughout the country. At Chandigarh, the Avon BIG Greenathon is all set to happen on December 6 at Sarovar Path RJ Anubhav will lead the Avon BIG Greenathon along with prominent sports person and bureaucrats of the city. The initiative has been crafted for a better and greener tomorrow. The AVON BIG Greenathon will be flagged off by government dignitaries and sports persons on Monday. Soon after the Greenathon, one lucky listener would be selected and would stand to win an Avon Jockey bicycle! - autographed by the RJ.