1 dead, 20 injured as terror strikes Varanasi
Blast during 'Ganga aarti'; Indian Mujahideen claims responsibility
Tribune News Service & PTI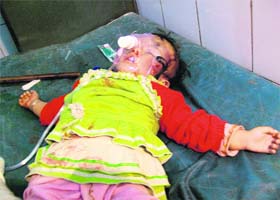 An injured child under treatment at a hospital. — PTI
Lucknow, December 7
The sound of chanting of mantras reverberating in the air during the 'Ganga aarti' in Varanasi turned into wails of people with the bang of an explosion this evening. A bomb blast on the stairs of Shitla Ghat near the Vishwanath temple in this holy town during the evening 'aarti' left one dead and more than 20 persons injured.
One-and-a-half-year-old blast victim Swaskita Sharma succumbed to her injuries at Marwari Hospital, said Varanasi IG RP Singh.
The responsibility for the blast was claimed by banned terror outfit Indian Mujahideen through an email, sent to several media houses. The mail was sent from Malad in Mumbai.


Indian Mujahideen claims responsibility
Five foreigners among those hurt
Minor stampede after blast
High alert sounded in Uttar Pradesh
Where it occurred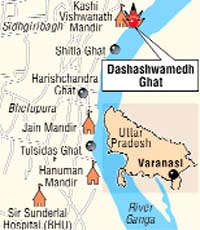 The blast, officially described as that of medium intensity, occurred between 6.30 pm and 6.40 pm. The noise of the blast triggered panic among the people who ran helter-skelter for their lives. Soon after the incident, there was a minor stampede in which some railings were also broken. The area was strewn with footwear, puja material, bags and other items.
However, unofficial sources said around 40 persons, including five foreigners, were brought to Marwari Hospital alone. According to Dr AK Singh of the hospital, around 10 of the injured, including a 50-year-old Italian named Alexdendro, are in a critical state.
According to ADG (Law and Order) Brij Lal, preliminary investigation reveals that the bomb had been left on the steps of the ghat. Refusing to comment on the explosive used in the blast, he said he would not like to guess till he hears from his officers.
A large number of devotees were present at the time of the blast for the special Tuesday evening aarti, dedicated to Lord Hanuman. There were many old women and children among the devotees. An NGO working against child trafficking was also holding a cultural programme on the ghat when the blast occurred.
A high alert has been sounded in the state, said Brij Lal. Incidentally, the state was already on alert for the 18th anniversary of the demolition of Babri Masjid that fell on December 6.
On March 7, 2006, also a Tuesday, a serial blast at Sankatmochan temple and Cantonment railway station had left 20 dead and 100 injured in Varanasi.