Multiplier effect
From multiple images to multiple mediums to multiple narratives, acclaimed artist Jitish Kallat has a bagful to offer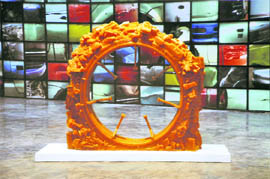 This isn't a linear narrative…." quipped globetrotting and internationally acclaimed artist Jitish Kallat soon after his lecture-cum-slide-show organised by Chandigarh Lalit Kala Akademi that began at the Government Museum auditorium in Sector 10. But then there is nothing linear about the young artist who in his short journey, has gone places. From multiple images to multiple mediums to multiple narratives, "if something can mean many things", it automatically finds space in Kallat's oeuvre. An oeuvre that is as exciting as it is unique, both in the choice of mediums and their representation. So one moment as in 365 Lives; 365 images of dented vehicles chronicle the tale of Mumbai, the city this Keralite was born and brought up in.
Voice within
In the city, actor Vasundhara Das shares how music remains her first love
The answer was simple. She would follow her heart, and it didn't take her time to find out what it longed for—music, music and more music. Each time she moved a little away from the heart's calling, it got her back with more zest and longing.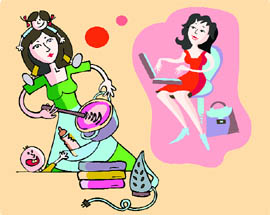 Matter of choice
Career is one significant part of life. But in this rush of ambition are we undermining the importance of relationships?
Waity Katie' is finally marrying her Prince. To be the future queen, Kate Middleton has given up her career aspirations to be a merchandiser (she hoped to be a photographer too). Being a member of Wales' royal family will have its own set of duties and obligations in which pursuing an independent career might not be an option. And then being a photographer or a merchandiser is probably not that appropriate a career for a 'royal'.
Renee Writes


Life is evolution
I am 29 years old and bored with my life. It is strange that when most people are looking forward to making their life more exciting, I just feel like retiring and not doing anything. I have been working for five years now, but nothing seems to be of particular interest to me. I have qualified as an MBA but since I always enjoyed writing, I am bored working in an architect's firm for a long time. I also feel I should get married. On the other hand, it would be nice to have some time to my own self. I can go on a spiritual retreat, may be just stay in an ashram for some time and discover myself. It is a very confusing this state of mind. Can you guide me?
Mark your success
Good grades do make you teachers' favourite whereas parents shower excessive love if you are their 'A' grader child. And now a new research has revealed that they also make students healthier adults. Studies have long shown that education is linked to better health showed that higher academic performance in high school plays a critical role in better health throughout life.
Bond wagon
Together we can
Relationship: Husband-wife
Time together: Seven years Same to same: Always ready to help poor; religious, family-oriented, enjoy cooking and entertaining guests; both are loving, caring and kindhearted.
Teen-trums
Sick teens are more isolated than other kids, but they do not necessarily realize it and often think their friendships are stronger than they actually are, a new study has revealed. The study is based on the surveys conducted long ago but it offers insight into the role that health plays in the relationships between people, said lead author and sociologist Steven Haas.
Lure of B-town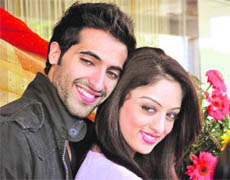 Actor Vivek Oberoi's cousin Akshay Oberoi makes a Bollywood debut with Is Life Mein
Is it survival of the fittest or survival through the fittest? Apply this funda to Bollywood, and expect it to yield results. To put it in simple words, Bollywood is one place where one can go long riding on someone's shoulders or just holding hands that make or break the industry. (This is a universal law). How else can you explain Abhisekh's Bachchan's innings or for that matter Barbie girl Katrina Kaif's? Standing on the podium, a good-looking boy chooses to take up things differently.
Akshay Oberoi with Sandeepa Dhar
Online mall
Isn't a survey as good as its findings? e-Commerce in India is mainstream, rural Indians are active online shoppers; as for the city, Chandigarh residents are history lovers, prefer technology, have bought the most shades and sold the most chess boards. e-Bay India Census 2010, the annual survey by eBay, India's e-commerce marketplace, bends a couple of stereotypes while breaks a couple of myths.
Look no further
Patience and Experience always pays and hard work never fails. This is the motto by which New Look Salon blends with Leaps & Bounds, an education academy, and announces its opening at Kharar. Brainchild of Sharmita Bhinder, personality and grooming coach, this venture aims to ensure that beauty and personality grooming are brought under one common roof at New Look.
Taste that differs
Two important things that Thailand is known for are reasonable shopping outlets and curries. To experience the first, one needs to visit the country; the second, however, is not that big a deal. Now, city folks can enjoy Thai cuisine at the Lobby-26 during the ongoing Thai food festival.
We love you Sheila
Bollywood actor Katrina Kaif might have expected a thunderous welcome at a mall in New Delhi on Tuesday afternoon, but much to her surprise, she was greeted with "We love you Sheila" shout by young Delhi boys, leaving her a little embarrassed.
Buy a date
Hollywood actor Charlize Theron has auctioned off a date with her for charity. The 35-year-old actor, who is enjoying her single status ever since splitting from boyfriend Stuart Townsend earlier this year, auctioned off a day with her to attend a Los Angeles Lakers basketball game, at a fundraiser for her charitable organisation in New York.
Oprah Ruined!
Chat show queen Oprah Winfrey, who has done select roles in Hollywood, is planning to star in a feature adaptation of Lynn Nottage's Pulitzer-award-winning play Ruined. HBO is developing the project as a potential TV movie and a starring vehicle for Winfrey with her Harpo Films production. Nottage is developing the screenplay Loosely inspired from by Bertold Brecht's Mother Courage and Her Children, the story centres on an independent businesswoman, Mama Nadi, and the women she employs in a canteen-brothel surrounded by the ongoing civil war in the Congo.
Sweat success
Hollywood star Kate Hudson is a disciplinarian when it comes to health and sweats it out for two hours every day to maintain her figure.
Out of Depp
Hollywood superstar Johnny Depp does not own a mobile phone because the actor does not like being "reachable all the time". The 47-year-old actor, known for playing quirky characters like Captain Jack Sparrow and Madhatter, likes to keep a low profile and has banned mobile phones from his life.