This Above all
Apostles of peace
Khushwant Singh

I was down with a heavy cold — sneezing, eyes watering, running nose, sore throat and cough. Inwardly, I prayed that my worthy guests depart and leave me alone in my misery. Out of the blue burst in Asma Jahangir. She had flown in from Lahore, dumped her baggage in India International Centre and come over as fast as she could as she knew I retired early.
Suddenly the mood of depression vanished. I welcomed her with open arms: "Mubarak ho! Shabaash!" I cried. She had just won a historic victory. She had been elected president of the Pakistan's Supreme Court Bar Association. That in a country ruled by mullahs and the Taliban, who forcibly put women in burqas, stone them to death if they are unfaithful and are forever preparing for a holy war against infidel India. It is, indeed, a great victory for a woman who strives for close ties with India. I have written before that she deserves the Nobel Prize for Peace.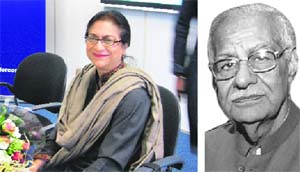 Asma Jahangir and Kuldip Nayar have worked tirelessly to improve ties between India and Pakistan
I add the name of Kuldip Nayar as a joint winner of the award because from our side he leads Indians who endeavour to bring the two countries closer — Hindi-Pak Bhai Bhai.
In both Pakistan and India people live in different centuries. In Pakistan a majority live in the middle ages and support imposing draconian Shariat laws on the people.
In India we have girls drinking and dancing through long nights, and walking distance villages in which elders sit on the charpoys smoking hookas, pronouncing annulment of love marriages if the couples belong to the same gotras, expelling them from the villages, and, at times even having them murdered. The likes of Asma and Kuldip are a rare phenomena and deserve the highest honours.
Policeman humourist
Rajbir Deswal is the most unusual police officer I have met. He is more eager to make a name for himself in the world of letters than by nabbing thieves and robbers. He is well on the way to succeeding in both his ambitions. He is IG Police of Haryana and has won the President's Police Medal. He is also a member of the Haryana Sahitya Akademi and won the Haryana Akademi's Pandit Lakhmi Chand Award.
He is a prolific writer. His middles appear regularly in several national dailies like The Tribune, Hindustan Times, The Indian Express and The Pioneer. So far he has seven books to his credit. My introduction to Haryanvi humour came through his writing. In the last two months he has produced two books — Hoor Menaka: The Seductress, an adaptation of Pandit Lakhmi Chand's drama; and a month later a second collection of his middles, Mall Watch: Write in the Middle (D.K. Books). Deswal wields a light pen. A vein of gentle humour runs through all he writes, which makes him highly readable.
English mispronounced
There are quite a few words of English which Indians from different parts of the country find it difficult to pronounce. Many South Indians pronounce 'M' as Yum. I recall Mohan Rao, who was head of the publications division talking on the phone to M.M. Ameer, Member of Parliament. When he put down the phone, he explained to me: "That was Yum Yum Yamir, Yumpee."
Many Bengalis find it hard to pronounce 'V' — so "very" becomes "bhery." They love using 'O' lavishly. A Bengali applied for six months' study leave to carry out a research on the life and teachings of Swami Vivekanand. He explained: "I will examine material on Shwami Bhibheka Nando."
There are many other examples. For Urdu speakers, school becomes "iskool." To Punjabis, it is Sekool. Stool becomes "istool" to Urdu speaking; "satool" to the Punjabi. Uncle becomes "unkil" to the Urdu speakers; "unkal" to the Punjabi. Scotch becomes "iskatch" to Urdu speakers; "sakotch" to the Punjabi. Speech becomes "ispeech" in Urdu; "sapeech" in Punjabi.
Why? The answer lies in the alphabets they use. In Urdu when 'S' is followed by a consonant "T", they insert a vowel in the middle.
Devnagari, which is derived from Sanskrit, does not have the problem. So Hindiwallas usually pronounce English words correctly.
I recall Bangladesh's famous poet Jasimuddin (Joshimuddin) who became a good friend, always greeting me: "Shordarjee, aap ko boro boj gayaa?"