TELEPROMPT
Food and flavour
Mannika Chopra

I realised I had been impacted by the innumerable cooking shows that I continuously watch when I told my Girl Friday to blanch the peas and then pop them into freezing ice cold water to retain a shining, green look for a pea risotto and spring onion preparation. I knew that because Jamie Oliver
had told me so in his weekly programme, Jamie's Kitchen, that used to be aired on Sundays on Zee Caf`E9. Being a culinary novice, I took this chef-cum-nature lover-cum-illustrator par excellence at his word.
In fact, I pretty much take the word of all the cooking gurus and food connoisseurs that seem to have invaded our TV screens over the year — from the temptress Nigella Lawson to Kylie Kwong, Rachel Allen (TLC), Sanjeev Kapoor (Zee Network) and Marut Sikka, Seema Chandra and Nikhil Chib (NDTV Good Times).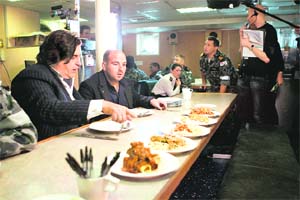 In comparison with MasterChef Australia, the Indian version lacks sophistication
It is not only lifestyle entertainment channels that have cooking shows and assorted culinary artistes showing off how easily they can toss up a Gujarati kadi or rustle up a delectable murg mussalam. Before you spelt papaddom, news channels had got into the buffet and today they, too, are taking this segment seriously. So now in the midst of the mayhem caused by the Radia tapes and bomb blasts, there are regular forays into the warm, welcoming world of food. Times Now and CNN-IBN air The Foodie and Secret Kitchens and Vinod Dua does an excellent presentation of little known regional gastronomic delights in Zaika India Ka on NDTV India.
These are, of course, just random, on the top-of-my-head examples; a mere tip of the iceberg lettuce. But having said that, it would be fair to say that food, its preparations and presentation on TV, has assaulted our senses as never before. It is all about food, glorious food. Dear couch potatoes, we are now, for the first time, about to dig into three dedicated channels devoted solely to food. One of them, Khana Khazana on Zee, is going to be aired a day before I file my column. A spin-off from a long-running cooking show that used to be anchored by chef and food personality Sanjeev Kapoor, the promos of the show have a lot of celebs tasting and toasting the channel, albeit sans Kapoor. Me thinks there is black in the lentil, especially as Kapoor is associated with another food channel, Food Food, slated to be launched in early 2011. The same period will also see another food channel, Food First, go on air. All three channels come with international collaborations but they are clearly eyeing the growing domestic viewership and a niche segment that is growing by leaps and bounds.
Even a rookie like me is hooked on to MasterChef Australia though I must say the reality show is beginning to pall a bit (Enough of the competition, and the master chef training classes, guys; announce a winner please). That peeve apart, in comparison with the Indian version of this franchise, MasterChef India, how shall I put it, sucks. Unsavoury and unimaginative, it lacks sophistication. This Akshay Kumar-starrer is basically chef comedy hour.
The challenge for these new food channels will be to make food sound and look interesting. I am sure that is not as easy as it sounds. I am guessing showcasing food must require some nifty camera work and a deep expertise by highly experienced food camerapersons. Just see what the food looks like in, say, Lawson's shows, and you will know what I mean. It is a visual treat. Everything, including Lawson, looks glossy, garnished and super-tempting. You get so close to the veggies you can almost see their pores. Food and ingredients come with tight shots taken under, I am guessing, many spotlights — often with a frontal focus, while the background appears in some hazy, artistic blur.
Then there are the acoustics; the varied sounds of food being prepared and cooked. As you clearly hear the onions sizzle and the oil splutter, you know that a mike has been placed strategically to pick up all the sounds.
Product placement is a trap that I fear the highly enjoyable, Koffee With Karan (Star World) has fallen into. First, there was the occasional smart positioning of Nescafe and K-Jo taking sips of steaming hot coffee out of a red cup; then came the Samsung tablet from which the smooth host read his rapid fire round; and now in the latest episode of KKK, we had guest Kareena Kapoor receiving a Louis Vuitton bag and a trolley for nearly acing a quiz on how well she knows her partner Saif Ali Khan. Hmmm`85What's next, frames of Wedgwood chinaware cups? Chippendale furniture? For an uber-cool show, K-Jo, this is not so cool. In fact, it's tacky.