In full bloom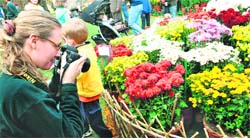 The chrysanthemum show, an annual feature, is a huge hit with city folks
It's time again for the chrysanthemum show and flowers are in full bloom. The festival, inaugurated on Friday by Pradip Mehra, Advisor to the Governor, will continue till Sunday."The show has been a success till now. It marks the onset of winter," informs Arun Kansal, executive engineer, horticulture division.
Like a prayer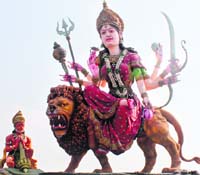 Some of us believe in a force that makes things happen and others have all the reasons to rebuff it. Acceptable. But for those who acknowledge this force, in due course of time begin to follow the signs it offers. JC Chaudhry, managing trustee, Maa Vaishno Devi Ashram, Vrindavan, follows signs and symbols that led him to accomplish a task that was next to impossible. He has recreated the magic of Maa Vaishno Devi Darshan at Vrindavan in Mathura (UP)."If not anything else, the idea is to facilitate devotees who are unable to take time off to go through the long queues of people climbing innumerable steps," says JC Chaudhry.
Stroke of GENIUS
He is no different from the other kids who want to run back to their play stations or television the minute they see an opportunity. But this 12-year-old guy, Srijan Gupta, studying in St John's High School, has been nominated as one of the top three kids in Pogo Amazing Kid Genius category.
Jackie's emotional problem
Once Bollywood's reigning star and now rapidly fading into obscurity, Jackie Shroff says with unusual candour that his weakness has been his inability to say no and remembers with some regret the many emotional decisions that cost him plum offers.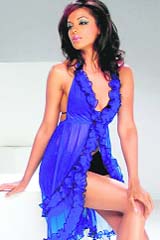 Mugdha Godse promotes nutritional products
Model-turned-actor Mugdha Godse has been signed on as the face for global nutrition company Herbalife's outer nutrition range of products—NouriFusion in India. She is the first non-sports personality to be associated with the brand, which had recently signed Indian badminton champion Saina Nehwal and five-time women's world boxing champion Mary Kom as their sponsored sportspersons.Mughda, who made her Bollywood debut in Madhur Bhandarkar's Fashion, is glad about her new association."It is a matter of pride to be associated with an internationally respected brand like Herbalife and to be able to represent the company's philosophy of living an active and healthy life," Mugdha said."Just as your body needs proper nutrition for long-term health, your skin and hair too require the right nourishment to keep you looking your best.

The Warrior's wish
After riding horses and surfing in the blue seas, Hollywood star Kate Bosworth now gets lethal with The Warrior's Way where she goes stabbing her nemesis with knives.

Win-win situation
Hollywood heartthrob Robert Pattinson raised a whopping $ 80,000 for charity by auctioning a meet-and-greet with himself.

DJ Sonya admits that a pretty face behind a console makes for the talk of the town, rather than the music
Someone does acknowledge the value attached to a beautiful face. Someone does admit that guys are more interested in noticing the contours of a girl's body, rather than appreciating the mind that can be amaze all and sundry around. Someone like DJ Sonya does admit that a pretty face behind a console would make for the talk of the town, rather than the music!Talk about minds losing stiffness, about people travelling the world over and coming back with positive experiences, and about eyes popping out on seeing a girl deejay! The petite and pretty girl Sonya, who plays at Kava on Friday and S Lounge on Saturday for Havana Club Nights, is not oblivious to the longevity of her profession, and whatever comes with it. We love her for calling spade a spade!

Changing MODEL
The modelling industry is no longer about supermodels; paradigms are fast changing
Mehar Bhasin and Milind Soman belonged to a different league altogether. Minus any support from Bollywood, they were celebs on the ramp in their own right. And the concept of supermodels, which they introduced, got over with them. Keeping their aspirations lucid, models today don't even vie for the supermodel tag.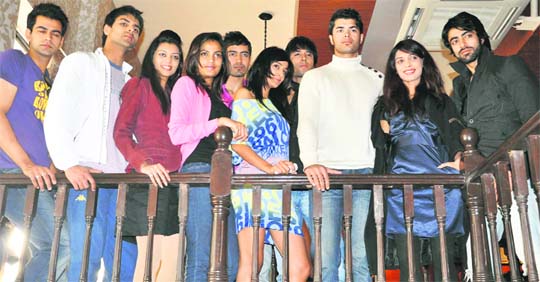 Models for the Krome fashion show strike a pose
Language no bar!
Bollywood or Hollywood is the choice for most actors. But then are some who prefer the vernacular medium (read Marathi, Kannada, Oriya etc). And for Kreesha Khandelwal (she emphases on the surname) it is indeed the latter. "I love to do vernacular films as I can come across different cultures and people, which is what real India is all about," says Kreesha.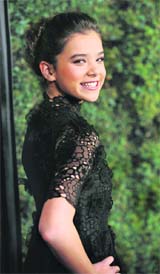 Actor Hailee Steinfeld attends an industry screening of the film True Grit in Beverly Hills, California. Reuters photo

The cast and crew of Yamla, Pagla, Deewana released soundtrack of the film in Mumbai
Veteran Bollywood actor Dharmendra, along with his sons Sunny and Bobby Deol, danced at the event on Thursday."I am thankful to the audience that they gave space in their hearts for 50 years. In fact, by giving respect and appreciation, they helped me keep a strong will. I know that you would never take me out of your hearts," said Dharmendra.

Lohan to dance with stars
Her personal troubles ruined her Hollywood career but Lindsay Lohan is planning to make her big comeback with the hit reality show Dancing With The Stars.The 24-year-old, who is currently in court-ordered rehab, is in talks to be a contestant on the next season of the show which sees celebrities vie for the Best Dancer trophy, reported Star magazine online.

Where is Jolie heading?
Hollywood superstars Angelina Jolie and Brad Pitt are looking for an exotic new location where they can spend the Christmas holidays with their six children.The 35-year-old actor told TV host Larry King that she and Pitt are currently "looking for a country for Christmas".

Bryan comes to India
As part of his India tour next year, Canadian rockstar Bryan Adams will give a live performance at the HITEX Exhibition Centre here on February 16.Bryan, who has won 15 Grammy awards, is likely to perform some of his legendary rock-n-roll numbers, including Summer of 69, Run to You, 18 Till I Die and Everything I Do as well as songs from his latest album Bare Bones, Netsurf Entertainment, Managing Director Sujit Jain said.

Teething problem
Pirates of the Caribbean star Johnny Depp may be finding it hard to come out of his reel-life character Jack Sparrow - because he hasn't yet found a dentist to remove the false set he wore for the role. The Hollywood actor has spent the last few months filming Pirates of the Caribbean: On Stranger Tides and he has been wearing unsightly semi-permanent dentures for his portrayal of Captain Jack Sparrow.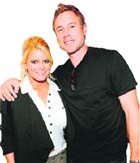 Business before pleasure
It looks like singer Jessica Simpson and her fiance Eric Johnson will be signing a pre-nuptial agreement. Slamming reports that Johnson was a 'gold digger' and was after Simpson's fortune, a source close to couple said they would definitely go for a pre-nup."There will definitely be a pre-nup for the pair. Jessica has said she wants one. Jessica and Eric have talked about it," said the source."(Eric) understands that there needs to be a pre-nup. He's supportive of it," the source added."He really loves her. He's a low-key guy. He's not into the glitz and materialism of Hollywood at all," said the source.
Take a DIP
Grilled food is not the automatic choice for people in the region, but when served with a variety of dips and sauces it becomes a huge hit
A close observation of a typical Punjabi cuisine menu is enough to reveal the taste of people from the region—well sautéed dishes and a few spoons of butter are a must!
Think before you eat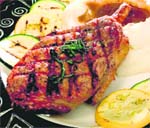 Struggling to control your diet? Just think about eating your favourite food and it could make you eat less, says a new study.Researchers at Carnegie Mellon University in Pittsburgh have carried out the study and found that if one imagines eating one's favourite snack, the real thing will become less appealing.In the study, volunteers were asked to visualise eating a large handful of M&Ms, one by one.A second group was 'given' just three imaginary M&Ms to eat, while a third group was told to think about feeding a machine with coins -- an action similar to popping sweets in the mouth.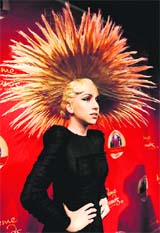 Lady Gaga's wax figure at the Madame Tussauds in Times Square in New York. — PTI photo
At your service
A new restaurant has opened in Shandong province of China, and has robots as waitresses. The Dalu Rebot Restaurant, in Jinan, has six robot waitresses and can cater for up to 100 diners.
For heart's sake
Porridge seems to be a hearty meal, for a new study has found that eating three portions of the wholegrain food daily can protect one's heart by slashing blood pressure levels.
Bon Appetit
Pining for it
In my opinion, the heady fragrance of freshly cut pineapple comes a close second only to the aroma of ripe mangoes. Unlike mango, pineapple is a fruit you can devour without any major guilt fringes. 85 per cent of the fruit is water content and the remaining 15 per cent is chock full of things essential to our well-being!