Spirituality solitude & safaris
From spiritual holidays to noise-free vacations away from the party circuit, youngsters in the region are seeking out something different this winter, writes Mehak Uppal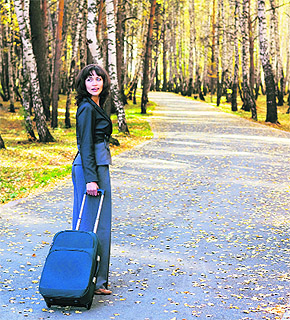 Thinkstockphotos/Gettyimages

Just when we think that we know the young brigade well, they take us by surprise! With the year-end approaching, we were all set to listen to the plans of incessant partying, loud music and huge get-togethers. But it seems like a different flavour has caught on with the youth this season, as they talk about spiritual holidays, spending New Year's Eve alone under an open sky and much more!
How come a youngster is game to spending the precious holiday time on something like spirituality? Wasn't this a domain we left unchartered for the elders to pursue? We posed this question to Smriti Thakur, a 24-year-old social worker from Chandigarh who is taking an offbeat holiday, and she quipped, "You got to be kidding me! This spiritual trip is all about getting energised, rejuvenated and also having loads of fun. People have a very stereotypical image of spirituality, which is away from reality. I am going to attend an international-level course in an ashram, which will give me a chance to interact with the youth from many different countries and amazingly varied backgrounds." Smriti is going to attend a "YES+ Advanced Course" offered by the Art of Living Foundation in Bengaluru. This is a higher level course in meditation offered to youngsters who have done a YES+ course.
She is not alone, as around 250 youngsters from Punjab are slated to join 1500 youth from different countries, all getting together in Bengaluru for the winter break. "With around 100 youngsters travelling together in a train, I can't wait to go. We are stocking guitars, board games, music players etc to make the journey fun," Smriti says.
| | |
| --- | --- |
| | Delhi-based Neha Sikri and her friends plan to explore the fort at Sahnewal, near Ludhiana, where Rang De Basanti was shot |
These ashrams seem to have realised the interest they generate and are offering special packages to cater to the youth. Mehak Amar, a spirituality connect officer from Chandigarh, is planning to go to Rishikesh. A meditation camp is being organised by Anandmurti Guruma to help people find inner peace and happiness. "With the increasing number of youngsters attending these courses, the ashram has also come up with many special offers with exclusive courses being organised for us. They understand the need of today's youth to experiment with many possibilities and this is a platform to explore the inner self," she says with a smile characteristic of the spiritual gang.
While some are going to ashrams to connect within, there are others who plan to charter the inner territories by spending time in the lap of nature. With the concrete city life getting to Hunar Chaturvedi, a 24-year-old from Jaipur, he has found an exclusive desert resort at Sam, 3 km from the Indo-Pak border. With no infrastructure around, he plans to live in tented accommodation. "I am going to visit the Sam sand dunes, which are known to be the best around. The plan is to spend the New Year's Eve in a sleeping bag in the open, gazing at the stars till the wee hours. The best part is that there will not be many people around to disturb the stillness of the moment. It will be all about me and Mother Nature," he says, his fingers crossed till he can procure permissions from the Border Security Force.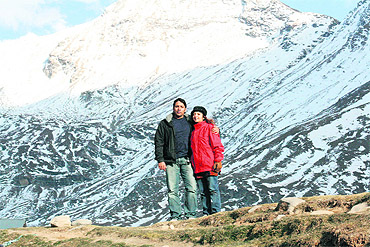 Aman Chawla, a software professional from Noida, and wife Girija specially planned their Manali trip in November to avoid the mad rush of December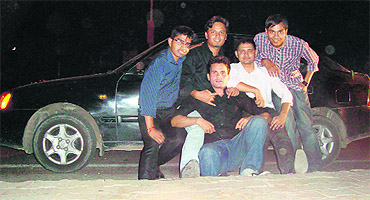 Hunar Chaturvedi (in white shirt) plans to spend New Year's Eve away from the party crowd at Sam, an exclusive desert resort 3 km from the Indo-Pak border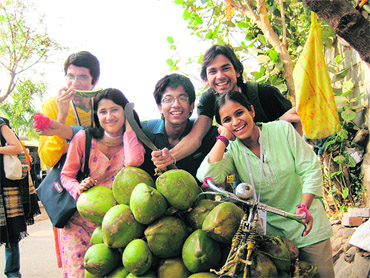 Smriti Thakur (in pink suit) is taking the spiritual route, as she will attend an advanced meditation course in Bengaluru this year-end

How seriously the youngsters take their holidays can be gauged from the long distances they are ready to travel. Monish Nangrani, a 24-year-old professional working in the NCR, plans to go to the Kaziranga National Park especially to sight tigers on an elephant safari. "During summers, as the temperatures rises, animals move towards the central dense region. In winters, they tend to come to the outer periphery and so, the chance of sighting a tiger is much more. Rather than a jeep safari, I will go for the elephant safari, which will be all the more exciting. Also, the benefit is that one can set off from the standard trail and not follow a fixed path while riding an elephant." He is combining this with a trip to Guwahati, Shillong and Cherrapunji to explore the popular waterfalls and lakes there.
Many also give a deep thought to make the trip a success. With a little attention, you can have a much better holiday experience. Aman Chawla and his wife Girija, a software professional from Noida, has already come back from their winter trip to Manali, especially pre-planned in November (rather than December) to avoid the regular year-end tourist crowd. This also helped them notch the best deals in terms of hotels. "We rented a bike in Manali and rode to Rohtang, which is 55 km away. This in itself was a pleasurable experience and we also got to spend time and click pictures near the frozen waterfalls. We also experienced fresh white snow because we made it early, before the typical holiday season sets in!"the enthusiasm evident in Aman's voice.
Any other tips for those planning a holiday? "Decide beforehand if you want an accommodation close to the market to be able to roam around till late at night or would you rather stay on the outskirts and enjoy a much better natural view. Also, keep the safety factors in mind along with things like till how long are the local transport services available."
While most of the youngsters are exploring other regions to enjoy the weather, there are girls like Neha Sikri, too, for whom holidaying is all about getting together with friends and exploring the offbeat places in the vicinity. Neha is specially coming down from Delhi to meet a friend in Chandigarh. "We will get together and go to the fort at Sahnewal (near Ludhiana), where the movie Rang De Basanti was shot.
I have already gone to the fort in Jaipur, which was featured in the same movie and now wanted to see the place where Madhavan proposed to Soha in this film. Just like the theme of the movie, I want to experience freedom and independence and that, too, not in the regular way." This is in a series of holidays, which included going to an old school in Lucknow to explore the family lineage and discovering old crumbling forts in Purani Dilli.
Whatever the destination be, one thread that ties all these young explorers is the desire and confidence to go for unconventional, lesser-known destinations and to experience freedom off the beaten track!