Motivated design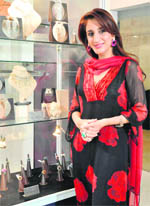 Exquisite jewellery line is not the only USP of Farah Khan, a leading jewellery designer. She is equally passionate about spirituality, tigers and much more
When you wear spirituality on the sleeve, you might as well prove it. Prove not by delivering sermons but through the way you live your life, just as jewellery designer and wife of the famous DJ Aqeel, Farah Khan does. Standing at the counter of Samsaara at Taj, where she has her latest collection on display, she shares details of jewellery pieces with every customer who walks in, before joining us for a tête-à-tête with a sincere apology for keeping us waiting.
Cut to fusion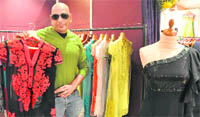 Indian women love to wear ethnic clothes. They also love to travel. And the connection between fashion and globe-trotting is explained by Salim Asgarally, who strongly protests against tagging 'salwar kameez' as the only ethnic wear. "A fusion of ethnic and contemporary is a must for women who travel abroad. The silhouette should have an international touch.
Abiding love for theatre
In the city to stage her production Balura Gudikara on the final day of the ongoing Chandigarh Ibsen Theatre Festival, acclaimed thespian B Jayashree says more needs to be done to promote art and artistes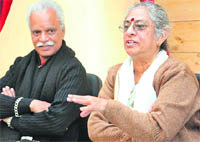 Theatre is a collective enterprise that addresses itself not to individuals but the mankind as a whole by projecting and interpreting the contemporary issues of socio-cultural and economical relevance. Rather good and meaningful theatre is a powerful instrument of social change, which can effectively intervene and participate in the political dialogue of the times, emerging as a parliament of sorts," observes Bangalore-based acclaimed thespian B Jayashree, presently a nominated member of the Rajya Sabha.
Toy story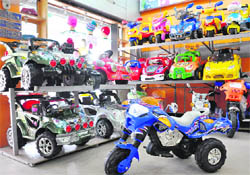 From replicas of life-size cars to jeeps to look-alikes of the best bikes in the market, toy stores are offering the best for your child
From powder puffs to innovative gadgets, the range of products for newborns and children is meticulously chosen and displayed in various stores for kids in the city. And what you get to see is nothing less than what you buy for elders.
Wake up call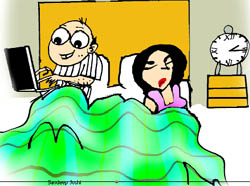 Extreme stress levels, odd working hours and challenge of meeting deadlines deprives software engineers of precious sleep
On a usual day, after working for a usual eight-hour shift, one would sleep for a usual seven hours. Then on another such day, after working for an unusual 15 hours, how long should one sleep for? Instead chances are that one wouldn't be able to sleep at all!
Eco-warrior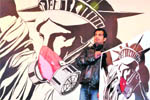 George Emmannual, a final-year student of Government College of Art-10, has sent a poster to US president Barack Obama that conveys the message of climate control. First Copenhagen and now Cancun, the effect of failing conferences on climate change will trickle down to each one of us. While the tussle between developing and developed nations regarding who should regulate the pollution levels is on, the most important fact is being ignored.
Silk, forever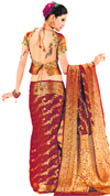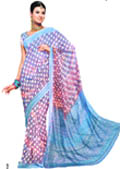 Silk is the most treasured and traditional fabric. But a round of Silk Utsav, on at Kisan Bhavan-35, would make you think otherwise. The latest colours, patterns and fusion of silk with other fabrics make it haute for sure. Starting with tradition, Shahib Abid from Indore has Maheshwari saris and suits that have styles from past. "In 18th century Devi Ahilya Bai Holkar got the patterns of the forts on sari borders. These were meant to be given as gifts carrying a slice of royalty. We have treasured those very patterns," claims Shahib.
Magic in blue
It's yet another addition to the celebrity and their signature fragrance.  The 'Let's Get It Started' girl in a blue bottle! Avon Beauty Products India (P) Ltd, announced the launch of its new fragrance 'Outspoken by Fergie', the first ever signature fragrance by the singer, songwriter, fashion designer and actress Fergie. The new fragrance evokes the same fearless confidence and independence that this women icon represents.
Wrap in retro
To give your home a reflection of contemporary and modern home fashion line, Maspar, a contemporary home furnishing brand unveils its new collection,  Rustic Relic. The magnificent collection Rustic Relic is based on the theme of "Memories of Yesteryears" when the popular colours were only brown and greys. 
Matka chowk
Furniture Funda


The furniture market of Sector 34 is a good place to go to if you are desirous of suffering from pangs of great misgivings for having bought that exact look-alike sofa from a reputed store for a phenomenally higher price. It is a rather bizarre market with extremely tacky pieces strewn about dusty pavements along with some astonishingly nice looking ones. Overall, it is an interesting place, if you don't mind the dust and the overall ambience of apathy.
Picks & piques
Problems galore
Band Baaja Baraat is Yash Raj's medium budgeted attempt to stem the tide of negativity afflicting their films of late. The film marks the directorial debut of Maneesh Sharma and stars Anushka Sharma, Yashraj's second favourite heroine (second only to Rani Mukherjee), with her off-screen boyfriend newcomer Ranveer Singh in the lead roles. The film is a romantic comedy.
Sienna's wishlist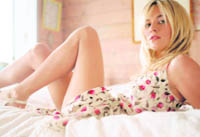 Hollywood beauty Sienna Miller wants to live like her friend, actress Keira Knightley who enjoys a quiet homebound life with boyfriend Rupert Friend. The 'Factory Girl' star, who is dating actor Jude Law, befriended Knightley on the movie sets of 'The Edge of Love' and envies her peaceful life, reported a magazine. "She and Rupert live a wonderful life. They read books and discuss topics and cook for their friends. It's the kind of life I aspire to - I don't know if they even watch TV," said the 28-year-old actress. "But don't be fooled and think she is a goody-goody.

Not meaty enough
Hollywood actress Reese Witherspoon is not keen to star in science fiction movies, as the genre does not offer substantial roles to female leads. "The movies that are being made feel different. There are a lot of really, really big movies about robots and things - and there's not a part for a 34-year-old woman in a robot movie," said Witherspoon. The Legally Blonde star feels the futuristic films are limited to 'superhero' roles and therefore, does not interest her, a website reported. "I've never done the superhero movie. That doesn't interest me too much.
Miley in a mess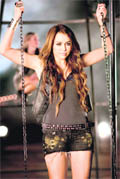 A shocking video of Miley Cyrus has surfaced online showing the teen star smoking from a bong allegedly containing hallucinogenic natural herb Salvia. The Hannah Montana star, who turned 18 last months, was caught on camera puffing on the huge pipe five days after her birthday, it was reported. In the video, shot by a female friend during a party at Cyrus' LA home, the singer-actress is seen inhaling huge lungful of smoke, allegedly from the burning of controversial but legal psychoactive plant Salvia. The video shows a friend initially lighting the pipe and telling Cyrus to "Hold it! Hold it!" as she takes in the smoke. She then goes into a frenzy of uncontrollable laughter and starts babbling, asking friends if she's "tripping", before mistakenly identifying a man nearby as her on/off boyfriend Liam Hemsworth.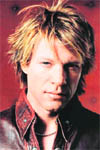 Break from acting
Jon Bon Jovi has said his return to acting is doubtful, as the rock star doesn't find big screen stardom appealing any more. The Blaze of Glory hit maker has appeared in numerous movies including Moonlight and Valentino' and Pay It Forward, as well as high profile TV appearances in Sex and the City and Ally MCBeal. The 48-year-old singer hasn't acted since 2006, and admitted he has no plans to go back to it as he is too busy with his music and various charity projects, reported a website. "(I) loved it.
Sleeping beauty

Hollywood star Angelina Jolie says it would be "extraordinary" to work with filmmaker Tim Burton, especially in Maleficent, h`xis adaptation of fairytale Sleeping Beauty. Jolie is quite keen to feature as an evil fairy in the project, reports a website. "It's all new and being discussed, but I loved her when I was a little girl. She was my favourite. Tim Burton, the chance to work with him would be extraordinary," said Jolie. — IANS
Shopper's delight


If you are looking forward to adding to your wardrobe or the décor of your house, Trendz, an exhibition at Taj-17, is worth visiting. On till December 12