Getting e-BOOKed?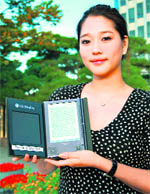 Albeit the trend of reading e-books is not as popular in India right now, the concept holds a lot of promise for the future
Every revolution that technology brings about creates that 'aha' moment in life! And books moving into the digital realm (read e-books) is one such moment. Trading ink for pixels, this is one technology that has changed the way the world reads and writes. However, e-books continue to get a lukewarm response in India. With more than 15,000 publishing houses generating content in more than 24 regional languages, a report says India has a huge potential for e-books, especially post the IT boom, but lack of cheap e-readers and technological awareness among the people is hampering their growth here. We check out.

Another BOUT
Television, glamour, sports…any guesses what connects the three things? While you are at it, finding the link, we take an immediate shot at it - there is no getting away from these! When boxer Akhil Kumar jumped in for the dance reality show Jhalak Dikhla Jaa Season 4, the reason was obvious, and our man from Rohtak, Haryana, made no efforts to deck it up with fancy words.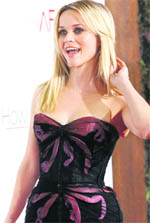 Actor Reese Witherspoon arrives at the premiere of How Do You Know at the Mann Village theatre in Los Angeles recently.

Glee-mpse of Paltrow
Hollywood star Gwyneth Paltrow has confirmed she is to reprise her role as substitute teacher Holly Holiday in hit TV musical Glee, but refused to give details on when she will appear on screen again. The 38-year-old actor can't wait to reprise the role, describing it as the "best job ever", though it is not yet know when her return to the musical drama series will be broadcast. In her first appearance, Paltrow's character performed two duets with Matthew Morrison—who plays teacher Will Schuester—and the actor gushed about how much fun he had singing Rihanna's Umbrella and Singin in the Rain with her.
Blink and miss
Slumdog Millionaire star Freida Pinto was surprised when nobody recognised her in a Mumbai slum recently. "People in the city recognise me as the girl from Slumdog Millionaire and inevitably they stare. But when I visited the slums with an NGO, nobody recognised me at all. I didn't mind," Pinto said.
Nuptial blues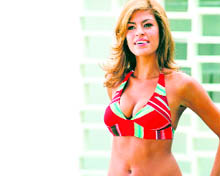 Hollywood actor Eva Mendes says she finds the idea of marriage 'boring' and has no plans to get married to her long-term partner George Augusto.The Other Guys star has been in a relationship with the Peruvian filmmaker since 2002 but has no plans to tie the knot in the near future. "No, no, no. I don't know if I want children, but the idea of marriage sounds very boring to me. I have to be honest. And no disrespect, because I think marriage is a beautiful institution. I am extremely romantic but I think there is that little rebel inside."

Eva Mendes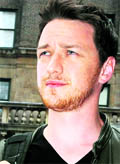 James' Pride
James Mcavoy to play Darcy in zombie Pride & Prejudice
Scottish actor James McAvoy is reportedly set to star as William Darcy in a new horror adaptation of the Jane Austen classic Pride and Prejudice. The new film, named Pride and Prejudice and Zombies, is based on Seth Grahame-Smith's book and adds flesh-eating monsters to Austen's period novel. Hollywood actor Scarlett Johansson has been linked to the role of Elizabeth Bennet, and Wanted star McAvoy is in talks to play her leading love interest, reported Daily Record.

James McAvoy


Blunt talk
Hollywood actor Emily Blunt is not yet ready to have kids as she is completely focused on her career. The Gulliver's Travels star, who married John Krasinski earlier this year does not want to toe the same line as her mother who gave up acting to have a family. "I come from a big family and I've always wanted children, but not quite yet. Yes, mum gave up her career, but it's a different age now."

Emily Blunt

Jack's misadventure
Actor Hugh Jackman injured himself while performing a stunt during the taping of Oprah Winfrey's Oprah's Ultimate Australian Adventure in the country.Jackman hurt himself while performing a stunt on a flying fox, a heavy-duty wire set with a harness and handle assembly that slides on wheels, when he hits the brakes too late and landed hard, the Hollywood Reporter said.

Move on
British actor Anna Friel's nine-year romance with Harry Potter star David Thewlis is over, months after she moved a young actor into their home. Suggestions were made that all was not well when Friel was pictured kissing actor Joseph Cross, 23, her co-star in her West End play Breakfast At Tiffanys last December. But the Pushing Daisies star, 34, who has a five-year-old daughter, Gracie, with Thewlis, 47, had denied that their relationship was on the rocks.

Anna Friel

FLIGHT of fantasy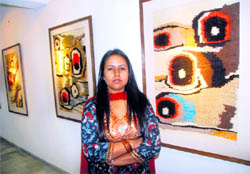 All art is but an imitation of nature, said Lucuis Annaeus Seneca and believing the same budding artist Renu Anand from Manimajra (currently doing her post-graduation and diploma in textile designing from the Indian Institute of Craft and Design, Jaipur) finds her muse in nature's prettiest thing - butterfly. The girl, all of 20, from a humble background, is surely making a mark with her work. Having put up an exhibition at Art Folio-9, her creativity speaks for itself in the varied paintings, murals and tapestry that she has done.
Music to the ear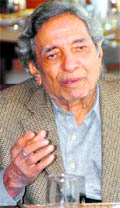 It was like a story-telling session. With one getting over, another one began. It continued in the entire half-an-hour interaction with the veteran music director Ravi Shankar Sharma, who shared interesting instances of his life. How he developed interest in music, how he entered Bollywood, his first break, successful films, why he didn't bag as many awards as he deserved and why he went on an exile in between a flourishing career…Ravi Shankar told it all. Ravi Shankar has given music for hit numbers like Jab Chali Thandi Hawa, Nele Gagan Ke Tale, Chaudhvin Ka Chand, Chalo Ek Baar Phir' se et al. He began his career singing devotional songs in social gatherings and so wanted to be a singer. "Only when I entered Bollywood in 1950, I realised I didn't have the voice of a singer. I started assisting music director Hemant Kumar and composing music."
Timeless melodies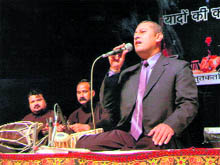 Apne purkhon ki virasat ko sambhalo verna, Ab ke baarish mein yeh deewar bhi dheh jayegi." Quoting a Manzar Bhopali couplet, noted thespian, musicologist and film actor Kamal Tewari, who is also the chairperson of Chandigarh Sangeet Natak Akademi (CSNA), praises the legends of the music world of yore. "It is imperative to keep alive the memories of old masters for the next generation. With this in mind, the CSNA is here with their sixth edition of the annual Yaadon Ki Kasak programme in honour of senior citizens," he says.
Gem of a design
Karigari is a designer concept theme jewellery brand that encapsulates exquisite contemporary brilliance as well as traditional Indian design in its collection. Karigari has a vast yet exclusive range of theme designs ranging from modern to ethnic to suit every mood and occasion. Inspired by the modern woman of today, these are pieces of impeccable craftsmanship set in German silver.
Milky way
The ITC Limited's trusted personal care brand, Vivel, announced the launch of its new variant, Vivel Milk Cream and Glycerin Soap. This unique soap is enriched with double moisturisers, milk cream and glycerin for irresistibly soft skin, even in winters!
Kitty party
People for Animals, Chandigarh has the perfect companion for anyone who is ready to be loved unconditionally.
The year that was…At Panjab University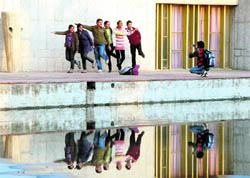 It's that time of the year again. Time to pause, look back, take a stock and move on. What all did we do, did not do, could have done, should not have done! The fests celebrated, the ruckus created. January to December on the campuses across the city unplugged. What is college and varsity life about? The larger than life phase interspersed by mundane matters like lectures and examinations. Did violence remain a constant? Like each year, dotting the campus, even the calendar and then in between some sporadic progressive news such as community radio, UGC grants, redesigned website.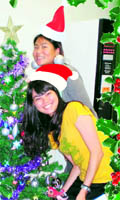 Christmas calling
With Christmas just a few days away, students at The varsity are all set to celebrate
Jingle bell jingle bell jingle all the way - is the only song that echoes in Panjab University hostels nowadays. With Christmas round the corner, students are set to celebrate it with pomp and show. "My friends are desperately waiting for Christmas. As none of us would be going home, we have decided to have fun in the hostel itself," says Upasna of Savitri Bai hostel. Christmas celebrations? "Why not? It's not about celebration related to some particular religion. We live like a family in the hostel and celebrate everything. Christmas is one thing we wait for," says Kanika from Laxmi Bai hostel.
Of size and statistics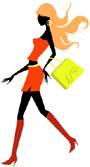 A professor has indicated that women are always concerned about their weight and they keep looking into every possible option to lose few pounds. "In our interviews with women aged 16 to 63, we found that all ages wanted to be "skinny but shapely", and most wanted to lose half a stone irrespective of actual size," a publication quoted Professor Sarah Grogan, author of such books as Body Image: Understanding Body Dissatisfaction In Men, Women & Children, as saying. "Women found it easy to tell us what they disliked about their bodies but much harder to think of what they liked. Most said that they would be more confident if they lost weight. None of the women who took part in our interviews (even those who were, objectively, very thin) said they wanted to gain weight," Grogan added.
Raising a toast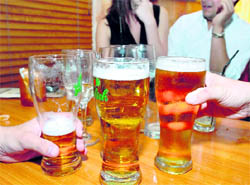 A new study has challenged the theory that lowering the minimum legal drinking age would help curb binge drinking on campuses. Richard A. Scribner, of the Louisiana State University School of Public Health, one of the researchers on the new study, and colleagues used a mathematical model to estimate the effects that a lower drinking age would have on college binge drinking. The model, developed based on survey data from students at 32 U.S. colleges, aimed to evaluate the "misperception effect" emphasized by the Amethyst Initiative - that is, the idea that underage students widely perceive "normal" drinking levels to be higher than they actually are.
For greener pastures
Indian school and college students are reportedly seeing the United States as a viable avenue to pursue higher education after acquiring their bachelor degrees in India. Higher education institutions in the United States are said to have flexible and diverse courses, besides hands-on experience in the subject of a student's choice. There is a view within the Indian student community that courses in the US offer practical experience, whereas in India, the syllabus is not at all flexible.