M A I N N E W S
THE Tribune CAMPAIGN
Now Haryana plots to encroach on Sukhna's fragile environs
Clutch of builders pose fresh threat to Chandigarh's periphery
Ruchika M Khanna
Tribune News Service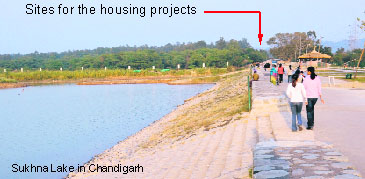 Chandigarh, December 15
If Punjab has been disfiguring the periphery of Chandigarh through unplanned growth, neighbouring Haryana, which has a 24 per cent share of the city's periphery, has decided to go in for "planned disaster" right next to the regulator end of the Sukhna Lake.
This land, which is adjacent to the lake on Chandigarh's boundary with Haryana, is now drawing a lot of attention from realtors like DLF, Bhoomi Greens and Suncity Developers (the realty arm of Zee group). These companies have already purchased hundreds of acres of land here to launch a mixed-use residential project (multi-storey group housing as well as plotted development).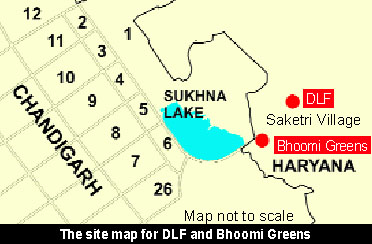 Though officials in the Town and Country Planning Department maintain that they would not allow vertical development near the lake (as the construction will mar the city's skyline), these projects can actually scale up to as much height as they want. For, there are no building height restrictions in Haryana (subject to the approval by civil aviation authorities).
When sanctioned, these projects will be in violation of the New Punjab Periphery Control Act, 1952. Since they will be located in Saketri village, which falls under the Sukhna catchment area, the projects are bound to impact the ecology and environment of the area. The real estate companies contend that high-rises have also been allowed in nearby Sector 6 of Mansa Devi Complex (a kilometer away from their proposed sites), but the fact is that Sector 6 of MDC does not fall in the catchment area (of Sukhna).
The USP of this land is its proximity to the lake and Rajiv Gandhi Chandigarh Technology Park. While DLF has reportedly bought 104 acres of land, Bhoomi Greens, too, has bought the required 100 acres of land to get a licence for developing a residential colony. The plans to start construction are afoot, but for the fact that this land is under acquisition by Haryana Urban Development Authority (HUDA), and the original landowners have got a stay against its acquisition. HUDA had earlier planned to have its own sector here and have plotted development.
So, how are these real estate companies going about purchasing this land? Well, they have found a perfect way to circumvent the law by purchasing this land from the original landowners on a GPA (general power of attorney). Though both DLF and Bhoomi Greens have entered into partnership with cooperative societies -- Shivalik Environs Cooperative House Building Society and The Tribune Employees and Friends Cooperative Group Housing Society -- and bought majority of the land from them, they are buying the remaining land (on GPA) directly from the original landowners at today's market price -- Rs 3.5 to Rs 4 crore per acre. (The Tribune wishes to clarify that The Tribune Trust had never in any way accepted, permitted or licenced the use of The Tribune name for any such society. The Tribune Employees and Friends Cooperative Group Housing Society has therefore nothing to do with The Tribune Group of Newspapers).
The developers will now be approaching the Town and Country Planning Department with a request for a licence to develop this area. The case will be forwarded to the Chief Minister's Office with a request from the original landowners that the court cases would be withdrawn if a licence was given to the developer, as there will be "internal concurrence for grant of licence and release of land".
Highly placed sources informed TNS that the Town and Country Planning Department, Haryana, was "actively" considering granting a licence to Bhoomi Greens to set up a group housing society, barely 300 meters from the regulator end of the lake, and to DLF in nearby Saketri village. Though Bhoomi Greens has already consolidated land, DLF still does not have a contiguous piece of land.
Sources say that though no formal proposal has been received from DLF, talks were on to exchange some HUDA land with a pocket of land "bought" by DLF, so that the realtor can have a consolidated chunk of land. DLF has already applied to the Town and Country Planning Department for grant of licence.
Officials in the Town and Country Planning Department, while requesting anonymity, said that the issue of grant of licence to the two realtors was being considered at the highest level. However, the Director, Town and Country Planning, TC Gupta, clarified that they would allow only a low population density development near the lake. "We will allow a population density of just 60 persons per acre, which will ensure that the projects cannot go very high," he added.