Son of the soil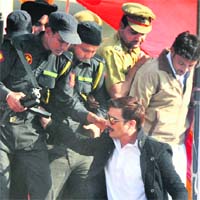 Actor-turned-producer Jimmy Shergill is looking forward to his next venture — Punjabi flick Dharti
The clock is ticking and cinema is gladly making good use of time. Better scripts, which no longer rake up images of an old Punjab that no longer harps on done-to-death topics; exotic locales, far different from the khet khaliyaan every Punjabi movie was shot in and lastly, entry of people who are extremely passionate about P-U-N-J-A-B-I C-I-N-E-M-A.

Dharti is a Punjabi film, but we want to dub it in Hindi as well. A political drama, the movie has an interesting cast wherein I play an Air Force officer. — Jimmy Shergill

Soul strings
Learning different folk instruments is a passion for British singer Milli Moonstone
Music is "what compels you to hit the dance floor without considering its origin or the instruments being used to play it," as Milli Moonstone, a musician from England, explains.
UP in smoke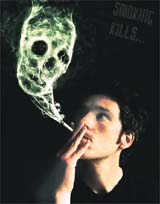 A mere picture of infected lungs on cigarette packets is not effective enough. Something more needs to be done to deter smokers
What do you think will have a lasting impact, a warning in bold letters — 'smoking is injurious to health' or a graphic caution in the form of infected lungs due to tobacco consumption or a clear photograph of a cancer victim? A click on Google shows some mind-boggling facts, which suggest that only harsh measures can provide help. According to a research paper published in New England Journal of Medicine - 'Smoking might cause one million deaths annually by the year 2010'. Amidst the huff and puff about the revenue loss or gain - a defense that tobacco firms are coming up with — attention from the actual matter has been diverted.
Rani reports
'Reporting crime is a dangerous assignment for girls'
Bollywood actor Rani Mukherjee loved playing the role of a "fearless" crime reporter in upcoming film No One Killed Jessica and hopes that people will have more respect for the profession after watching the movie.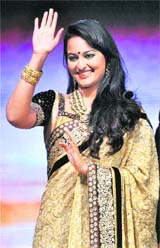 LONG STRIDE: Actor Sonakshi Sinha walking the ramp during a fund raiser in Ahmedabad recently. PTI Photo
Titanic mistake
Despite being a box office hit, Clash of Titans was criticised for its shoddy 3D effects and lead actor Sam Worthington agrees that they disappointed audiences with the Greek mythology. The Avatar star, however, has promised a better movie with the sequel.
Dinner for two
Just days after announcing their separation, Hollywood stars Scarlett Johansson and Ryan Reynolds got together for a cosy dinner. But the couple is not reconciling and will remain friends as they had announced earlier, reported People magazine online.
Naked truth
Hollywood beauty Anne Hathaway accepts the fact that she has to get naked as an actor and believes every actor should be prepared to strip if the role requires nudity. The Princess Diaries star, who recently posed nude for a number of scenes in her film Love & Other Drugs alongside actor Jake Gyllenhaal has no qualms to strip in front of the cameras and completely relies on her co-stars to help her overcome any pre-scene nerves.
How do we know?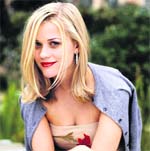 Hollywood star Reese Witherspoon's much awaited romantic-comedy How Do You Know, made on a budget of over $120 million, has bombed at the box office, bringing in only $7.6 million in it's opening weekend in the US. The Legally Blonde star is one of the most bankable and highest paid actors of Hollywood, but despite her star power the film premiered to dismal box office figures. The 34-year-old actor starred in the film alongside Owen Wilson and Paul Rudd but despite the star cast the film is being branded one of the biggest financial disasters for any studio this year, reported Entertainment Weekly.
It was an itsy bitsy…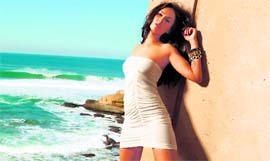 Hollywood beauty Megan Fox has returned to Hawaii, where she tied the knot with TV actor Brian Austin Green, for her first Christmas as a married woman. But frolicking on the beach, the Transformers star looked gaunt, her famous curves all but gone. The 24-year-old has returned for a Christmas holiday to the place where she wed long-time boyfriend Green on June 24. Fox, in a black polka dot bikini, also wore her giant diamond wedding ring into the water.
Home front
Green paradise
A spa based on the theme of Marilyn Monroe, state-of-the-art gym and a stunning terrace garden — Geeta and Lt Col (retd) Kulwinder Singh's house in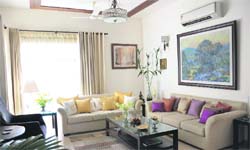 Sector 10 spells elegance
A wooden bench with large cushions in a sunny garden makes for comfortable seating on a winter afternoon. Adding to the ambience is the lush green lawn, with a chakki fountain spewing out water on 'dharma', 'karma' and 'moksha' stones. "A good garden is just an outdoor room," says known landscape artiste Geeta Singh while describing her garden in Sector 10.
Spicy treat
To provide its consumers yet another reason to enjoy their favourite McNuggets, McDonald's has introduced a new dip sauce in Schezwan flavour. Made from a distinctive blend of soy sauce, garlic, ginger, white onions and chilli peppers, the new sauce will add to the yumminess of tender and juicy McNuggets.
Spring in STEP
10-year-old Mehak Singla has recently won a national level kathak competition
Winner of 'We Have Got Talent', a national level dance competition, held at Pune recently, 10-year-old Mehak Singla is our city's proud kathak dancer. A fifth class student of Carmel Convent-9, Mehak started learning kathak when she was six. "My grandmother inspired me to learn classical dance," shares Mehak, ecstatic about her recent win in which she danced on Mere Dholna.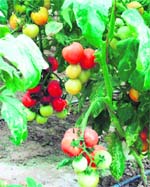 Spade work
Quality control
One of the best reasons of having one's own home gardens is the availability of quality produce. But one should also know how to do so. There is not one but multiple reasons to maintain good quality. Normally we procure seeds and plants from the source nearest to us. What is important is the authenticity of the source. Use only quality seeds and procure good quality plants. If the seed used is of poor quality, you may suffer one crop but if the plant procured is of unknown pedigree, you will come to know only when it comes to fruiting.
Shelf help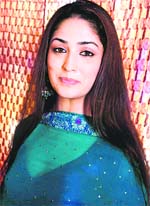 Celebrities share what interests them in gizmos and how long do they hold on to them
With actors and celebrities, shelf-life is a term that they deal with and fear the most at the same time. One hit can take them places and a string of flops can tag them as the black sheep of the industry. Talking about shelf life, it would be interesting to know the kind of shelf life gadgets these celebrities carry. Whether they change it like dresses, a different one for every appearance, or they alter it like popular and unpopular 'camps' or they stick to it like 'yeh dosti hum nahin todegain'! Celebrities take their pick on what interests them in gizmos and how long do they hold them close to their heart, like a role in a movie they have once cherished.
Geek SPEAK
Future Talk
Android technology is set to revolutionise the cellphone industry
An android is a robot with a near human resemblance, but that's different from the Android mobile phone. Android is not a phone, but an operating system that can be run on android-enabled cellphones. Undoubtedly, Android is one of the best things to have happened in recent times as far as technological advancements are concerned.
Zooming in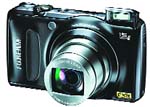 Fujifilm India Pvt Ltd has announced the launch of top-end compact 15 x zoom FinePix F300 EXR in the Indian market. The F300EXR is equipped with the world's first Phase detection pixel built-in CCD, which realise auto focus speed of 0.158 sec. According to Kenichi Tanaka, managing director, Fujifilm India, "Today's discerning photographers are looking for a camera with a high zoom range, yet compact and pocketable, with no compromises on picture quality or being irritated by slow auto focus or blur.
Price tag
Post the economic downturn, Internet savvy Indian shoppers have become more conscious about price than brands, and are spending more time online looking for attractive deals, according to a joint study by Microsoft Advertising and Aegis Media.The study - Global Retail Index, suggests that after economic slowdown, 38 per cent Indian shoppers have become more conscious about the price than brand.
BITS ABOUT BYTES
IT's Your Face
Mark Zuckerberg is again in the news, in fact, his making it on the cover of Time magazine is news. Zuckerberg has been named the person of the year by the news magazine, despite the WikiLeaks founder Jullian Assange receiving more votes than him.