MUSIC ZONE
The Year In Music
Saurabh & Gaurav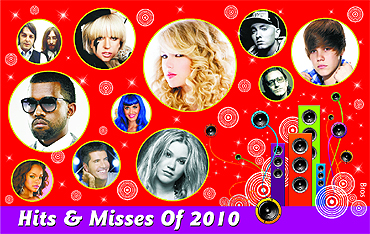 Most of the international music charts and airwaves were dominated by four women, Katy Perry, Lady Gaga, Rihanna and Taylor Swift, led by Perry's California Gurls. Swift's third album, Speak Now, had set all kinds of sales records when it was released in October. (At 3 million copies sold, she's running neck-and-neck with Eminem for the year's top-selling album.) When Rihanna wasn't making her own hit singles, she was guesting on smashes with Eminem and others. Apart from the music scene, Swift's response to Kanye West and her recent relationship with Jake Gyllenhaal and Rihanna's appearance as a battered woman in Eminem's Love the Way You Lie video, provided endless fodder for the tabloids.
Not since The Beatles invaded, have teenage girls gone as crazy for a musician as they did this year for Justin Bieber. He controlled the power of social networking sites to become the biggest breakout star in music since. Justin has racked up more than 250 million YouTube streams, eight million Facebook friends and four million Twitter followers. Not bad for some body who is just 16.
Two of the big four record labels in the world are Universal Music Group and EMI. At 72, after a legendary career, Doug Morris stepped down as the CEO of Universal Music Group, which is beginning a new era under Lucian Grainge.
American Idol managed to survive without Simon Cowell. The 10th season of the singing competition, which has ranked as the highest-rated show on the US television for years, will look a lot different than the one viewers have become accustomed to over the past nine seasons. Joining Randy Jackson, this season will be Aerosmith frontman Steven Tyler and Jennifer Lopez.
After relapsing in 2009, Eminem released his strongest album both critically and commercially since Encore in 2004. On Recovery we see a more mature Eminem, spitting verses about getting out of depression and drug addiction and re-igniting his fire for music. The video for Love the Way You Lie, with Rihanna was harshly criticised for its depiction of domestic violence. He recently capped the year by receiving 10 Grammy nominations, the most by any artiste, including Album of the Year and Record of the Year.
After spending three decades dealing with trademark lawsuits, Apple Corp., The Beatles and the record label EMI have put aside their differences and reached a deal to bring the Fab Four's digital music to iTunes.
Bono was named 'worst investor' in America this year by 24/7 Wall St, for the terribly tangled web of Spider Man - the Musical. Weighed down with problems right from the start, estimates suggest that the $65 million production needs to make at least $1 million a week for the next two to three years just to break even.
Live concerts, the healthiest part of the music business, had a dismal year. After years of growth in both attendance and ticket sales, the touring industry will be down about 15 per cent this year, according to concert sales estimates.
American Idol crushed Glee in the ratings, but when it comes to music sales, Glee has clearly displaced Idol. Albums by Katy Perry and Train experienced sales bumps of 178 per cent and 160 per cent, respectively, in the week after songs were featured on Glee. That makes Glee the perfect place for record labels to showcase their acts on TV.
Sony announced in April that it would no longer produce the Walkman cassette player. Born in 1980, the Walkman was named by The Time magazine as one of its 100 best gadgets of all times.
With many pop veterans either taking a break (Britney, Madonna) or a wrong turn (Christina), a flood of new blood, Ke$ha, Bruno Mars, Katy Perry, Jason Derulo, rushed to fill the vacuity.
One singer who refused to rest was Rihanna. She enjoyed her biggest year to date, while Pink made a late comeback this year with her chart-topping Greatest Hits album.
This year, Robin Williams returned to record songs on Take That's third comeback album, Progress. The band appeared as a fivesome in public for the first time in 15 years.
Lady Gaga continued to dictate the pop charts and the gossip columns in 2010. Various animal rights groups hit the roof when she turned up at this year's MTV VMAs in a dress apparently made of real/actual meat.
In July, George Michael crashed his Range Rover into a photo-developing store in leafy North London. Charged and convicted of driving while unfit due to drugs, Michael served four weeks of an eight-week fine.
Pop diva married comedy lothario Russell Brand on a holiday to India. The bride and groom chose a spot near a tiger sanctuary for their October wedding.