ART & LITERATURE

'ART & SOUL
ENTERTAINMENT

TELEVISION

GARDEN LIFE

NATURE

FOOD TALK

CONSUMER, BEWARE!

FASHION

GLOBOSCOPE

BRIDGE

ULTA-PULTA
EARLIER FEATURE

TRAVEL

RELATIONSHIPS

DREAM THEME

TIME OFF
Even before they touch the milestone age of 30, a large number of Indian women are stepping on the higher rungs of fame. And this trend is likely to carry on in 2011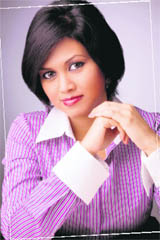 According to social observers, several current factors are promoting the rapid march of Indian women towards the pinnacle of career success at a young age. The first among these is the simple fact that India has the world's largest young population under the age of 30 — almost a stunning 30 per cent or 350 million. Even at a rough conjecture, this means that there are 170 million young women in that age group in India. Second, India is one of the two world economies that are surging ahead — it is expected that it will leapfrog into the third largest economy of the world by 2012. Third, and most important, one of the driving engines of the Indian economy is the huge number of educated women now entering the workforce.
Devita Saraf, head of luxury brand Vu Technologies, is one of the youngest CEOs in India

Role Call
2011
Going by the report cards of 2010, our movers and shakers are ready for fresh jobs. Here is unveiling the tongue-in-cheek Task Force 2011...
I Hate Luv Storys
Though 2010 saw its share of star break-ups, some grabbed more footage than others. While the top Break ke Baad tale that kept even the media on tenterhooks was that of the Dabangg and his Diva (Salman and Katrina), it was another split saga — of Deepika Padukone and Ranbir — that caught the attention of talent scouts with its spicy 'post' script.
Brain spot where fear resides found
Snakes, spiders, haunted houses and horror movies may frighten most of us, but there is one woman who doesn't seem to be afraid of them or anything else. Identified only as 'SM', she is the subject of a new study that looked at how a certain part of the brain experiences fear.
Star trek 2011
P. Khurrana predicts what is in store for various zodiac signs
Aries
March 21 to April 20
A progressive year though you will have to struggle a lot before you achieve any gains. The beginning of the year sees you signing fresh contracts, or starting a new job, which has the potential to grow rapidly during the next couple of months. You will make substantial gains around March and during May/June, but thereafter, a slight decline in income or profits is foreseen either due to neglect, or over-stretching your budget, causing a minor setback.
Prints, prints everywhere
With multiplexes releasing many simultaneous prints, the silver and golden jubilees that the films earlier celebrated are no longer relevant as a movie is declared a hit or flop after just three days of release, writes V Gangadhar
Call it the flood, the saturation point, but the print media is reaping its rewards. Film ads are getting longer and longer because thousands of prints of single films are now being released in umpteen theatres located in multiplexes, there are more shows for each film and it is quite common for a multiplex to organise half a dozen shows on the same day. If one is not careful, one can land up in the wrong auditorium for the wrong film at the wrong time.
Master craftsman
Ranjita Biswas pays a tribute to the legendary Japanese director Akira Kurosawa, one of the most influential filmmakers in the history of cinema
Life is for living and enjoying; to live life meaningfully is even more rewarding. Kanji Watanabe, a bureaucrat, who died of cancer, seems to say it silently to the mourners who have gathered to pay respect to his departed soul. Watanabe is the protagonist of Ikiru (To Live) by Japanese film icon Akira Kurosawa.