M A I N N E W S
Telangana activists fume
Suresh Dharur
Tribune News Service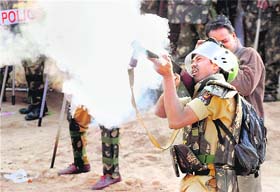 Police fires tear gas shells to disperse pro-Telangana students. — PTI
Hyderabad, January 6
The threat of a violent agitation loomed large over Andhra Pradesh with Telangana protagonists rejecting the report of Justice Srikrishna Committee, which favoured united AP with sufficient statutory safeguards to Telangana region.
Hours after the report was made public, angry Telangana activists hit the streets and staged protests at several places. Two buses were attacked near Osmania University here, the epicentre of the statehood movement.
The president of Telangana Rashtra Samithi (TRS) K Chandrasekhar Rao, who has been in the forefront of the agitation, warned the Centre of en masse resignations by elected representatives from the region if it failed to introduce a bill in the coming budget session of Parliament on creation of a separate Telangana state.
"Nothing short of a separate Telangana state will satisfy us. Not an inch more, not an inch less. We want the Centre to implement the fifth option mentioned in Srikrishna Committee's report (Bifurcation with Hyderabad as Telangana capital). All other options deserve to be consigned to dustbin," Rao said.
He appealed to Prime Minister Manmohan Singh to stick to his Government's statement made on December 9 last year and introduce Telangana bill in Parliament.
"We are fighting for self-respect. We are fighting for self-rule. We want our right over our land. Telangana wants its own identity. We will take the struggle to any level, but we will not compromise," he asserted.
Adopting a belligerent approach, he said: "If you do not give statehood for Telangana, we will chase you in a way that you would find it difficult to live."
Revolutionary balladeer Gaddar dismissed the committee as nothing but a ruse to dilute the separate Telangana movement. "The committee findings will only increase the animosity among people of the three regions in the state. The only solution is to place a bill for creation of a Telangana state in Parliament," he said.
The Telangana leaders in the Telugu Desam Party too slammed the report. "The report is absurd and we do not accept it," senior party leader Revanth Reddy said.
TRS leader and KCR's son, KT Rama Rao said the ball was now in the UPA Government's court. "The government should study the report and arrive at a wise decision, and initiate moves to introduce a bill in Parliament for the creation of Telangana state," he said.
The Home Minister P Sabita Reddy, who hails from Telangana region, appealed to the people, particularly the student community, to maintain calm. "The report has only made suggestions and it is not a verdict. The government will go into the suggestions and take appropriate decision," she said.