M A I N N E W S
McKinsey's report on Urbanising India
In 20 yrs, Punjab to have more city dwellers
By 2030, the state's urbanites to outnumber its rural dwellers;
TN, Gujarat, M'rashtra and Karnataka going the same way
Faraz Ahmad
Tribune News Service


INDIA IN 2030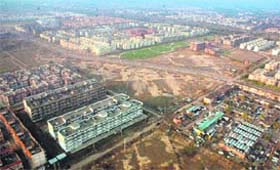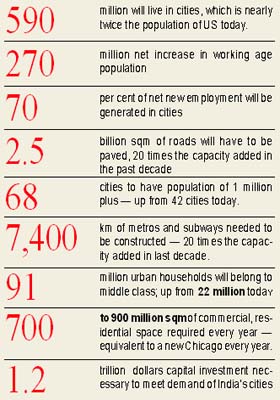 New Delhi, January 13
Urban population in five states of India, including Punjab, is slated to outstrip the rural population by 2030, says a projection made by the McKinsey Global Institute (MGI) recently.
Exploding the popular myth of the real India residing in its villages, the MGI has shown that already in one of these five states, namely Tamil Nadu, the urban populace is larger than the rural dwellers. The other three states in the list are Gujarat, Maharashtra and Karnataka.
Projecting that cities will be central to India's economic future, the McKinsey report states that the population of India's cities will increase from 340 million in 2008 to 590 million by 2030 -- 40 per cent of India's total population. It predicts a general spreading out of urbanisation across the whole country, impacting almost every state. In short, India will witness an unparalleled urban transformation matched perhaps only by China.
On the world scale, India's urbanisation will be immense. There will be 68 cities with more than 1 million people, 13 with more than 4 million, and six megacities with population of 10 million or more, at least two of which (Mumbai and Delhi) will be among the five largest cities of the world by 2030. For the present there are 42 cities with more than 1 million people in India.
In terms of both population and the GDP, many Indian cities will become larger than many countries today. For instance, Mumbai Metropolitan Region's GDP is projected to reach $265 billion by 2030, larger than the GDP of many countries today, including Portugal, Colombia, and Malaysia.
The MGI also projects reduction of poverty as a result of this population explosion, saying that India's fast-growing and productive cities will drive a near four-fold increase in India's per capita income between 2008 and 2030. The number of households earning less than Rs 90,000 per year will fall below 20 per cent, while the number of middle class households (earning between Rs 200,000 and Rs 1 million a year) will increase more than four-fold from 32 million to 147 million.
These economic trends will unlock many new growth markets, many of them not traditionally associated with India, including infrastructure, transportation, health care, education and recreation.
To meet the needs of this new emerging class, the economy will have to build between 700 and 900 million square metres of residential and commercial space a year — equivalent to adding more than two Mumbais or one Chicago every year. In transportation, our projections suggest that, to meet the urban demand, India needs to build 350 to 400 kilometres of metros and subways every year, more than 20 times the capacity of this type by India in the past decade. In addition, between 19,000 and 25,000 kilometres of road lanes would be required to be built every year (including lanes for bus-based rapid transit systems), equivalent to the amount of road lanes that have been constructed over the past decade.
But if the current low rate of investment in urban infrastructure continues then in 20 years' time, the urban infrastructure will fall woefully short of what is necessary to sustain prosperous cities.
Life for the average city dweller in India would become a lot tougher. Water supply for the average citizen could drop from an average of 105 litres to only 65 litres a day with a large section of the population having no access to potable water at all. India's cities could leave between 70 to 80 per cent of the sewage untreated. While private car ownership would increase, shortcomings in the transportation infrastructure have the potential to create urban gridlock -- similar to the acute congestion that cripples some Latin American cities.
Therefore, till the construction of urban infrastructure is dramatically increased, India will not be able to bridge the gap between demand and provision of basic services.