Their ENGINE chugs along…
An engineering degree is not good enough for most; one needs to back it up with an MBA for a successful career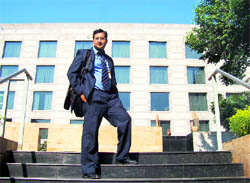 Other than engineering and medicine, no other career options ever existed; in fact, the two defined education from the beginning till the end. Then came along some suave-looking Indian gentlemen from off-shores - a Rolex on the wrist, an accent to go along with; turning cubicles in swanky state-of-the-art offices. These were the MBAites, redefining the economics of work. They raked in the moolah, while doctors and engineers tried various ways to upgrade their CVs.
Prabal Aggarwal
Colour of Oz
An international touring exhibition 'BALGO: Contemporary Australian Art from the Balgo Hills' comes to the city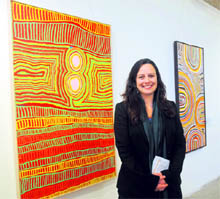 Depicting nature in all vibrancy, intensity and loaded with symbols is what 'Balgo: Contemporary Australian Art from the Balgo Hills', on at Government Museum and Art Gallery, offers. Twenty-five works, some acrylic on canvas/linen and others etchings on paper, present a riot of colours and energy. What's special is each of them carries a rich slice of Aborigine culture. 'Balgo' is a word in Australia that invokes colour and exuberance. "It's an art that is both ancient and contemporary; both spiritual and political," writes Jackie Dunn, senior curator, Artbank.

Kathryn Deyell standing among (L) Nyaru (by Lucy Loomoo) and (R) Tjukukalyu (by Jimmy Tchooga). Nyaru has two old men Dreaming while Tjukukalyu is set in traditional country by the same name. The central circle represents water and surrounding patterns the sandhills.

Winner takes it all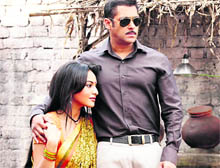 Salman Khan starrer Dabangg, the highest grosser in 2010, has emerged as the biggest winner at this year's Apsara Awards, bagging the Best Film, Best Actor and Best Music trophies.The film's female lead Sonakshi Sinha took home the Best Debut - Female trophy. Dabangg also won the Best Dialogue award, the Best Performance in Negative Role went to Sonu Sood and singer Rahat Fateh Ali Khan won the Best Male Singer trophy for the song Tere Mast Mast Do Nain. The Best actor award was shared by Vidya Balan for 'Ishqiya' and Anushka Sharma for her role in Band Baaja Baraat.
Good sport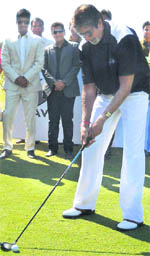 Bollywood megastar Amitabh Bachchan plays a shot to inaugurate the Gujarat Golf Challenge 2011 tournament in Ahmedabad recently. PTI photo

Koffee break
Con artiste
The Deols are back in director Samir Karnik's comedy Yamla Pagla Deewana after Apne. Bobby Deol plays the lead with dad Dharamenda and brother Sunny Deol. With Yamla Pagla Deewana, he is all excited as this is his first film of 2011. The promos have already shown positive response. The audiences' verdict will affect Bobby's acting career. Lifestyle talks to Bobby about the film and more….
The Bachelorate
Congress General Secretary and youth icon Rahul Gandhi and Bollywood actor Esha Deol were voted as the most eligible bachelors by the people of Mumbai in a recent poll. The poll, conducted by matrimonial website Shaadi.com, gave Rahul 34.69 percent votes, followed by Olympic bronze-medallist boxer Vijender Singh who got 18.36 percent votes.
Tell tale signs


Goldie Hawn's ex-husband Bill Hudson is planning to write a tell-all book about the veteran Hollywood star and their daughter, actor Kate Hudson. Hawn married the singer in 1976 and they became parents to two children, actors Kate and Oliver Hudson, before divorcing in 1980. The Almost Famous star was just 18 months old when her parents ended their marriage, and she was raised by Hawn's long-time boyfriend, Kurt Russell, as she was estranged from her real father.

Goldie Hawn
Chandni Chowk to Chandigarh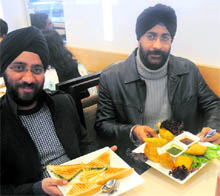 More than a relic of Mughal era, Chandni Chowk is a heady mixture of history, modernity, tradition, chaos, commerce and, but of course, food. Built in 1650 AD as an accompaniment to the majestic Red Fort by the Mughal emperor Shahjahan, it is said that the moonlight reflecting off its main canal earned it the name Chandni Chowk. And getting the flavours of Chandni Chowk to Chandigarh is the new multi-cuisine restaurant by the same name (Chandni Chowk) in Sector 22. Though no comparisons can be drawn with the variety of street food we get at Chandni Chowk, the menu of the restaurant here has sufficient variety to whet your appetite.
Write note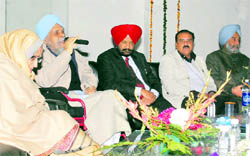 Legendary Punjabi playwright Gursharan Singh inaugurated a 1500-seater auditorium of Gian Sagar Educational and Charitable Trust on Wednesday. He was accompanied by his wife and daughter, who were also felicitated at the function that was attended by writers and artists from all over the region. Dr Sukhwinder Singh, vice-chairman of the Trust, lauded Gursharan's contribution to Punjabi literature.

Dr Gursharan Singh addresses the gathering at Gian Sagar
Fun on the street!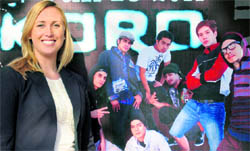 The event may be scheduled for a week later, but the announcement came bang on time or a bit before time, to hype things up (or hip-hop things up)! To celebrate the sixth anniversary of the American Corner in Chandigarh, US Embassy brings to the city Havikoro, popular Houston-based group of street dancers known for their acrobatic, hip-hop, dance style.
American hip hop group, Havikoro, to perform in the city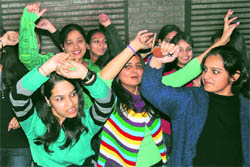 Girls sway to Lohri numbers at The Lobby-26. Lifestyle photo: Pradeep Tewari

Side Lanes
THERE WAS ONCE A SCHOOL…
A decade and a half ago, there was a school. It stood on a small plot of land in the heart of the city. Each brick cemented and set, reflected great care and pride. Each tree and flower was nurtured with affection, and as the buildings rose, the creepers clung to the walls and trees grew skywards. At the gate, a gazebo covered with wisteria, scented the air. The children poured in and there was laughter in the corridors and a rush of feet along the stairwells.
Art-i-fact
Timeless realism
Henrik Ibsen's unique ability to capture emotions, love, betrayal and of course people is what makes his plays timeless


Where? Where else but in the works of great masters like Henrik Ibsen, hailed as the father of modern drama and realism. The Norwegian playwright, who is considered one of the greatest since Shakespeare, has not only influenced all modern playwrights like Arthur Miller, but theatre persons across the world right down to the 21st century.
Henrik Ibsen
Life of an artist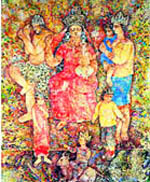 The Chandigarh Lalit Kala Akademi is organising My Life-My Art, a lecture-cum-slide show by Paris-based Indian artist Sakti Burman on Friday. Born in Kolkata in 1935, Sakti Burman graduated from the Government College of Arts and Crafts, Kolkata. He studied at Ecole Nationale Superieure des Beaux- Arts in Paris, visiting Italy frequently and becoming inspired by the frescoes and paintings of the Renaissance period. His paintings evoke the look of a weathered fresco, depicting figures in hues that the viewer feels were once vivid, but that are now faded. It transports one into a dream-like world, where the perspective and composition is often that of medieval icons.
Background score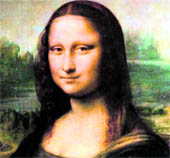 A hidden clue in Leonardo da Vinci's Mona Lisa has led to the identification of the exact location of the landscape, which provides the background to the painting, an Italian art historian has claimed.Carla Glori said a three-arched bridge that appears over the left shoulder of the woman with the enigmatic smile is a reference to Bobbio, a village south of Piacenza, in northern Italy. Glori's theory is based on the recent discovery by another art historian, Silvano Vinceti, of the numbers 7 and 2 concealed in the span of the stone bridge.She believes the numerals are a reference to 1472, the year in which a devastating flood destroyed Bobbio's bridge.
3-Dimensional art

Women try an installation called Triple balance by French artist Fabrice Hybert at his exhibition at the Museum of Modern Art in Krasnoyarsk, Siberia, recently. — Reuters photo