Evergreen ANAND
At 87, Dev Anand carries on, a vital link between the present and the past. The versatile and young-at-heart hero will have two releases this year.
V Gangadhar about the remarkable actor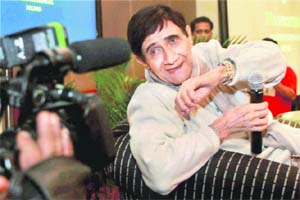 Dev Anandís latest film Charge Sheet will be released soon Photo: PTI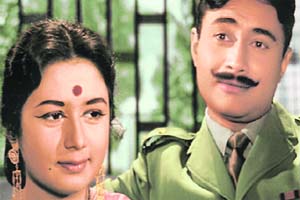 A digitally re-mastered coloured still from Hum Dono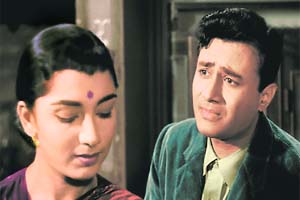 Retitled as Hum Dono Rangeen, it will first release overseas on January 28 before hitting the Indian screens on February 4
Where are the famous film studios in the US and India which had churned out thousands of films? In Hollywood, Warner Brothers, Columbia, Paramount, RKO and Universal International are vague memories now. The biggest of them all, Metro Goldwyn Mayer, too, recently filed for bankruptcy and was taken over by dozens of creditors. No one knows if it will survive in its new avatar.
It is the same in India. How many among the present generation have heard of Ranjit Movietone, Prabhat, Filmistan, Filmalya, Rajkamal or Mehboob Studios, which dominated the film world, making India the largest film producer in the world. Many of these studios lie in ruins; though a few of them may still offer limited facilities for shooting films and TV serials.
R. K. Studios is still remembered because there is a young generation of actors, who represent the Raj Kapoor legend (Rishi, Ranbir and Kareena).
In this dismal scenario, there is one unit, which still produces films, though not many of them have been successful. Dev Anandís Navketan turned 60 recently and its presiding deity, 87-year-old Dev Anand is still running around making films and starring in them.
A true Bollywood wonder, Dev Anand, this year,will have two additional feathers in his cap. A new film, Charge Sheet, will be released shortly and as also the colour version of one of the Navketan classics, Hum Dono, which was a big hit during the 1960s.
A temporary shift of office to suburban Khar from his penthouse-cum-studio in Pali Hill, now undergoing repairs, has not impaired Dev Anandís zest for life and he sounds as chirpy as ever on the phone as he talks about Charge Sheet. It is a taut, modern, political crime thriller, where the producer-director-actor has taken care to include themes, which will appeal to present-day audiences. For once, the film, unlike normal Navketan productions, has an impressive star cast ó Naseeruddin Shah, Jackie Shroff, Divya Dutta and Dev Anand himself. He has high hopes from newcomer Debashi, who, he hopes, could be the next Zeenat Aman.
Ever ready to experiment, Charge Sheet may present some new aspects of our legal and policing systems. Describing himself as a law-abiding citizen, Dev Anand explains his role does have some shades of grey, but that is because he has always experimented and is ready to tackle anti-hero roles.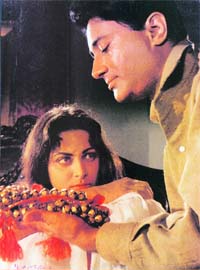 A still from the classic Guide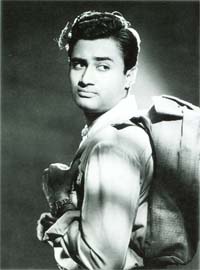 Dev Anand essayed some of the great roles in films like Baazi, Taxi Driver and Jewel Thief
Take, for instance, some of the great roles in the past from films like Baazi, Taxi Driver, Jewel Thief and Guide. Of course, the hero did sing, dance and romance lovely heroines, yet he did have some dark shades in his character. The hero did associate himself with undesirable elements but managed to break free from their clutches and bring them to book. Evil never triumphed in Navketan films.
Dev Anand is frank enough to admit that many of his films dealing with new ideas have not clicked in the past. "That is the hazard of experimenting," he explains. "Sometimes, you fail, but you can make it big if you hit the jackpot." Some of his more recent films, which had only fleeting appearances in theatres, have been far ahead of their time and perhaps, that was why the audience did not accept them.
He is particularly fond of Hum Dono, particularly its patriotic theme and incomparable music score by Jaidev. Will the colour version come up to expectations when similar experiments with hit films like Naya Daur failed?
"Beautiful," is how Dev Anand explains his Hum Dono.The filmís theme of war and morality could never become out of date. Released some 50 years back, the film appealed to the aesthetic and critical faculties of audiences. Songs like "Abhi najao chhodkar, ke dil abhi bhara nahin" and "Main zindagi ka saath nibhata chala gaya" penned by poet Sahir, are hummed even today. No wonder, Hum Dono has a special place in the heart of Dev Anand. He has one regret, though. Heroines Sadhna, Nanda are no longer working in films, others have died.
But Dev Anand carries on, a vital link between the present and the past. Often he feels like a child discovering many new and beautiful things in life. He has achieved everything, scaled new peaks, won acclaim and honours`85but still will not quit. "I have seen and experienced everything," he agrees. "But there is much more in the world and movie-making." He calls himself a happy and contended man.
Though there is no need to exert oneself physically to make a movie now as one can direct a movie just by sitting on a chair. India is now a world power and Indian films are seen all over the world. Todayís films are now crossing geographical barriers and he will like to be part of this exciting process. Donít be surprised if in days to come, Navketan announces an international film with the 87-year Ďyoungí director-actor firmly on the saddle.


The colourful journey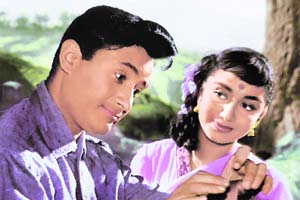 In Hum Dono, Dev Anand was in a double role opposite Nanda and Sadhana
Plans are already afoot to bring out Dev Anandís classic hit Hum Dono (1961) in colour. Now, the evergreen star just might literally pop out of the screen and stroll in the theatre, a cigarette dangling from the corner of his lips, when it is converted into 3D.
"The 3D process is currently being considered for the conversion of Hum Dono Rangeen, which will further enhance the value of this invaluable Bollywood classic, giving it new life for future generations of audiences," says Barry Sandrew, the founder of Legend Films that specialises in colouring Hollywood black and white classics.
Retitled as Hum Dono Rangeen, the hit that saw Dev Anand in a double role opposite Nanda and Sadhana 50 years ago, will first release overseas January 28 in its digitally re-mastered coloured version before hitting the Indian screens on February 4.
The movie, also remembered for its musical lighter, has been coloured using 65,000 shades. It will be released with Dolby Digital Ex-surround sound. Sandrew has colured the movie with state-of-the-art advanced technology in the US.
Impressed by Dev Anand and the movieís "spectacular" new look, Sandrew is now contemplating converting it into 3D.
Dev Anand is happy with the fact that the young generation will get to see the film.
"Itís nostalgic to even think about Hum Dono. I still remember the kind of response we got when it was released way back in 1961. I am happy that people would be able to relive the experience in a better way and hope the younger generation, who has not seen the film, will also love it the way the film was loved 50 years back," says Dev Anand.
Written by Vijay Anand and directed by Amarjeet, Hum Dono was the last black and white offering from Navketan Films, which has produced cult films like Baazi, Guide, Prem Pujari, Tere Ghar Ke Samne and Hare Rama Hare Krishna to name a few.
Legendry international films that have been colourised films include Holiday Inn (1942), Reefer Madness (1936), Plan 9 From Outer Space (1959), Night of the Living Dead (1968) and other movies owned by the likes of 20th Century Fox, Sony Pictures Entertainment, Universal Pictures and Paramount Home Entertainment. ó IANS