With new gain
will the kings reign?
The Kings XI Punjab outfit for IPL 4 brings in many fresh faces
Sunil Narula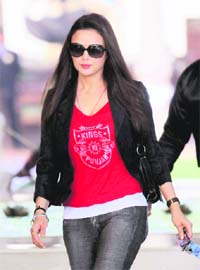 It remains to be seen how the latest team put together by Kings XI Punjab co-owner Preity Zinta works Photo: PTI
WE know at least one thing about the IPL that hasnít changed: Kings XI Punjab are still very much around and thatís big news for the fans of this region.
For a while, it was feared that these parts will go without their share of the IPL when Kings XI Punjab and Rajasthan Royals were suspended by the BCCI (for allegedly breaching some vague rules). But, both franchises stuck to their guns, fought against the perceived injustice meted out to them, got that decision reversed in the courts and are now battle ready for Season 4.
As for the Kings XI outfit, in a manner of speaking, they are starting from scratch this time around. And you can be forgiven for confusing some of the players when the team lines up in Mohali in April. There will be a lot of players missing, who were part of the action in the three earlier seasons.
Yuvraj Singh. Well, he will be missing from the Kings XI team this time. Brett Lee. He, too, will not be there. Sreesanth. Even he will be gone. Kumar Sangakkara, Irfan Pathan, Mahela Jayawardene, Ravi Bopara`85..they will all be missing from the Kings XI Punjab team in Season 4. Thatís really some revamp this franchise has undergone. They have even jettisoned their coach from the previous seasons. And, Tom Moody has made way for another Australian, Michael Bevan.
After the conclusion of the auction in Bangaluru last weekend, new coach Bevan expressed satisfaction with the new team that he has got (perhaps because he will have a host of Australian players to work with). "I think I have the nucleus of a good side,"said Bevan.
And we seem to agree with that assessment. In Season 4, Kings XI Punjab will be captained by Adam Gilchrist (he was with Deccan Chargers earlier). They will also have in their ranks David Hussey, Shaun Marsh and Ryan Harris (all from Australia). Plus, they have also brought in Stuart Broad and Dmitri Mascarenhas (both England).
Among the current Indian players, Kings XI have opted only for Praveen Kumar, Dinesh Karthik, Abhishek Nayar and Piyush Chawla. On paper, this seems a balanced enough side with the only dumb selection being that of Piyush Chawla (for a whopping $9,00,000), especially since he had not set the IPL on fire in the first three seasons. But, all franchises have a favourite cricketer or two and he does not have to be the best player going around. So, Kings XI have retained only Chawla from their erstwhile unit.
Now, this team will hope to add local flavour to their group by picking up young uncapped players from the region, who will play an important role for them. In the past seasons, Kings XI have floundered in this area as well by grabbing the wrong set of uncapped players, who havenít really helped their cause too much. Possibly, they have learnt from that experience and have the correct inputs this time around to back the right set of young players.
Away from the cricket field, Kings XI have got some thorny issues to sort out in their locker room as well. And, with Bevan and Gilchrist at the helm, they will look to set that thing right. Yes, we are talking about the captaincy issue. Kings XI were led by local favourite Yuvraj Singh for the first two seasons and then, quite abruptly, Yuvi was removed from captaincy for the third season and, inexplicably, Sangakkara replaced him.
That move did not go down too well with the local players and Kings XI fared quite poorly in the last season. From then on, it was also quite obvious that Yuvi will not be a part of Kings XI in Season 4 and thatís exactly how it turned out. The Punjab player was bought for $1.8 million by Pune Warriors.
Administratively, too, Kings Xi went through a change at the top. COO Anil Srivatsa opted out after the last season and now Col. Arvinder Singh is the new boss. And, apart from Mohali, Col. Arvinder is also looking to build up Dharamsala and the Cricket Stadium in Sector 16 (Chandigarh) as alternate bases for his team. "If floodlights are in place at the Sector 16 stadium before April, donít be too surprised if we have some home games there as well," says Col. Arvinder.
It is also no secret at all that some owners of Kings XI Punjab (there are four in all) wanted to sell off there stakes last season and move on but that cannot happen right now with the court not permitting them to change the pattern of their ownership. So, here they stay.
The good part though is that Kings are ready for another season. They have a new set of players (mostly). They have a brand new coach. And, going by the players that they have put together at the auction in Bangaluru, it will be fair to say that on the right day, under the right circumstances, they could do special things in IPL 4.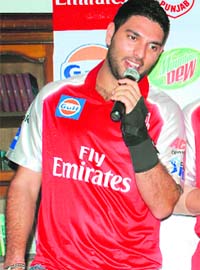 Kings XI Punjab have got some thorny issues to sort out in their locker room as well. And, with Bevan and Gilchrist at the helm, they will look to set that right. Yes, we are talking about the captaincy issue. Kings were led by local favourite Yuvraj Singh for the first two seasons and then, quite abruptly, Yuvi was removed from captaincy for the third season and, inexplicably, Sangakkara replaced him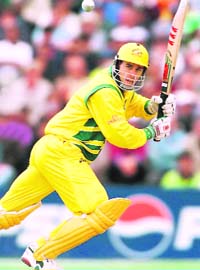 catch of a coach
One Australian will replace another as the coach of the Kings XI Punjab this season with 40-year-old Michael Bevan taking over from Tom Moody. Nicknamed ĎBevoí, Michael was a tremendous one-day player for Australia, being part of two World Cup winning squads. Many experts also rate him as the best one-day player ever. Bevan was also associated with rebel league ICL (now defunct) as player-cum-coach of Chennai Superstars. In IPL 4, for Kings XI Punjab, Bevan will have the comfort of working with Australian players like Adam Gilchrist, David Hussey, Ryan Harris and Shaun Marsh, whom the franchise has included in their line-up.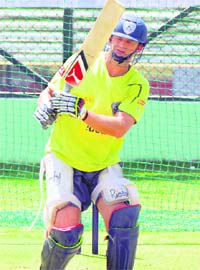 going for Gilly
Adam Gilchrist will be the new captain of Kings XI Punjab in Season 4 after the franchise picked him at the auction in Bangaluru for $9,00,000. Gilly was the skipper of Deccan Chargers Hyderabad in the first three editions of the IPL. This 39-year-old wicket-keeper batsman is a seasoned campaigner, having featured in 68 T20 internationals, scoring 1773 runs with two centuries. He has said in the past that his philosophy in cricket is to "just hit the balls," something that has brought him great success all along. Kings XI will look to him to bring firepower as batsman, solidity as keeper and stability as leader for the team.
Wow workouts
Kickstart the year with circus spins, lovelorn lunges
Dorene Internicola
HOW can you mend a broken heart? Try a squat. Vying for new memberships in 2011, fitness centres, gyms and studios are offering everything from circus stunts to break-up advice.
"January is our sweet spot. This time of the year, you give people a lot of variations," says Donna Cyrus, senior vice-president of programming for Crunch fitness. "We want to keep people working out and trying new things."
Buoyed by New Year resolutions and dreams of fresh starts, new gym memberships can spike over 12 per cent in January, according to IHRSA (International Heath Racquet and Sportsclub Association), the fitness industry's global trade association. Cyrus says her membership base of 20 to 40-year-olds favours short, intense workouts, often with a performance base or a sexy edge.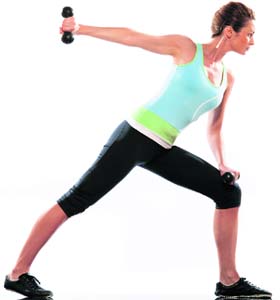 So, you can swing, Cirque-du-Soleil-like, from circus silks hung from the ceiling, or get a 16-hour certification in pole dancing. The rebounding class is re-dubbed ĎBar Hoppiní.
It's just positioning the best practices: cardio, strength, resistance training, in a different menu," Cyrus says. If this programme seems like a singles' party, other gyms address those for whom the party's over. They put together a programme of workouts, tips and advice for those on the emotional rebound.
The Breakover Makeover Workout works on the premise that if you can't wash that man out of your hair, you can sweat him away in the cardio room, and build a better body doing it.
"Celebrities seem to break up right before holidays but people who have families do try to wait until the holidays are over," says Dr Beliza Vranich, a clinical psychologist with Gold's Gym, who provides website tips and advice for the suddenly single.
Vranich says while breaking up usually conjures visions of ice- cream, isolation and weight gain, "the Breakover Makeover aims for the opposite."
Along with soothing suggestions to buy a new workout outfit or try an unfamiliar fitness class, comes a workout that Vranich describes as "very succinct," with an emphasis on lunges and squats.
"People are more obsessed with butts and glutes than ever before" she explains. "Lunges or squats are terrifically effective. And for sex appeal, butts and glutes are really important."
Vranich thinks 2011 will be the year of the glutes.
"Anecdotally, my friends who are plastic surgeons are doing more butts than ever before," she says. "In the past we've paid more attention to the top half and front of the body."
At another chain of yoga studios, the philosophy is less break-over than crossover. Under the umbrella of "mindful fitness," studios are adding pilates, resistance, and circuit training to their yoga.
"We wanted to come up with other things," says CEO Phil Swain. So, one new class, YogaWorks Slim, is quicker paced and organised to keep the heart rate up. Swain, along with most other experts, says classes are getting shorter in response to student demand. But he insists quality is being maintained.
"We're very protective of yoga," Swain says. "Everything has to be barefoot."