How not to damage eyes in winter
Dr R.Kumar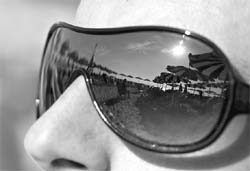 Reena went to Narkanda along with her friend in the recent winter vacations to enjoy the beauty of snow — photographing, skiing, playing snowball, making snowman, etc. She came back with the complaints of pain, watering, blurred vision and inability in opening her eyes. She now had snow blindness. While administering treatment, her eye doctor advised her to be more careful about the eyes during winter than even in summer.
The sun's influence does not diminish during winter, so the eyes need to be protected during winter too. Exposure to UV rays during winter can harm the eyes as much as it can increase the risk of developing sunlight-related eye disorders, including cataracts.
The sun is not the only eye hazard in winter. The cool winds and drier air can irritate the eyes while one is outdoors. UV radiation and glare when skiing can cause snow blindness (photokeratitis). The condition results from sunburn to the cornea.
Most people will feel their eyes dry and astringent in winter. Especially, heating the air with room-heaters/blowers contributes to dry eyes. On the other hand, as it is cold outdoors, many people reduce outdoor activities. They spend a long time indoors watching TV, playing computer games or reading books. This means excessive use of eyes, which can lead to dry eyes.
Eyes should blink 20 to 25 times per minute. But if you focus on one thing, it will reduce to 5 to 10 minutes. This affects the moisture secretion and distribution on the eye surface. It makes the eye dry by accelerated tear evaporation. Besides, several consecutive hours of using eyes will consume light-sensitive pigment within eye organization. This will significantly affect the visual function.
Indoor heat used during the winter months tends to rid the air of moisture which can dry out and irritate eyes. Use a humidifier in the bedroom during winter with low humidity. This helps moisten dry eyes, especially when exposed to forced air heating.
Eye care tips
l Wear sunglasses that block 99 to 100 per cent of UV light, especially when the ground is covered with snow. People forget that the sun is just as bright when reflected by the snow as it is when glinting off the ocean and beach, leading to sunburned eyes. Overexposure to the winter sun's powerful ultraviolet (UV) rays without proper eye protection can harm the eyes. Although photokeratitis may heal with time, the best way to preserve your vision is to avoid excess UV ray exposure.
l Contact lens-wearers should limit their outdoor exposure and use artificial tears frequently. Soft contact lenses, in particular, are like little sponges. They need lots of moisture. If they start to dry out, they can change shape and stick to the eye, becoming painful and cloudy. Drinking alcohol can also enhance this problem.
l A pair of ski goggles with polycarbonate lenses, properly fitted, can block out harmful UV light. The goggles will also protect the eyes from hazards such as tree branches and flying ski pole tips.
l Bundle up by wearing a brimmed hat, wrap around sunglasses and a hooded jacket or coat. This will help block the swirling cold wind from entering your eyes and prevent the tear film covering the eyes from evaporating.
l Use good eye lubricant drops to protect the delicate eye area, especially during the winter months.
l Aim car vents at feet, not eyes.
l Turn down the heat at home which dries out the eyes. Use a humidifier.
l Eat plenty of fish and foods with Vitamins A, C, E and Omega-3 fatty acids.
l Drinks lots of water and get plenty of rest.
l Green tea and chrysanthemum tea are beneficial for eyes. They can prevent eyes fatigue.
The writer, a Chandigarh-based senior eye specialist, has authored many well-received medical books. Email drrkumar16@gmail.com