Cabinet berths for Praful, Jaiswal, Khursheed
* Gill, Virbhadra, Deshmukh, Deora sidelined * Jaipal gets Petroleum * 3 new faces
Anita Katyal
Our Political Correspondent
New Delhi, January 19
The much-discussed and long-awaited Cabinet reshuffle undertaken by Prime Minister Manmohan Singh today turned out to be a disappointing affair. Contrary to prior indications that the Prime Minister and Congress president Sonia Gandhi would use this opportunity to restore the government's lost credibility by showing the door to non-performers and those involved in controversies, no minister was dropped.
The two leaders instead chose to play safe and only changed the portfolios of some of the ministers though a few seniors have been demoted.

Only three new faces, Beni Prasad Verma, KC Venugopal and Ashwani Kumar, were inducted into the Council of Ministers while Praful Patel, Salman Khursheed and Sriprakash Jaiswal, who were Ministers of State with independent charge, were promoted to Cabinet. Two junior ministers, Ajay Maken and KV Thomas, were elevated as Ministers of State with independent charge.
The new comers and those who were elevated were administered the oath of office and secrecy by President Pratibha Patil at a brief ceremony at the Rashtrapati Bhavan in the presence of Vice-President Hamid Ansari, Sonia Gandhi and a host of Cabinet ministers.
FRESH FACES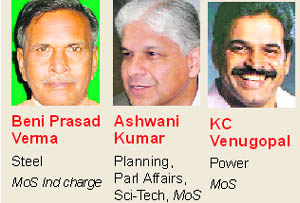 The biggest surprise of the evening was the change in the Gas and Petroleum portfolio. S Jaipal Reddy was given this crucial charge while the incumbent minister Murli Deora was shifted to Corporate Affairs. Deora appears to have been moved out because he was openly identified with a controversial corporate house while Reddy was picked for this job because he comes with no such baggage.
Although Reddy was also under fire as the Urban Development Minister during the Commonwealth Games for the delay and poor construction of the Games' venues, there were no allegations of corruption against him. "Deora was never known for his corporate non-involvement while Reddy is known for his corporate distancing," remarked a senior UPA minister, adding that the controversial ministers may not have been axed but they have definitely been sidelined.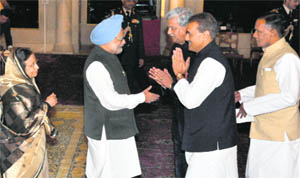 President Pratibha Patil and Prime Minister Manmohan Singh greet ministers after the swearing-in ceremony in New Delhi on Wednesday. Tribune photo: Mukesh Aggarwal
Deora is not the only minister whose wings have been clipped. Kamal Nath has lost the Roads and Surface Transport Ministry, considered critical for the development of the country's infrastructure, and has instead been given the relatively low-profile Urban Development Ministry. Kamal Nath had become controversial as he failed he deliver on his promise on road development but was also frequently embroiled in clashes with Planning Commission Deputy Chairman Montek Singh Ahluwalia and Environment Minister Jairam Ramesh.
Kamal Nath's loss has benefited CP Joshi, who has moved from the Rural Development Ministry to Roads and Transport. Known for his proximity to Nehru-Gandhi scion Rahul Gandhi, Joshi is learnt to have been given this charge because he is said to be more amiable and is reputed to have a "clean image".
Praful Patel, who was the Minister of State in the Civil Aviation Ministry, has been promoted as a Cabinet minister. But he has paid a price for the mismanagement of the civil aviation sector. He has now been given the less glamorous Heavy Industries and Public Enterprises portfolio. "Patel's is a classic case of being kicked up," said a senior UPA minister.
Others who have been marginalised include Virbhadra Singh who has shifted from the Steel Ministry to the low-profile Micro, Small and Medium Enterprises. Similarly, MS Gill, who was also identified with the Commonwealth Games fiasco, has been moved from the Sports and Youth Affairs Ministry to the lesser known Statistics and Programme Implementation.
Nevertheless, regional and caste compulsions have been a key factor in the composition of the team. The leadership clearly had an eye on the upcoming Kerala Assembly polls when it promoted junior minister KV Thomas, a prominent leader of the Christian community, as minister with independent charge.

Fresh list of Union Council of Ministers
Manmohan Singh : Prime Minister and also in charge of ministries and departments not specifically allocated to the charge of any minister, namely the Ministry of Personnel, Public Grievances and Pensions; Planning Ministry, the Department of Atomic Energy and the Department of Space.
Cabinet Ministers
Pranab Mukherjee : Finance
Sharad Pawar: Agriculture, Food Processing Industries
AK Antony: Defence
P Chidambaram: Home
SM Krishna: External Affairs
Mamata Banerjee : Railways
Ghulam Nabi Azad: Health and Family Welfare
Sushil K Shinde : Power
M Veerappa Moily : Law
S Jaipal Reddy: Petroleum
Kamal Nath: Urban Dev
Vayalar Ravi: Overseas Indian Affairs; Civil Aviation
Murli Deora: Corporate Affairs
Kapil Sibal : HRD, Communications and IT
Ambika Soni : Information and Broadcasting
B K Handique: Development of North Eastern Region
Anand Sharma : Commerce and Industry
Virbhadra Singh: Micro, Small and Medium Enterprises
Vilasrao Deshmukh: Rural Development; Panchayati Raj
CP Joshi: Road Transport and Highways
Kumari Selja: Housing and Urban Poverty Alleviation; Culture
Subodh K Sahay : Tourism
MS Gill : Statistics and Programme Implementation
G K Vasan: Shipping
Dayanidhi Maran: Textiles
Farooq Abdullah: New and Renewable Energy
Mallikarjun Kharge : Labour and Employment
Pawan K Bansal: Parliamentary Affairs; Science and Technology; Earth Sciences
Mukul Wasnik: Social Justice and Empowerment
Kantilal Bhuria: Tribal Affairs
MK Alagiri: Chemicals and Fertilizers
Praful Patel: Heavy Industries and Public Enterprises
Shriprakash Jaiswal: Coal
Salman Khursheed: Water Resources; Minority Affairs.
Ministers of State (Independent Charge)
Ajay Maken: Youth Affairs and Sports
Beni Prasad Verma: Steel
KV Thomas: Consumer Affairs, Food and PDS
Dinsha J Patel: Mines
Krishna Tirath: Women and Child Development
Jairam Ramesh: Environment and Forests
Ministers of State
Srikant Jena: Chemicals and Fertilizers
E Ahamed : External Affairs Mullappaily Ramachandran: Home Affairs
V Narayanasamy : Parliamentary Affairs; Personnel, Public Grievances and Pensions; PMO
Jyotiraditya Scindia: Commerce and Industry
D Purandeswari: Human Resource Development
KH Muniappa : Railways
Panabaka Lakshmi : Textiles
Namo Narain Meena: Finance
MM Pallam Raju : Defence
Saugata Ray : Urban Dev
SS Palanimanickam: Finance
Jitin Prasada: Road Transport and Highways
A Sai Prathap : Heavy Industries and Public Enterprises
Preneet Kaur: External Affairs
Gurudas Kamat: Home
Harish Rawat: Agriculture; Food Processing Industries
Bharatsinh Solanki : Railways
MS Khandela : Tribal Affairs
Dinesh Trivedi : Health and Family Welfare
Sisir Adhikari: Rural Dev
Sultan Ahmed: Tourism
Mukul Roy: Shipping
Choudhury Mohan Jatua: Info and Broadcasting
D Napoleon: Social Justice and Empowerment
Dr S Jagathrakshakan : Info and Broadcasting
S Gandhiselvan : Health and Family Welfare
Tusharbhai Chaudhary: Road Transport and Highways
Sachin Pilot: Communications and Info Technology
Arun Yadav: Agriculture; Food Processing Industries
Prateek P Patil : Coal
RPN Singh : Petroleum and Natural Gas; Corporate Affairs
Vincent Pala: Water Resources; Minority Affairs
Pradeep Jain : Rural Dev
Agatha Sangma: Rural Development
Ashwani Kumar: Planning; Parliamentary Affairs; Science and Technology; Earth Sciences
KC Venugopal : Power