Poor Namesake
The sleepy town of Mullanpur, adjoining Chandigarh, has become a realty hot spot. With investors and realtors making a beeline for the area that falls in Punjab, a proposed change in its name to 'New Chandigarh' has sparked a debate. Is there a hidden agenda here? Whether the area will live up to its new name remains to be seen, reports Rajmeet Singh
Located on the northwest periphery of Chandigarh, the Mullanpur area is being seen as the next realty goldmine by investors, end users as well as developers in the Tricity region. The area's proximity to Chandigarh is its chief attraction, and it has even been projected as an extension of the City Beautiful by some promoters.
| | |
| --- | --- |
| | |
Housing loan limit of Coop banks curtailed
Cooperative banks across the country will now not be able to sanction housing loans beyond five per cent of their total assets. Earlier, the state cooperative banks (StCBs) and central cooperative banks (CCBs) were allowed to extend housing finance up to 10 per cent of their total loans and advances.
TAX TIPS



Tax liability on acquired land



No deduction on loan for plot



Rebate on loan for under construction house



Share in father's property



Joint loan and rebate



Not ready to pay penalty
GROUND REALTY
Scoring high on energy efficiency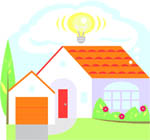 Climate change, global warming, environmental pollution — these are some of the new household words these days. After the Copenhagen summit, every one is trying to come to terms with these phenomena. Those amongst us, who weigh everything financially, have an arousing interest in carbon credits. The fact that carbon credits can earn some income for one has motivated a few banks to devise schemes to buy carbon credits from people, sell them to the developed nations and earn money for the individuals as well as the banks. Any building or industry that saves energy can earn carbon credits. At the same time, one also makes direct savings through energy efficiency.
REAL TALK

Small builders need protection
Satish Jindal, Managing Director of Barnala Builders, is a builder with a vision whose two residential projects under the brand name Maya Garden at Zirakpur have set a benchmark for luxurious living at affordable prices. The builder, who launched the Phase III of the Maya Garden recently, firmly believes in customer satisfaction and transparency with a view to meet the expectations of the hi-end customers. In an interview with the Real Estate Tribune, Jindal says that quality of construction, affordable prices and ethical dealings with the customers are success mantra for any developer:
Satish Jindal
REALTY BYTES
Contract awarded
Realty major Lodha Developers has awarded the Rs 450-crore contract for civil construction of its tallest residential building in Mumbai—World One—to a joint venture between Arabian Construction Company (ACC) and Simplex Infrastructure.
A win-win situation
The interest subvention scheme is a good option for homebuyers, writes Harinder Singh
The country's largest lending agency, the State Bank of India, has come up with a new scheme that is expected to give the much needed fillip to the realty sector and increase home sale. The interest subvention scheme, as it is known, envisages a special arrangement between SBI and the builder offering under-construction homes for sale.
Global property investment set to rise
Global direct real estate investment is forecast to rise 20 per cent this year to $380 billion, led by a sharp rebound in the United States, with total volumes still about half the market's 2007 peak, a report said.