Star kids set for silver screen
Star children are leading the pack of fresh faces poised for the big screen in 2011, writes Jyothi Venkatesh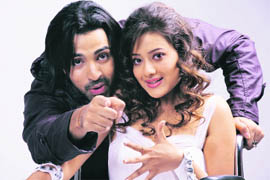 Ganesh Acharya's Angel has launched Nilesh Sahay and Maddalassa. Nilesh is son of yesteryear actress Zaheeda and a nephew of Sanjay Dutt. Maddalassa is the daughter of veteran actress Sheela Sharma
The year is set to usher in quite a few bright new faces in Bollywood. With the disastrous showing at the box office of biggies like Tees Maar Khan and Toonpur Ka Superrhero, and the appreciation that newbie Ranvir Singh got for his performance in Band Baaja Baraat, many producers are now pinning their hopes on new faces.
As choreographer Ganesh Acharya, who has produced and directed his latest film Angel, puts it, "When you bank on a new face, there are more chances of your film getting appreciation not only from the critics but also at the box office because a film with new faces offers something refreshingly different. I know, because I had earlier made Swami with Manoj Bajpai and Juhi Chawla and have now made Angel with new faces Nilesh Sahay and Maddalassa."
While Nilesh Sahay is none other than the son of the yesteryear actress Zaheeda and the nephew of Sanjay Dutt, Maddalassa is daughter of veteran actress Sheela Sharma, who made her debut in Rajshri Films' Nadiya Ke Paar more than three decades ago. The film is the story of a girl who cannot speak and a boy who speaks a lot. In brief, the boy meets this handicapped girl and becomes the angel of her life, helping her overcome her disability. A perfect Valentine's Day film, Angel, is slated for release on February 4.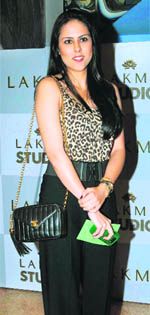 Saachi, Kumar Gaurav's daughter, is eyeing the tinseltown big time
Rati Agnihotri's handsome young son 23-year-old Tanuj Virwani is all set to make his debut in Bollywood soon, with Joe Rajan's untitled project; after having assisted David Dhawan in a couple of films. Tanuj has also worked as assistant director for Aao Wish Karein and Chance Pe Dance.`A0The star son says that he doesn't think much about being compared to his mother. He was supposed to make his debut in Ravi Chopra's Purani Jeans but the film didn't see the light of the day due to Chopra's ill health.
Meanwhile, Sanjay Dutt's niece Saachi is eyeing tinseltown big time. The 23-year-old is an actor, fashion designer and model, and is ready to make a career in Bollywood. She is the eldest daughter of Kumar Gaurav, who was last seen on the big screen in Kaante with his brother-in-law Sanjay Dutt.
The fashionable star kid did a diploma in fashion designing from SNDT University in 2006. She also enrolled for a six-month internship with ace designer Anna Singh. She launched her own label, Saachi, in 2007. The star-in-making has a clientele mainly in India and West Asia. Saachi also designs for uncle Sanjay Dutt and his sister Priya Dutt.
Saachi says, "As a child, I was very conscious of what I wore." Saachi, who has watched her mother at work in her designer store Bombay Bazaar, is working on a collection of dresses, which she will retail in Mumbai. "The big plan is to revive Bombay Bazaar and have my independent stores," says a confident Saachi. So, make way for the new kid on the block.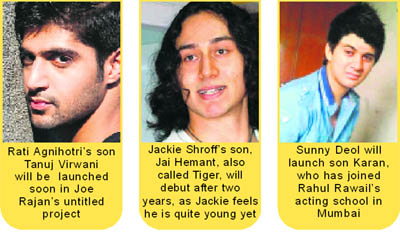 Producer Boney Kapoor and his first wife Mona Kapoor's son Arjun Kapoor will also reportedly make his debut in Bollywood with Yash Raj Films. Arjun had earlier worked as an assistant to Nikhil Advani in films like`A0Salaam-e-Ishq, Kal Ho Na Ho and Krishna Vamshi's Shakti – The Power. He has also worked as an executive producer in his father Boney Kapoor's projects like No Entry, Wanted and Milenge Milenge.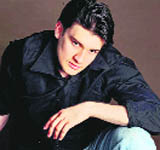 Actor-director Vijay Anand's son Vaibhav will be launched under the home banner in a thriller
Jackie Shroff's 19-year-old son, Jai Hemant, who is popularly known as Tiger, was supposed to be launched by showman Subhash Ghai in the remake of the hit film Hero, a film that had starred his father. But now, Shroff maintains that Tiger will make his debut after two years, as he is far too young.
Sunny Deol's son, Karan Deol is ready for Bollywod in a big way, even as Sunny Deol is back on silver screen with Yamla Pagla Deewana with other two Deols – Dharamendra and Bobby.
Sunny is preparing to launch Karan, aka Rocky, as he's popularly known quiet soon in B-town. The soon-to-be actor has also has joined Rahul Rawail's branch of Steklla Adler's Acting School in Mumbai to learn acting, informs Sunny.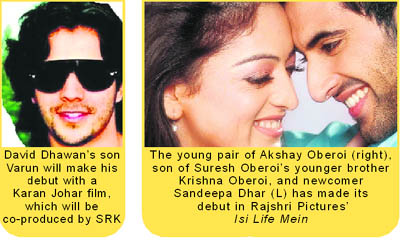 Anketa Bhargav, the pretty daughter of character artistes Abhay Bhargav and Kiran Bharghav, is all set to debut in Hum Do Anjaane with Jackie Shroff and Naresh Kaura, who, besides producing the film is also playing the lead in it. The film, which has been directed by the Indo-Canadian director Milind Swamy, also has actors like Avtar Gill, Vishwajeet Pradhan and new find Milind Jadhav playing major roles.
The late actor-dierctor Vijay Anand's son Vaibhav Anand, who is fondly called Vibhu, will also be launched under Vijay Anand's own banner in a thriller. The film is expected to go on floors by the middle of this year. The film is written by Vaibhav Anand himself and is slated to revive the banner after 25 years, to be called as Vibhu Vijay Anand Pictures. Vibhu has worked as an assistant with filmmakers like Ravi Chopra and Sooraj Barjatiya.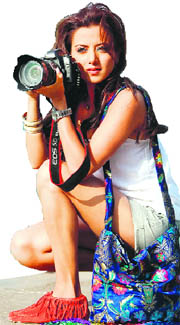 Kulraj Randhawa stars in Sameer Karnik's Yamla Pagla Deewana opposite Bobby Deol
Karim Morani's daughter Zoa Morani is all set to make her debut with SRK's home production with Roshan Abbas as the director. Zoa has also worked as an assistant director with Farah Khan in Om Shanti Om.
Govinda's daughter Narmmadaa will make her debut in a film that goes on the floors very soon. The details are under wraps because Govinda wants to spring up a surprise.
David Dhawan's son Varun is scheduled to make his debut with a Karan Johar film to be co-produced by Shah Rukh Khan. Varun was waiting in the wings till KJo discovered him. Post Partner, filmmaker David Dhawan, who is directing the film Rascals for Sanjay Dutt's home production, wants his son to make a debut outside the home banner. Mahesh Bhatt and Soni Razdan's youngest daughter Alia Bhatt will debut in Karan Johar's film with Varun, along with newbie Sidharth Malhotra.
After Suresh Oberoi and Vivek Oberoi, one more Oberoi is poised to enter the tinseltown. He is Akshay Oberoi, son of Suresh Oberoi's younger brother Krishna Oberoi. Akshay has made his debut as a hero opposite newcomer Sandeepa Dhar in Rajshri Pictures' Isi Life Mein directed by debutante Vidhi Kasliwal. After a degree at Johns Hopkins University, in Baltimore, Maryland, Akshay studied acting at Stellar Adler at New York. Akshay did a few plays with Makrand Deshpande, to begin with, since he did not want to take the help of either his uncle Suresh Oberoi or his cousin Vivek. Akshay adds that he was attracted to acting after seeing the passion in his dad, who had acted in Khotey Sikkey.
He says it was a wonderful experience being directed by a woman director like Vidhi Kasliwal. "Vidhi, who is Sooraj Barjatya's niece, had assisted Sooraj in Vivaah and Kaushik Ghatak in Ek Vivaah Aisa Bhi. Vidhi is like Soorajji at heart, but with a modern touch. She is a hard-working director, who knows exactly what she wants."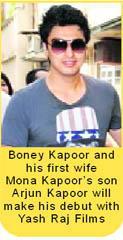 Sandeepa Dhar is another new kid on the block who has made her debut with Rajshri Production's Isi Life Mein.
Sandeepa had always wanted to take up acting since she was in college but opted for a tryst with modelling after college. "I waited because I wanted the best to begin with," quips Sandeepa.
"As many as 800 girls from all over the country had been tested but they did not come up with the right candidate for the role and I was one of the last ones to be tested for the role," she adds.
Film 4 PM On The Court marks the debut of Vidyut Xavier, who is the son of the cinematographer Thomas Xavier. The film, directed by debutante director Shine Krishna, deals with the game of basketball and shows how people's lives are affected through the game. Real-life basketball players, who have been champions of the sport in India, form the star cast of the film. It also has Prashanti Singh, who plays in the`A0shooting guard position for the Indian national women's basketball team.
The other newbies making their sensational debuts in Bollywood this year are Kulraj Randhawa, who stars in Sameer Karnik's Yamla Pagla Deewana opposite Bobby Deol, Danny Denzongpa's son Rinzing Denzon-gpa and Salma Agha's daughter Zarah.