TELEPROMPT
Celebrities and TRPs
Mannika Chopra

There are some television programmes that you know are good for you; like that winter syrup your mother used to force down your throat as a child. They fortify you, make you into better human beings, more knowledgeable and informed about the world around us. But generally at the end of a tiring day, watching these high-nutrient, edifying programmes is not what you want to flop in front of. You would rather laugh at witty jokes in a sitcom. Maybe this is some form of blasphemy, but usually, wildlife and nature donít really cut it ó at least for me.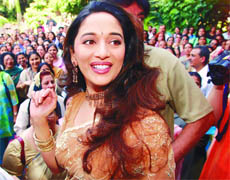 Even after marriage and children, Madhuri continues to glow
But I have to say when I saw the series on Galapagos aired by BBC Entertainment, I was completely hooked. I donít know what made it so different from other run-of-the-mill wildlife programmes on channels that specialise in this genre. Perhaps it was the close-up shots of 500-pound tortoises cavorting amidst volcanic lava, or birds that turn into vampires as they pick on iguanas basking in the sun, or the pelicansí astonishing, cacophonic mating dance. Whatever it is, this series that has been focussing on the islands in the Pacific Ocean which formed the basis of Darwinís theory of evolution, is super-duper watchable. Regrettably, by the time this column appears, the series will have finished, but if the BBC does a repeat, do not miss it.
In fact, BBC Entertainment has undergone a whole new makeover. Its comedy and drama slots have been overtaken by documentary-type thingies ó that good-for-you-variety. Frankly, I preferred the old format though as I said, the Galapagos series have been a pure visual treasure.
For nail-biting entertainment, turn to the Indian version of It Takes a Minute to Win It on AXN. This follows the earlier American version in which you have to perform outlined tasks in one minute and win the jackpot if you were successful. Now the Indian franchise comes into our lives with a trim Gaurav Kapoor hosting the game show. It doesnít seem simple to do, I mean do you really think you can balance eggs in a cradle of salt? But the contestants manage, including a peppy Bangalorean, much to the delight of her parents and the studio audience. Watch it for fun and frazzled nerves. But mostly for the former.
Sadly, the fun element is missing in the swap reality shows which seem to be mushrooming all over the place. First there was the Big Switch on UTV Bindass, and now there is Maa Exchange on Sony. The whole premise is so predictable. The episode I saw had hip, mini-wearing mom Pooja Bedi, very much ultra smooth, ultra sultry mother, swapping places with a homely and comely middle class mama, Radha Nigam. Bedi canít understand Nigamís standards of housekeeping and Nigam canít relate to Bediís maids and daughter. You get the picture. So you have Bediís daughter crying as Nigam tries to discipline her and Bedi trying to clean up Nigamís place.
Frankly, the show is not worth the effort and unless some unique idea comes up, the switch-swap reality show is one big bore. Why do programme producers feel that having celebrities will work on the TRPs?
But one show in which the plan does work is Jhalak Dikhhlaa Jaa, again on Sony. The three judges are Madhuri Dixit, Malaika Arora Khan and Remo DíSouza ó the choreographer-dancer with rubber bones. Chief judge Madhuri Dixit is in her element: post-marriage, post-children, she still continues to glow, smiles and continues to dance her way through our hearts. In a Madhuri Dixit special in which all co-judges sat like extras (Arora was constantly twitching and fixing her clothes but other than that, had no contribution to make), the showís participants all did Madhuri numbers. They were not a patch on La Dixit who, sitting at her table, still managed to give some moves which had the studio swooning.