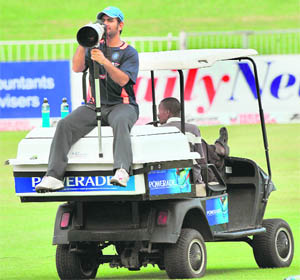 All the world's a stage...
With the World Cup squad in place, it is time to gear up for the challenge
Abhijit Chatterjee
The 15-member Indian team for next month's World Cup may be along expected lines, but certain selections are bound to come up for scrutiny given the intensity of the competition as it progresses. But certain inclusions are also bound to be debatable.



Future Tense: Armed with a World Cup team on more or less expected lines, M. S. Dhoni now has his sights set on the first real test of 2011 Photo: AFP

Build-up to Big battle
India and South Africa are probably two of the strongest contenders for the World Cup being held in the subcontinent from next month. So, it is but natural that any series, Test or one-day, will be closely followed by cricket lovers. And they were not disappointed. The Test series ended in a 1-1 tie, the first two one-day games were split 1-1, while India won the third ODI.
Fitness mantra
All about Atkins
Sunita Bhatti
Here is a critical analysis of the once-popular Atkins diet, which claims a sure shot weight loss without cutting down fatty foods like meat, cream and cheese. The Atkins diet is a high-protein, high-fat, low-carbohydrates diet based on the theory that carbohydrates stimulate the production of insulin, which then leads to hunger and weight gain.