Gusto@GenNext
Ahead of our 62nd Republic Day, some famous young Indians sound confident and cheerful about Brand India,
writes Randeep Wadehra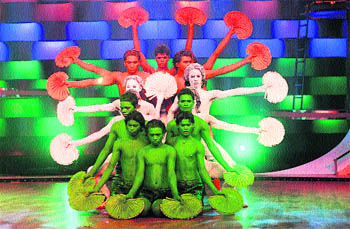 India is today being looked upon as an emerging superpower – according to Barack Hussein Obama it has already emerged. The compliment from the head of the most powerful state in the world is welcome, indeed. But what is our self-image? After all, it is our attitude that will ultimately decide our actions and hence the country's future. Do we see ourselves as the nation that has "arrived" in the global big league? Or, do doubts linger still?
Camera that sees the invisible
Chemists from the University of South Carolina are reportedly developing a camera that has the ability to see the invisible — be it bloodstains or any other substance. Called multimode imaging in the thermal infrared, they claim the new technology could help in crime scene investigations.
The kite fliers
The International Kite Festival in Gujarat attracts dedicated fliers from all across the globe, writes Madhulika Sonkar
Multi-coloured kites of all shapes and sizes dotted the otherwise calm blue sky as they soared in the soft breeze on the sprawling Sabarmati riverfront at the 21st International Kite Festival here recently.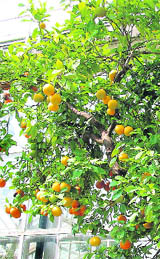 FRUIT FACTS
FIRST ORANGE TREE IN US
The first orange trees were planted in the United States in 1493 after seeds were brought there by Christopher Columbus. Currently, the US is the second largest producer of oranges in the world with an annual production of 7.5 million tons of fruits. Eighty per cent of these fruits are used only for juice production.
— Dr Chiranjit Parmar

Real stories on reel
Films based on real-life incidents often provoke sharp social debates, writes M. L. Dhawan
Films based on real-life incidents have always raised the most intense controversies. A film based on a real-life incident never fails to stir the hornet's nest. The ability to provoke a sharp and widespread social debate is the most powerful function of a film based on a controversial theme.
Stars within reach
The once-inaccessible Bollywood stars are now competing to reach their fans, thanks to blogs and tweets, writes Nikhil Agarwal
Blogs and tweets have given them platforms where they can interact with their fans one to one. Bollywood stars, however, are going an extra mile, literally, to reach out to their fans. So, you had Aamir Khan roaming around the country for two weeks in disguise and challenging his fans to spot him during the promotions of 3 Idiots. The superstar, known for giving personal touch to his film promotions, had also created a secret identity on social networking site Facebook to interact incognito with people.