Gusto@GenNext
Ahead of our 62nd Republic Day, some famous young Indians sound confident and cheerful about Brand India, writes Randeep Wadehra
India is today being looked upon as an emerging superpower – according to Barack Hussein Obama it has already emerged. The compliment from the head of the most powerful state in the world is welcome, indeed. But what is our self-image? After all, it is our attitude that will ultimately decide our actions and hence the country's future. Do we see ourselves as the nation that has "arrived" in the global big league? Or, do doubts linger still?
To find out, we posed some queries to our young celebrities from different walks of life. Their answers were revealing — an optimum mix of idealistic dreams and practical attitudes. Despite the challenges and setbacks that the Republic has been facing, they are upbeat about the future, and are fiercely proud of being Indians. They belong to the generation that doesn't carry the emotional/attitudinal baggage of their preceding generations, who have had direct experience of the Raj days. Today's youth is loath to look back at India's colonial past and prefers to look forward to a bright future.
Sports will be our showpiece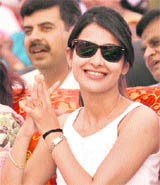 n Heena Sidhu, shooter
Best of Brand India: Thanks to its pool of talented youth, India has made tremendous global impact in various fields, like industry, medicine, academics, engineering and now sports, too.
Young India's role: The youth should be able to resist/fight evils such as corruption and other wrongdoings. Moreover, they should take up sports in right earnest. While quite a few among them can realise their potential as world-beaters, others will be able to imbibe a healthy work ethic that will stand them in good stead in whatever profession they choose for themselves.
Claim to shame: The manner in which our politicians have been looting the country. They didn't spare even the CWG, which was to be the showpiece of our country's economic prestige on the world stage. Worse, the media's 'blatantly biased' reporting blanked out the positives from the CWG. As an insider, I can say that whatever good was mentioned about the CWG arrangements by athletes and officials from different countries was simply not reported by the media. Shameful!
2011 belongs to: Achievers among sportspersons. In 2010, we showned only a glimpse of what we are capable of. In 2011, we shall certainly improve upon our past performances. And, watch out for us in the 2012 Olympics.
Global Indian: Sachin Tendulkar
My patriotic ringtone: Vande Mataram
Cricket is the cup of cheer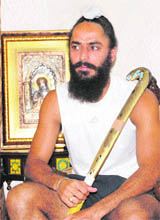 n Rajpal Singh, hockey captain
Best of Brand India: As a sportsperson, I would like to point out that our achievements in cricket have certainly provided global visibility to Brand India. In fact, it has been bringing us cheer ever since Kapil's Devils brought home the World Cup and the "we can do it" mantra gained both currency and credibility.
Young India's role: Our youth must come forward and take over the reins of the country's governance. Too many infirm old men are at the helm of too many institutions — especially sports institutions. Of course, in this respect, the onus is on the government, which can facilitate the takeover by the youth.
Claim to shame: I don't think I have ever felt ashamed of my country, whatever the skeptics, cynics, rabble-rousers and pessimists might say. India has faced a thousand challenges squarely and has come up trumps. I shall ever remain proud of my country.
2011 belongs to: This year, our performance in various sports events will certainly enhance the value of Brand India. In February, there will be the cricket World Cup and then in November, there is the hockey Champions Trophy. And, I'm sure our track and field athletes, too, will earn laurels for the country.
Global Indian: Manmohan Singh
My patriotic ringtone: Chak De! India
Toast the techies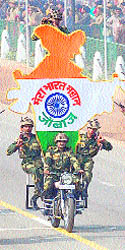 n Ayushmann Khurrana,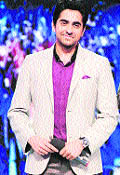 TV anchor and presenter
Best of Brand India:After a major hiccup in 2009, Brand India has again become a frontrunner in the IT sector. Intel made incredible inroads in 2010 and Wipro featured in the FinTech rankings on the Top 25 enterprise companies.
Young India's role: It's not rocket science. It all starts at the micro level. Just be a learner in life and remember you are representing your country when you're abroad. Be true to your value system and be a noble citizen.
Global Indian: Sachin Tendulkar.
Claim to shame: Corruption. It has become a part of our system. It will be better if we get rid of this malaise at the earliest. From broken roads to the Commonwealth Games, it has become omnipresent. Kill it right now.
My patriotic ringtone: A. R. Rahman's Vande Mataram
United we stand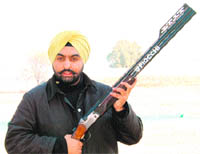 n Ronjan Sodhi, trap shooter
Best of Brand India: It stands out for not just being a brand, but beyond that ... where each one of us are intermingled beyond all boundaries. I mean our unity in diversity.
Young India's role: I think the youth are all doing their bit ... but to strengthen it, all Indians need to stand up together.
Claim to shame: Inferiority complex about
ourselves/not wanting to believe in ourselves is something that I would like all of us to change.
2011 belongs to: This year will also belong to all sportspersons, the way 2010 was a year of new landmarks in the sporting field.
Global Indian: Sachin Tendulkar
My patriotic ringtone: Maa tujhe salaam by A.R. Rahman
Bollywood is our brand ambassador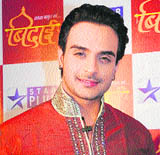 n Angad Hasija, TV actor
Best of Brand India: Obviously, Bollywood. It has placed India in the consciousness of people across cultures and languages in the world.
Young India's role: The youth need to excel in whatever they do`85 hard work and sound work ethic is essential.
Claim to shame: Our poor civic sense and unsanitary surroundings.
2011 belongs to: It will be the year of the television, which would trump Bollywood in the national prestige stakes. Already, many B-town stars are making a beeline for a niche on TV; this trend will become stronger in 2011.
Global Indian: Ranbir Kapoor
My patriotic ringtone: Bharat humko jaan sey pyaara hai
Economy gives us an edge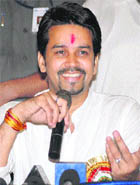 n Anurag Thakur, president, BJP youth wing, and member, IPL Governing Council
Best of Brand India: Brand India stands out for its unity, diversity and democracy. It is astonishing to see people of various castes, creeds and religions live and enjoy equal opportunities to prosper in this country. Our economic growth is also remarkable.
Young Indians' role: The future of India lies in the hands of youngsters. They ought to enhance the image of India by practicing zero tolerance to corruption considering we are among the top countries in Transparency International's Corruption Index. It is corruption that is standing in the way of accelerated growth. So, we must learn to say no to corruption by neither accepting nor offering bribes. Let's bear in mind that striving is the safest route to success. Easy ways out are dangerous in the long run.
Global Indian: Mahatma Gandhi
Essence of new India: Yuva Bharat - Sashakta Bharat - Smariddha Bharat.
(Input by Aditi Tandon)
IT is our might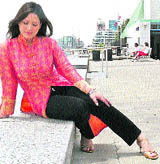 n Misha Bajwa Chaudhary, media personality
Best of Brand India: India has all the requisite qualities for becoming a world power in the field of Information Technology.
Young India's role: The youth needs to be more focused and goal-oriented ... Instead of criticising our country's corrupt system, bad politics, faulty law and order system... do something tangible to cleanse it. The young can help improve the system.
Claim to shame: India's corrupt image pinches me the most. I wish India could soon be off the list of world's most corrupt countries.
2011 belongs to: It might sound clich`E9d, but our youth are the future of India. They are immensely talented and believe in the mantra, "We can do it!"
Global Indian: Rahul Gandhi. He is young, educated and a politician who is not the conventional netaji but a man with the 21st-century mindset.
My patriotic ringtone Aei mere pyare watan