M A I N N E W S
Mirchpur Arson
Central forces sent to Jind
Tribune News Service
Jind/Hisar, January 23
Jind remained cut off from other parts of the state for the second day today even as three companies of the CRPF were rushed to the district with the protesters threatening to observe Republic Day as black day if their demands - SIT probe into the Mirchpur violence, release of the accused on the basis of affidavits and shifting of the trial back to Haryana- were not met by tomorrow.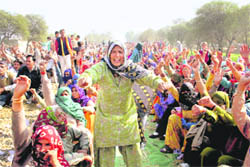 Villagers continue to block the rail track at Jind demanding transfer of undertrials of Mirchpur violence from Tihar to Hisar jail on Sunday. Photo: Manoj Dhaka
The protesters continued to squat on the Jind-Narwana rail track near Julani village in Jind. They observed the 114th birth anniversary of Netaji Subhas Chandra Bose and burnt the effigies of UPA chairperson Sonia Gandhi and Congress general secretary Rahul Gandhi.
The protesters have held up traffic on all highways and link roads, say reports. National Highway 10, that connects Hisar with Delhi, was blocked at Hisarís Satrod and Ramayan villages.
Youths organised a dharna on the Tohana-Hisar road near Kanheri village in Fatehabad, disrupting traffic. Similarly, a blockade near Kamalwala village paralysed traffic on the Tohana-Delhi road. At least six trains were cancelled in Bhiwani.
A report from Yamunanagar said the Haryana Vanchit Varg Sangharsh Samiti has demanded an emergency session of the Haryana Vidhan Sabha to discuss the Mirchpur issue.