Lucrative designs
With the growth of commerce and industry all around the world, the demand for product designers is increasing day by day making it a field full of
rewarding opportunities, writes Usha Nehru Patel
Design is an important aspect of life. It makes life easier and lively. Nowadays people are increasingly becoming conscious about the designs they use or endorse. Instead of continuing the process of simply consuming identical products, consumers now seek greater diversity and better quality. They opt for selective designer pieces. Product designing, thus, has become an important field nowadays.


Careercature
Sandeep Joshi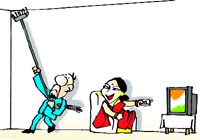 Work-station on January 26



Targetting the Ivy League


Two degrees


Pharma degree in Australia


Law entrance


Lateral entry
Sound advice, sound business
The consultancy business is getting big in India, writes Charandeep Singh
In the prevailing market conditions with inflation soaring each day and the expected growth being reconciled with every passing quarter, running a business enterprise is akin to walking a tight rope. The liquidity situation is tight and every single penny counts.
First person
Right time to enter finance arena
Banking and finance has become one of the fastest growing fields in the country with almost 85,000 vacancies in public sector banks and myriad opportunities in the private sector.
Common sense key to success
Practical intelligence, or common sense, is key to success in business, according to a new study that highlights the importance of hands-on experience and learning by doing.
Diploma in real estate marketing
Course to tackle manpower shortage
There is a huge manpower shortage in almost all functional areas of real estate, including property sales, marketing and brokerage. The situation is becoming worse day by day, especially in the functional area of property sales, marketing and broking, since there is no system of real estate education in India.
Scholarship
Carnegie Mellon University, an internationally renowned American university with campuses in USA, Doha, Qatar and Australia, is offering 12 scholarships to Indian students for a special May 2011 intake at its Adelaide campus in Australia.
Drop in real wages
Almost one-fourth of the companies surveyed in India have opined that real wages to their managerial-level employees have either been flat or declined over the last five years, a study has said.
Happiness @ work
Gems of ancient wisdom
Listen to juniors
Grey hair or senior rank may not always be an indication of wisdom. Intelligent inputs could also come from a newcomer or a junior.