M A I N N E W S
Crackdown on oil mafia
200 places raided, 180 persons arrested in Maharashtra
Mumbai/New Delhi, January 27
Maharashtra launched a massive crackdown on oil adulteration mafia across Maharashtra today raiding 200 places and arresting around 180 persons after an official was burnt alive while the Centre unveiled steps to reduce scope for diversion of subsidised kerosene.

Over 80,000 gazetted officers in Maharashtra also ceased work for the day to protest the killing of Malegaon Additional District Collector Yashwant Sonawane by suspected members of the oil mafia at Manmad in Nashik district, about 260 kms from Mumbai, on Tuesday. The new Petroleum Minister S Jaipal Reddy unveiled steps, including re-introduction of a chemical marker in kerosene in six months to eliminate the scope for adulteration of diesel using this subsidised fuel.
"We learnt with shock about the heinous killing of Sonawane. He died a martyr to the cause of anti-adulteration drive," Reddy told a news conference here.
Announcing an ex gratia of Rs 25 lakh for the family of Sonawane, he said the responsibility of distribution of subsidised kerosene through the Public Distribution System (PDS) rested with state governments and it was their duty to see that subsidised fuel was not diverted for adulteration.
A litre of kerosene costs Rs 12.32 while diesel is priced at Rs 37.75 a litre. The huge difference makes it lucrative for diverting kerosene for mixing in diesel. Around 40 to 60 per cent of the 9.5 million tonnes of kerosene that Centre annually allocates to states gets diverted once it leaves the oil company depots.
"This incident has once again highlighted the problem of kerosene being used for adulteration. There is a need to respond to the problem in a systematic way," Reddy said. He said an improved chemical marker would be doped in kerosene to make its mixing with diesel near impossible. "The kerosene marker system will be reintroduced in the next six months," he said. The government had in 2006 introduced a dye sourced from US firm Authentix in kerosene, but withdrew it in 2009 pending toxology tests. Reddy suggested that the states should use GPS-based vehicle-tracking systems to check route deviations. — PTI
15 lakh state employees go on strike
Shiv Kumar/TNS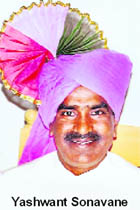 Mumbai, January 27
Over 15 lakh Maharashtra government employees went on strike today in protest against the gruesome killing of Nashik Additional Collector Yashwant Sonawane, who was set on fire by members of the oil mafia on Tuesday.
The striking government officers are demanding that they be provided full protection while carrying out raids. "All government officers should be given protection while they are moving about on duty. They should be provided sufficient police protection while they are carrying out raids," the Maharashtra Gazetted Officers Federation said in a statement here.
All state government employees unions are backing the strike called by class 1 and 2 officers of Maharashtra.
Describing Tuesday's incident to television channels, Sonawane's driver Kailash Gawli said the official grew suspicious on seeing several tankers parked outside a roadside dhaba. On noticing fuel being siphoned off the tankers, Sonawane shot the proceedings using his mobile camera and called for reinforcements.
This angered the men carrying out the crime and they called their boss, Popat Shinde, who arrived there with several goons. After an altercation with Sonawane, the gangsters poured fuel all over him and set him on fire, Gawli told television channels.
Meanwhile, the Opposition Shiv Sena and the BJP blamed PWD Minister Chhagan Bhujbal for the incident. Bhujbal is the guardian minister for Nashik. However, Bhujbal was given a clean chit by Home Minister RR Patil, who said no politician's name had figured in the probe into the functioning of the oil mafia.
Patil also revealed that the state government had begun a crackdown on adulteration of fuel, milk and illegal sand excavation from coastal areas of the state. The authorities conducted raids at around 200 places to check fuel adulteration. "So far, 180 persons have been arrested," Patil said. "At the meeting with the Chief Minister and the Deputy Chief Minister, it was decided to allow the police carry out raids in connection with food and drug adulteration," he added.
The Manmad police has made more arrests in connection with the killing of Sonawane, taking the number of people arrested so far to 11. All of them have been remanded in police custody till February 8.