Electronic servant makes debut
Ines Eckermann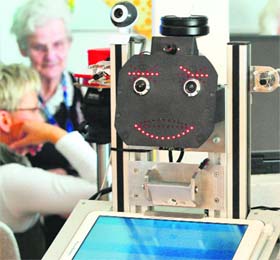 Senior citizens in the city of Erfurt have also been trying out a robot. This one is called "Horos". Photo: Picture Alliance/DPA
CASERO is not the sort of robot that appears in science fiction movies. It has no arms, legs, or face and cannot speak. But in two or three years the electronic helper, about the size of a shopping trolley, could become a popular colleague of care workers in homes for the elderly.
A response to Germany's ageing population, Casero is the brainchild of a Duisburg University research team backed by the Federal Ministry of Education and Research.
Casero orients itself with the help of several cameras, rolling up and down the corridors independently and carrying loads of up to 100 kilograms. It has a flaw, though. "Casero is as expensive as a full-time worker" or midsize automobile, said Volker Bessler, a care worker at the Stuttgart home for the elderly where the service robots were first tested.
Nevertheless, the investment could pay off, noted Diego Compagna, a sociologist at Duisburg University. "Care workers could spend time with the home's residents that they'd otherwise be using to transport objects," he said.
Transport robots have been around for almost 40 years. What is new about Casero, according to Compagna, is that it guides itself and steers clear of obstacles—and is small and manoeuvrable, too.
Experts term Casero a "self-guiding transport system". Using a number of sensors and cameras, this robo-mule can negotiate corridors without bumping into walls or people. Casero can even take a lift, summoning it via a wireless Internet connection and riding by itself to a different floor.
While Casero is already well developed, its brother, Care-O-Bot 3, is still in robot infancy. A very polite geriatric nurse, Care-O-Bot 3 first introduces itself upon entering a room. When it hands a drink on a tray to the senior citizens, it amiably asks them to empty the glass.
Not every home resident was pleased with the service during the robot's test run last spring, however. One is said to have remarked that he would not take anything brought by a robot. Other residents were delighted with the electronic servant, which, after all, was specially designed to meet their needs.
When the Duisburg researchers observed the care workers' daily routines and tasks, they soon noticed that there was seldom enough time to exchange a few kind words with patients. Staff shortages were everywhere. While the robots run errands and allow games to be played on their displays, care workers could devote more of their time to caring for the elderly.
In contrast to its often-underpaid flesh-and-blood colleagues, Care-O-Bot 3, with its innards of circuit boards and wiring, costs nearly a quarter of a million euros ($322,000).
A big reason for the high price is the sophisticated technology in the robot's head. Thanks to colour cameras that survey their surroundings in a way similar to human eyes and an infrared 3D scanner, it can even recognise faces. When a person's photograph is fed into its electronic memory, Care-O-Bot 3 can distinguish it from a multitude of other people's.
No decision has yet been made on when the one-armed geriatric nurse can go into production. Financing for the project has been secured until 2013. — DPA