Up for Grabs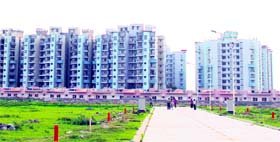 When in the mid 1980s, there was no space left for real estate development in South Delhi, the property prices were skyrocketing and were way beyond the 'affordable' range, Gurgaon was born. That was the time when builders as well real estate consultants diverted their attention towards Gurgaon, and the results are there fo everyone to see.

Omaxe City, Sonepat, is an over 350-acre development designed to be in sync with Nature
TAX TIPS


Transferring money to overseas account


Procedure for transferring plot


No deductions allowed


Claim deduction


Will about ancestral property


Tax computation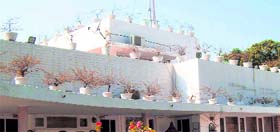 GREEN HOUSE
Impressive facade
It is rightly said that face is the mirror of mind. This holds good for home gardens and especially the look of the entrance of a house. If the entrance and the facade of a house is not well landscaped then all other effects, including the best of architectural designs, go waste.
LAUNCH PAD
Dreamcity in Gobindgarh, Khanna belt
AIPL Ambuja Housing and Urban Infrastructure Ltd will be launching a township in Gobindgarh-Khanna. DreamCity, Gobindgarh-Khanna, an 88-acre of self-sufficient integrated township on NH-I will have luxury villas, independent floors, bazaar and a luxury club. AIPL Ambuja Housing and Urban Infrastructure Limited, Advance India Projects Limited (AIPL) and AIPL CapitaMalls, who have joined hands to build one of the largest real estate group in the country, intend to invest Rs 2,000 crore in Punjab.
REAL TALK
Check home specifications
With over a decade of experience and 14 completed commercial projects under its belt, the RG Group, is all set to take a big leap in 2011. Rajesh Goyal, Managing Director of the group, shares his views on the realty sector in the country and his group's future plans in an interview. Excerpts:
Farm land commercialisation
Boon or bane?

The soaring prices of agricultural land in the vicinity of big and burgeoning cities have made many a small and marginal farmer sell his land in order to make a quick buck. This has resulted in shrinking land holdings. The increasing city population and horizontal expansion of cities are threatening to disturb the ecological balance in the region posing a serious threat to the economy of this agrarian state.
REALTY BYTES
Strike a good deal
First finalise your property, then choose your lender. A common mistake that many people make is to take a pre-approved loan before finalizing the property to be purchased. You don't need to take a pre-approved loan to know how much you are eligible for.
REALTY BYTES
Costlier houses
People in India will have to shell out more money to buy a house this year due to increasing input costs and huge demand and supply gap, a report has said. "About 70 per cent of the home seekers are pretty convinced that they will have to shell more money to buy a house in 2011, as compared to last few years," Track2Realty, a real estate market tracker, said in its repor recently.