Pen drive
Once a darling of students, pens are now only plastic waste, writes Nikhil Agarwal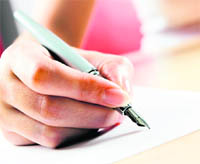 Collecting pens no longer finds favour with the young
Thinkstockphotos/Getty Images
Treasured by many students once upon a time, pens are now quickly turning into plastic waste as the thrift practice of refilling them is dying a slow death. A far cry from the early 1990s, when writing instruments, in their earlier avatar of fountain pens, had to be recharged from an ink bottle frequently, most of the users now end up throwing away branded pens as they avoid refilling at Rs 3 to buy a new one for as low as Rs 5.
Besides, use-and-throw pens are also much in demand with dirt-cheap prices beginning from Rs 2. "We have noticed that 80 per cent of Indian consumers buy pens worth below Rs 10. And since these pens are cheap, these die well before its time," Deepak Jalan, managing director of Linc Pen & Plastics Ltd, said.
One of the top three players in the organised writing instrument industry in the country, Linc struggles to sell only 30 refills against every 100 pens.
"It can, therefore, be presumed that roughly 70 per cent of such pens get discarded off early," he says.
With longer life a decade earlier, even the nondescript of pens were the prized possession of many a students, for whom holding their favourite fountain pen between their fingers used to be a memorable experience reflecting timeless elegance, personalisation and sentimentality.
Nikita Bhatt, a 33-year-old advertising professional from Mumbai, who has preserved her pen collection from her student days, boasts of precious memories attached to the writing instruments.
"I had an emotional attachment with my pens. These days, people might throw the pen away when it needs a refill, but I would love refilling the barrel of my favourite fountain pen even while writing examinations," she recalls.
Professor Parul Dave Mukherji, dean of the arts and aesthetics department of Jawaharlal Nehru University at New Delhi, regrets that the relationship between the pen and the student has seen a decline in the last few years.
"In a way, pens are almost fading away. The attachment is no more there. It is vanishing fast as the pen has become a disposable object. But once it used to be a precious object while holding it in between your fingers," she says adding that the choice of pens also reflects upon the quality of writing.
"I somehow feel that if you are not serious about the pen you use, you are also not serious about writing. People have become very casual about words and language, similar to their attitude towards pens," the professor says.
Sharing similar sentiments, school teacher Nandini Guha says, "Gadgets like Apple's iPad, latest cell phone s and laptops catch the fancy of all students immediately. Who talks of the small little old pen nowadays?"
With modern technology and user-friendly features, a new generation of pens — ball pens, fibre-tips, gel pens and roller balls — were introduced by brands like Luxor, Linc, Reynolds, Cello and Rotomac late last century.
Marred by the onset of digitalisation and the highly fragmented nature of the Rs 3000 crore writing instrument industry in India, branded pens quickly dropped their prices to match those from the unorganised manufacturers.
"The market for fountain pens has become very limited now. The new generation buys things which are modern, fast, cheap and without any hassles," says Bipin Sanghvi, president of the Bombay Fountain Pen Manufacturers and Traders Association.
Pen manufacturer Flair's director Vimalchand Rathore justifies the new trend of quick disposal of pens. "When we can produce and sell them for cheap, then why should not the people buy it? This is how they get new products each time with new colour and designs. Students also enjoy buying new pens," says the company official.
With a huge number of pens being discarded off each year, a rising concern is its contribution to the plastic waste and an absence of recycling methods. Plastic granules, an unavoidable raw material for making the shells of most pens, are non-biodegradable.
"This is a significant problem as plastic waste is increasing by the day. There is no check on the manufacturers as to how much toxic is the plastic they use," says environment activist Ravi Agarwal of Toxics Link.
Linc Pen's Jalan opines that the problem can be solved if students revive the age-old practice of refilling. "The problem can be solved if consumers go back to the good old days of refilling since an ordinary refill contains at least five times less plastic than a pen," he says.
The Kolkata-based company had recently launched a new corporate social responsibility initiative aiming at decreasing the usage of environmentally harmful plastics. — PTI