Tęte-ŕ-tęte
Advocating art
Nonika Singh

ART shouldn't be all sugar and sweet. It must stir within." So believes well-known photographer and filmmaker Samar S Jodha. Any wonder, his art project at the India Art Summit 2011, titled 'Bhopal: A Silent Picture', relived the world's worst environmental and industrial disaster.
Executed in an unusual fashion and put inside a mobile truck, he uses both sounds and images to recreate the horrific tragedy. "Art", he asserts, "has to move to the public domain to create a dialogue and initiate a debate." Of course, there is not much support for his kind of art. Though for the summit he did find support from gallery Religare Art, often he shares that sponsors pull out "for, this kind of art certainly is not for selling." And art for commercial consumption or even for art's sake is certainly not his cup of tea. Employing art for advocacy, as he defies conventional definitions of art, there are many issues that touch him. From the vanishing Tai-Phake tribe of Assam to the shelterless to migrant workers, his heart beats for the marginalised. Quips he, "I am dead against the domination of one culture by another."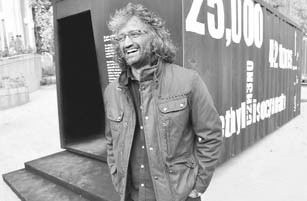 Filmmaker Samar S Jodha Photo: Mukesh Aggarwal

In modern India, he feels, that the caste has been replaced by class and the subversion continues. The consumerist culture, growing globalisation, increasing propensity to spend`85. all have him perturbed, a reason why he quit the advertising world in 2003. He says, "The world doesn't need more brands of toothpastes, it needs more toothpastes. In the name of consumer choice, much is being inflicted upon consumers, mostly things they don't need."
As he sustains himself through commercial photography, clicking the Burj tower in Dubai atop a helicopter, he has no qualms in confessing that he has issues about his personal commercial work, too. But the photography he does is for the likes of National Geographic, Discovery and BBC. Interestingly, it was a commissioned project for BBC that brought him face to face with the Bhopal tragedy and led to 'The Bhopal: Silent Picture.'
"Ideally, I would have preferred a 40-feet (the present one is 20 feet) workstation for my installation and could have depicted the work like a coach of a train with images on both sides." Employing sound as a significant tool, the hiss of leaking gas, the eerie chirping, the scream ... why has he refrained from using human images in this work and focused only on the inanimate, pictures of the now sealed Union Carbide plant?
He replies, "For me, human dignity is very important. I can't shoot people's misery and sell it. Just because in India people are friendly and trust you completely, doesn't mean you have the licence of taking advantage and selling them in the West as exotic animals."
It isn't as if faces are anathema to him. In the book, Ageless Mind and Spirit, he along with brother Vijay S. Jodha, who did the research and editing, has captured the beauty of ageing. Then, he has an award-winning book on Jaipur to his credit. However, it is the excitement of creation and not whether it will make a book or an exhibition that this lensman loses his sleep over. So, while the media was going to town on who made how much money in the Commonwealth Games, he who thinks that good art emanates from struggle was more concerned about migrant workers and their plight.
He fumes, "India is not China, where you can move one million people to make a new city. If the Constitution grants equality, it must be respected." But can art help ensure it? Yes, he is aware that art can't usher in a revolution but muses, "If the Indian psyche can be shaped by cinema, surely the popular culture, arts and the media can play a very significant role in creating a platform for addressing issues." So, while Indians might be turning cynical, this artist, who went through many schools and colleges, even spent a year at NID (National Institute of Design) which taught him how to affiliate through arts, thinks change is possible. Not only that, happy to be living in exciting times of transition in the art world, he is only too willing to be an instrument of change.