Dieter's dream
The good old chilli chicken can be pressed into service as a cocktail snack,
starter or main course accompaniment with rice or roti

CHILLI chicken is arguably among the most popular 'Chindian' dishes. It is served in different avatars — boneless or with bones, mild or fiery, dry or with gravy and has inspired the vegetarian delight chilli paneer. It may not be as desi as gobhi manchurian. Gone are the days when Chinese repast was synonymous with and confined to sweet and sour chicken, fish and vegetables combined with fried rice and noodles, following the spring rolls as starters, accompanied by a bowl of soup — more often than not 'sweet corn' or 'hot and sour'.
Nowadays, the young Indian diners are harder to satisfy. They are familiar with regional variations like Schezuan, Cantonese, Beijing, Shanghai, besides the mutant specialties from Hong Kong and Singapore. Each has made its appearance in the sub-continent showing due deference to the local-regional palate here — Gujarati, Madrasi or the Punjabi.
Many things have changed in the recent years but the tasty temptations held out by chilli chicken have endured. It is not difficult to unravel the mystery. Economics, convenience and health concerns combine to let it shine out undiminished. Prawns are expensive, pork is eschewed by many and not everyone likes fish and the m`E9lange of 'English' vegetables on the Chinese platter — steamed or stir-fried — fails to convince in`A0a main course role.
This is what opens a unique window of opportunity for the good-old chilli chicken. A small portion of chicken can, in these hard times, be 'stretched' to serve a small family with by adding capsicum and tomatoes.
Before the price of onions had skyrocketed, these, too, were part of the idiot-proof recipe. It hardly takes any time to cook and can be pressed into service as a cocktail snack, starter or main course accompaniment with rice or roti. What is more, it has very good eye appeal. It is dieter's dream come true — what more can one wish for? All you need is a bottle of soya sauce and a tomato sauce by your side and maybe a spoonful of Chinese five-spice powder.
We prefer using smoked chicken breasts now easily available in frozen form but you are welcome to stay loyal to whatever is in the larder.
chilli chicken jhatpat
Ingredients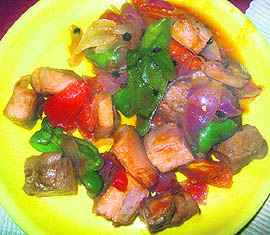 Chicken breasts (boneless, marinated in 1 tsp limejuice or vinegar for 30 minutes. Don't marinate if using smoked chicken) 300 gm
Capsicums (medium sized) two
Tomatoes (medium sized) two
Onion (medium sized) one
Red chillies (whole) two
Soya sauce 2 tbsp
Tomato ketchup 1 tbsp
Chinese five spice powder ½ tsp
Red chilli sauce (optional) 1 tsp
Oil 2 tbsp
Salt to taste
Method
Wash, pat dry and cut the chicken in bite-sized chunks. Wash and core the capsicums, then cut into large pieces. Do the same with tomatoes. Peel and cut the onions in large pieces. Wipe clean the whole red chillies.
Heat oil in a thick-bottomed pan and put in the whole red chillies. Remove with a slotted spoon when dark in colour. Add chicken. Stir-fry on high flame for about three minutes.
Then add the soya sauce and tomato-chilli sauces, along with the salt and five spice powder. Put in the onions, reduce heat to medium and
continue cooking.
When the onions turn translucent, put in the capsicum. After about a minute, add tomatoes. Cover and simmer for two to three minutes till chicken is done to taste. Garnish with fried chillies and enjoy.