Ashram of high value
Sevagram Ashram in a remote Maharashtra village is a place revered by all.
It was here that the dream of Mahatma Gandhi to liberate India from
British yoke finally started taking shape, writes Rajendra Rajan

WhAt could have been the temptation for Mahatma Gandhi to settle in Wardha, a remote and backward area of Maharashtra, about eight decades ago? I was trying to grapple with this question while standing on the road leading to the main entrance gate of Sevagram Ashram recently. The place is 60 km from Nagpur.

I, along with a few students of Mahatma Gandhi Antar Rashtriya Hindi Vishwa Vidyalaya of Wardha, had ventured into the ashram to have peep into the pious, calm and peaceful place revered by one and all. Once being a small and sleepy village known as Segaon, is today bustling with life. It was here only that the long- cherished dream of Mahatma Gandhi to liberate India from British yoke had finally started taking shape.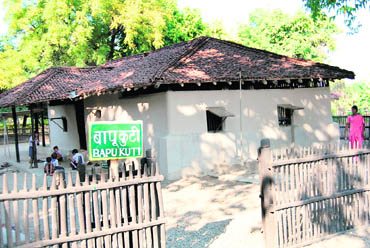 Bapu Kuti at Sevagram Ashram, Wardha, Maharashtra Photo by the writer

Sevagram, which derives its name from Segaon, is a favourite destination of tourists, thinkers and intellectuals from all over the world. The heritage of immense significance is as vibrant as Mahatma Gandhiís life till he breathed his last on January 30, 1948. The story of selecting Segaon as his abode by Mahatma Gandhi is quite interesting.
On March 12, 1930, Gandhi set out for the historic Dandi March, and decided that he would return to Sabarmati Ashram in Gujarat only after attaining freedom. He defied the Salt Act on April 6, 1930, at Dandi. He was arrested and put in prison. In 1933, when released, he started his countrywide tour.
On the invitation of Seth Jamna Lal, Gandhi came to Wardha. He lived in Satyagraha Ashram where he established an All India Village Industries Association and moved to Maganwadi in Janury, 1935. His disciple Meeraben (Miss Slade) left for Segaon, near Wardha, and constructed a small hut here. In 1936, Gandhi expressed his desire to make his residence in a village. Subsequently, he shifted his residence from Maganwadi to Segaon. Since his hut was not ready, he decided to rest below a guava tree.
Segaon was a typical Indian village with no post office, no store for foodstuffs, no medical comforts, and was difficult to access in the rainy season. He had reacted to his Polish engineer friend Maurice Frydman: "I am here to serve no one else but myself, to seek my own self- realisation though the service of these village folk. The service to human beings becomes a necessary part of the endeavour, simply because the only way to find God is to see Him in his creation and try to be one with it. This can only be done by service to all. One has to serve the world through service to oneís own country."
A cool breeze was lashing the trees in the campus and school kids and tourists visiting the ashram were curious to know about the routine chores of Mahatma Gandhi. Bapu Kuti is situated near the prayer ground and made with mud, bamboo and country tiles. Miraben had painted some designs on the walls. One can see sketches of Om, palm tree, peacock and charkha, symbolic of God, nature, living being and human activity, respectively. All the windows, doors etc are made of bamboo, decorated in traditional style. The hanging bamboo almirah on the eastern wall is worth looking at. Ramcharitmanas, Bible and Koran have been showcased in a glass case in a corner of Bapu Kuti.
The personal belongings of Bapu like charkha, spittoo, hot water bottle, first-aid box, pencils, knife etc are decorated tastefully in glass shelf. The famous three china monkeys, donated by his Japanese friend to Bapu, can also be seen in the shelf. His wooden sandals and walking sticks are also preserved in a glass case near the western entrance.
Sevagram Ashram bears testimony to a number of historical moments during the freedom struggle. The first meeting of Quit India Movement was held here. The preliminary deliberations for the individual satyagrah of 1940 were also held here. Merely a glimpse of Bapuís hut will appreciate Gandhiís true art of living and simplicity. A well-known thinker, Evan Ellich, during his visit to Sevagram a couple of years back, had remarked: "I was highly impressed with the simplicity, beauty and cleanliness of Sevagram. The hut proclaims the principle of love and equality. Bapu Kuti connotes the pleasure that is possible through being at par with society. Here self-sufficiency is the keynote. The hut demonstrates to the world how the dignity of common man can be kept."
The Pipal tree on the south-western side of Bapu Kuti was planted by Bapu in 1936 when he came to live here. It is in between Bapu Kuti and Prayer Ground. Miraben had nourished this tree with magnetised water. Near about the tree to the west, a Bakul tree planted by Kasturba is also standing. Kasturba breathed her last in 1942, when she was in the prison with Bapu in Aga Khan Palace in Pune. When Bapu was released from jail, his associates brought a sapling of the Tulsi plant before which Kasturba used to pray daily during her last days. The sapling was planted by Bapu in Sevagram on October 2,1944, on the occasion of his 75th birthday. This historical plant is situated in between Bapu Kuti and Ba Kuti.