Season for overcoats
As the Capital goes through one of its coldest winters, many are discovering the charms of the overcoat, an accessory once consigned to the bottom of cupboards and pulled out only for hilly holidays or snowcapped destinations abroad.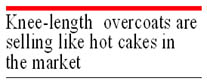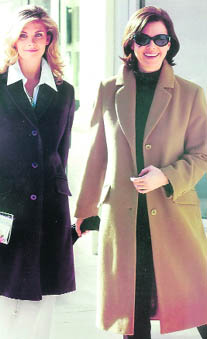 It is good to look neat and formal in an overcoat

Men are flaunting it with formal suits, women are wearing them with trousers, suits and even saris, and young women are readily teaming them up with dresses, long sweaters, jeans and slacks, too. Knee-length and even longer overcoats are selling like hot cakes in the market, with people demanding not just neutral colours like black, beige, grey and brown, but also those in varied bright colours, styles and patterns.
Fashion designer Leena Singh of designer duo Ashima-Leena fame points out, "Long overcoats make for a classic silhouette." "They were quite popular in the British era and were worn a lot by Queen Elizabeth. But over time the trend has come to India, too, and people arenít shying away from it any more," adds Leena.
Kartik Mehra, 55, says he bought an overcoat for an official trip to Europe over 10 years ago and for a long time, he only wore it when he went abroad. "I used to find it very uncomfortable to walk on Delhi streets in an overcoat. For one, there was no strict, formal corporate dressing concept, and, secondly, it wasnít as cold as it is now. But now I donít think twice before taking it out as you can see everyone wearing them," says Mehra.
According to sales managers at clothing stores, the demand for overcoats has increased by almost double over the past two years. "Winters in Delhi have become much colder now; so customers want cosier clothes that save them from the chill. There is a definite growth in the offtake over a period of two years. You can conveniently say it has doubled," says Amit Nagpal, store manager at BGs, an apparel store for girls. Over time, the trend of wearing long garments with slim fit trousers and leggings has also grown manifold ó fuelling the concept of overcoats.
Among the colours, stores are offering a melange of pink, yellow, purple, red and green.
College student Namita Tiwari, 19, feels the more the colours, the better it is. "Being a college student, I have to go out every day and considering how cold it is, it will be really bad for my image if I wear the same coat every day even if it is with different sweaters and T-shirts. But if I have three to four different colours and styles, I can experiment and sport a different look every day," says Tiwari, spotted trying on a lime green, woollen overcoat. ó IANS