'Parents must expose kids to Indian culture'
IN this age, when computers and playstations lure kids more than learning music and dance, parents must take the onus of motivating the conventional activities to expose children to Indian culture, says violin maestro L. Subramanian.
"There are a lot of attractions and distractions for children these days. So, parents have a lot of responsibility to expose them to culture and music of our own country to keep them grounded," asserts Subramanian.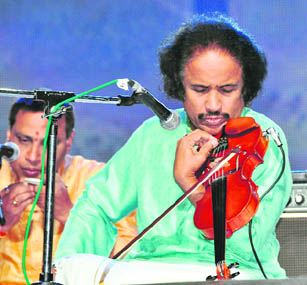 It is important for children to know their culture and roots, says violin maestro L. Subramanian Photo: Syed Ahmed

The musician, who made sure his children carried forward the family legacy of playing violin by training them, says knowing the culture of one's country is imperative.
"Culture is one of the most important things and we must be proud that Indian culture is one of the oldest and richest in the world," he adds.
"These days, young people are seeing and getting fascinated with the West and other cultures, where marketing is the key to everything. Youngsters can get misled by marketing," adds the maestro.
"So, it is important to know their culture, their roots, their own spirituality, their own understanding of their people and their neighbours. And they must learn music because music has no language barrier — it is understood and appreciated by all," says Subramanian.
The 63-year-old maestro and his son Ambi recently perform at Gurgaon.
Subramanian performed with various international violinists as part of a Violins of the World concert, in memory of his father, renowned violinist Prof V. Lakshminarayana, credited with the development of many fingering and bowing techniques on Indian violin.
This year also marks Lakshminarayana's birth centenary. "With this concert, I wanted to celebrate the first centenary year of my father. He is responsible for making the Indian violin internationally known," Subramanian adds.
"It was known just as a component instrument used with vocals or other instruments before he changed the whole scene around the 1930s and 1940s. So, I wanted to bring together all known violinists from all across the world to perform together," he adds.
Among the international performers were Mark O'Connor of the US, Loyko from Russia, Catherina Chen from Norway, Kheir Eddenie M'Kachiche of Algeria and Benedicte Maurseth from Norway. — IANS