Foodies' delight
Good news for those who are addicted to cookery shows on television. FoodFood, the first ever food channel, has been launched by celebrity chef Chef Sanjeev Kapoor and Raghavendra Madhav of Astro All Asia Networks. The channel has Madhuri Dixit as its lifestyle ambassador. It is on air24/7 since last week.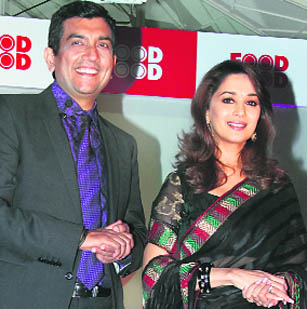 Chef Sanjeev Kapoor with Madhuri Dixit , who is also the lifestyle ambassador of channel FoodFood

According to Sanjeev Kapoor, "Today, food has acquired dimensions that go beyond mere consumption. It is not only about calories and taste, but also about having fun, enjoying life with food, around which the family and friends gather. Through FoodFood, we hope to create a medium that will celebrate food in its entire splendour."
The TV channel has a "food editor", Chef Rakesh Sethi (with over 28 years experience across Taj SATS, Oberoi and intercontinental hotels), and several celebrity chefs — Nitin Tandon, Shantanu Gupte, Anurag Bali.
FoodFood COO Karthik Lakshminarayan says, "We will produce and package content for our shows, which is relevant to the Indian audiences."
Targeting the middle class Indian in urban towns and cities as its core audience, FoodFood will produce and package all its content in India. "Our entire content and programming is in Hindi and is created by Indians, for Indians," adds Lakshminarayan. The channel will feature shows like Firangi Tadka, Sirf 30 Minute, Sanjeev Kapoor's Kitchen, Chef ka Muquabla and Ready Steady Cook, to name a few.
The channel will be available in both analog and digital formats pan India.
FoodFood is a joint venture between Malaysia's cross-media group, Astro All Asia Networks (Astro) and Turmeric Vision Pvt Ltd (TVPL), a television company owned by Chef Sanjeev Kapoor and his wife Alyona Kapoor.
---
---