Kiran calls the shots
People will be disappointed if they go to watch Aamir in Dhobi Ghat because his is not an author-backed role, says Kiran Rao in a chat with Jyothi Venkatesh

How did you cast newcomers like Kriti Malhotra and Monica Dogra in Dhobi Ghat?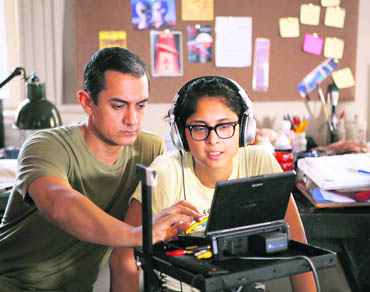 Aamir Khan and Kiran Rao during the making of Dhobi Ghat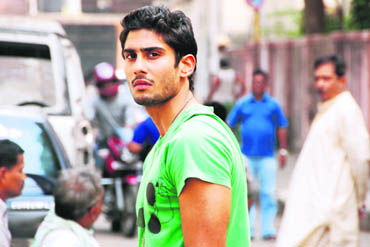 Prateik Babbar, who plays the role of Munna dhobi, is a huge fan of Salman Khan in the film

Monica is a versatile singer, who is part of the band Shaayar and Funk. I decided to cast Monica after I saw her with her partner on the cover of the magazine Time Out Mumbai. Her background seemed to be closer to the character that I had in mind, since Monica performs for a living.
Did you sign her on even without auditioning her?
No. I first saw her when she had come for the audition for her part. I should say that Monica is amazing as an NRI banker, who comes to India all the way from New York. She plays the role of a photographer in the film. As a director, I felt that the fit was quite perfect for me.
Isn't Kriti a costume designer?
Yes. Kriti is a costume assistant, who has had the experience of working with quite a few actors in various films. I first saw her on the Facebook and cast her in the role of Yasmin after I auditioned her. It is interesting to note that the audition was special because she did not even know what audition was and had come to give the shot. What I liked best about Kriti is that she has naturalness in front of the camera.
You shot the film with 60 per cent of the dialogues in Hindi and 40 per cent in English. Why did you decide to take a call to bring out two different versions — one in Hindi and one in English?
It was actually Aamir's idea. When a woman, who Aamir had met at some function, told him that she would not be able to watch the film since she did not know English, Aamir felt that we should not deny people the opportunity of watching the film just because they do not know English. I saw the earlier single version and felt that it was a bit of disconnect. It is not a literal translation. I wrote the script in English first and, then, with Aamir's help, wrote it in Hindi myself; after we decided that we should not let its language limit the appeal of the film.
Is it true that you did not consider Aamir for the role of the painter that he has done in the film?
Yes. It is true that I wanted a theatre actor to play the role of Arun, the painter, because I did not think that a star with his image would be able to do justice to it, but I could not get the right actor for the role. I also felt that I would not be able to manage to shoot the film in a public place like Dhobi Ghat and hence wanted to cast fresh faces. It was when I shared my problem with Aamir, he suggested that I audition him for the part. When I auditioned him, I could not say no to him because he fitted the role to the T.
Would you call Dhobi Ghat a mainstream film?
Just because Aamir Khan is acting in my film, I would not like to call it a mainstream film and mislead the audiences who pay for the tickets. It is an art house film. It belongs to this genre, the way the story has been written. The film is non-linear in structure. It is the story of four people and how they meet and what happens when they meet. Dhobi Ghat is my homage to Mumbai and its people — people on the trains, in the boats, stuck in traffic, perched on the construction sites, sitting by the sea, thinking of tomorrow.
Which director has inspired you?
I have been inspired a lot by Ritwik Ghatak, Satyajit Ray, M. S. Sathyu, Kundan Shah, Dibakar Banerjee, Anurag Kashyap, Vishal Bhardwaj etc. I also feel that Aamir was amazing as a director in Taare Zameen Par and quite often urge him to direct again.
Do you look down upon the so-called formula films?
To tell you the truth, though I do not watch a lot of formula films, I really enjoyed watching Salman Khan in Dabangg. I am of the opinion that there is space for cohabiting both the world of cinema — the mainstream as well as the art house cinema. My film will appeal to people, who like sensitive cinema, with accent on a lot of human emotions and relationship. If you ask me whether I will continue to make films like Dhobi Ghat, all that I would say is that it is only the boxoffice that will determine whether I will make an attempt to make films similar to Dhobi Ghat. To keep the film viable, alive and feasible, I saw to it that the budget was kept low.
What was the toughest experience while making the film?
My toughest experience was taking Aamir Khan to Mohammad Ali Road for the first day's shoot through a crowd of almost a million people and keep him in one single piece.
How would you rate Aamir Khan as a romantic actor? Was it embarrassing for you to shoot him doing intimate scenes?
I guess his desirability quotient is fairly high for the simple reason that I have married him. Though Aamir was keen on me shooting the scenes more intimately, I wanted to capture people meeting and connecting on not only a physical level but also mental level and hence all the actors had their clothes on.
Why did Aamir take the backseat as far as promotion of Dhobi Ghat was concerned in the initial stages?
Both Aamir and I consciously decided that Dhobi Ghat should not be known as an Aamir Khan film, because this is not his trademark film. We felt that since he attracts a loyal universal audience, we should not mislead them. If people go to watch the movie to see Aamir Khan, the star, they will be disappointed, because he does not have an author-backed role at all in it. It is out and out Prateik's film. All said and done, I'd also go to the extent of stating that you would forget Aamir's stardom hopefully when you come to watch the film.
Did the project become big when Aamir stepped in?
The idea initially was to keep a low-key profile but it changed when Aamir came on board in the picture. I realised that to shoot with some degree of quality, I needed more budget as well as time and a mere two crore was not enough, especially since it was a first time project for all of us, except Aamir, that is. I should confess that logistically it was a great disadvantage but the project became big with Aamir stepping into it.
Is it true that you wanted Salman Khan to do a special appearance in your film?
When I made my initial draft, I asked Salman whether he would do a brief appearance in my film but he is not there in the film now because I could not justify him in the film though I show Prateik, who plays the role of Munna dhobi, to be a huge fan of Salman Khan in the film. In fact, Prateik has pictures of Katrina as well as the eyes of Aishwarya, too, in his kholi.
Is there an actor you would love to direct?
Yes. I would love to direct Deepak Dobrial.
What did you learn after making Dhobi Ghat?
I have learnt the big lesson that the next time I set out to make a film, I have to see to it that I make it in less time.