Scripting Success
Actor Sudhanshu Pandey and Sudeepa Singh talk about their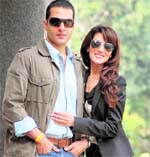 first Punjabi film Ek Noor
More than facts like mainstream actors showing interest in Punjabi cinema or the genre going global, what made Sudhanshu Pandey and Sudeepa Singh sign their first Punjabi flick was the strong script. "The film, Ek Noor, is about the bond between a husband and wife, and parents with their daughter. Since our society celebrates all relationships, the script made all the more sense," comes from Sudhanshu and Sudeepa, who were in the city for the promotion of the movie.

Sudhanshu Pandey and Sudeepa Singh
Set to MOVE
Aamir Raza Husain comes to the city with Move Over, an adapted version of Midsummer Night's Dream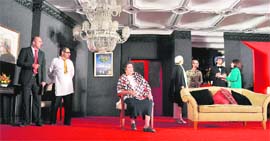 Whenever anybody asks about his best work so far, he always says, "It's the next one." And that's what Aamir Raza Husain, theatre veteran, makes of his close to three decades of experience in the medium. It's been over 25 years since he came to the city, and this time it is with Move Over. The play, to be staged in collaboration with Aircel, is a modern day comedy based loosely on Shakespeare's Midsummer Night's Dream. Replace the forest with a flat in London and what follows is anybody's guess!

style check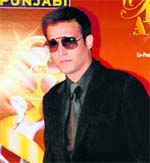 Actor Jimmy Shergill poses for lensmen at an award function in the city. Photo: Nitin Mittal

Best of all
Out of the host of things showcased at the Interior and Fashion Week exhibition at Hotel Shivalik View in Sector 17, we feature the best.

Vipul Mittra, a bureaucrat, talks about his work of fiction Pyramid of Virgin Dreams and his contribution to the Gujarat Tourism campaign


A babu with virgin dreams
On the page number 144-45 of the book, there are details of how beautiful life is in Chandigarh. It's only this part of the story that's not fiction. "Rest everything, from characters, storyline, even names of cities are a complete work of fiction. I wanted to keep the Chandigarh part real as I my schooling is from the city," says Vipul Mittra, IAS, and author of the book. In the city to release his book on Saturday, he talks about his book and more.

My dad, my critic
Actor Shazahn Pademsee says it's difficult to impress her perfectionist father, theatre veteran Alyque Padamsee
Shazahn Padamsee managed to win praise from director Madhur Bhandarkar and her Dil tou Baccha Hai Ji co-star Ajay Devgn, but says it is difficult to impress her "perfectionist" father, theatre veteran Alyque Padamsee. "My dad is my biggest critic. It is very tough to impress him... he is such a perfectionist!" Shazahn said over phone from Mumbai.

Lara cheers for Lee & Hesh
She may not be a tennis freak, but Bollywood beauty Lara Dutta is sincerely hoping that her fiancé Mahesh Bhupathi wins the men's doubles Australian Open with his partner Leander Paes. "So proud of Lee & Hesh!!! Praying for a win! The only Grandslam title they haven't won together... YET!!! C'monnnnn Boys!!! (sic)," Lara posted on her Twitter page following Paes-Bhupathi's entry into the Australian Open final on Thursday.

Dynamic duo
Gurdas and Manjeet Maan, despite the clean sweep at PTC awards with Sukhmani, are affable, humble and grounded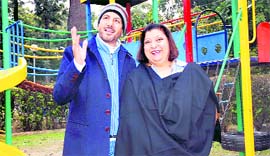 Each moment has the ability to change your life forever," says Gurdas Maan. A legend, Maan is humility personified. "I learn a lot from kids when they are playing," says the singer, actor and writer with childlike simplicity. "I am a child in many ways still. Always busy working, each day seems like an exam to me," he shares.


Gurdas and Manjeet Maan
Anne spoofs wardrobe malfunction
Hollywood beauty Anne Hathaway spoofed a wardrobe malfunction in the advertisement for this year's Oscars, which she is presenting with actor James Franco. The actress is seen on-stage presenting a gong when her dress slips off her shoulder. Franco runs to her rescue, throwing a red blanket around the star to prevent her blushes, reported a publication online.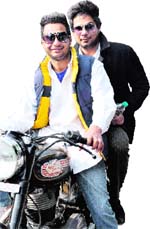 Bromance in THE air
City lads are 'bromancers' in the true spirit, but hate the word. Sounds Dostanish, they complain
Mandip Singh, accounts professional in Melbourne, Australia, is set to fly off this Saturday. In the meantime he's doing what he misses most in his otherwise very comfortable set up - spending time with his childhood friends. Together with Abhishek Sharma and Madan Bhatt, Mandip is reliving each moment on his trip back home. 'Bromance' may be a newer entry in the dictionary, but the spirit has always been there. Men swear by their friends. Spirits, sports and unconditional support represent this bonding.



Kulwinder Guron and Gurvinder Singh
Where's your PARTY?
Forms may vary, settings may change, crowds may be different…but parties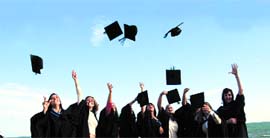 attract one and all
Go attend, gatecrash, get invited at one or have one thrown in your honour. You are never popular enough unless you party, which is why these bashes remain a must attend preferably before you step out of your teens or before you hit the twenties. Didn't Cameron Diaz admit, "I did all my heavy partying before I turned sixteen?
I believe in happy endings: Katrina
Bollywood actress Katrina Kaif says that she likes romantic books and believes in happy endings. "Though I am not an avid reader I like romantic books. Love is a good thing. At times in love, there are disappointments, one must not keep expectations.
Tarot TALK
ARIES: Your financial situation will improve dramatically by Wednesday. Be wary of crafty colleagues they can land you in trouble. Your health may be a cause for concern. Tip of the week: Versatility and a quicksilver mind will bail you out of a situation. Lucky colour: Deep red.