Tips for exam preparation
Aliki Nassoufis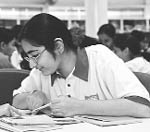 Everyone can study, but when a student associates studying with negative things, it goes badly.
STUBBORNLY cramming to memorise dates and figures when an exam is imminent helps little toward getting a good grade. An easier strategy involves students knowing which learning techniques can help them remember. The material can then be better internalised.
Every few weeks it's the same drama: A test is coming up and shortly beforehand many students have to cram late into the night to prepare.
They have to study vocabulary, learn dates in history by heart and understand their maths problems, all in a relatively short time. But cramming for a test shortly before taking it usually brings little benefit because the knowledge gained soon disappears from memory. Students who study regularly spare themselves getting stressed out before a test and forgetting everything they learned afterward.
"Everyone can study," said Professor Martin Korte of the Technical University in Braunschweig, Germany. "When a student, however, associates studying with negative things, it goes badly."
Students who get aggravated that they have to study at all for what they consider a stupid exam will not be able to study well, said Korte, who is an expert in study habits.
"It's better to be clear why you would like to learn certain material — come up with your own motivation," he said. When a student sees the sense of learning something, studying it is easier.
"It is like a hobby that you have. You often learn a lot more new stuff in short spurts because it's fun," said Albrecht Kresse, a studying coach in Berlin.
Before actually studying, students should set out a firm goal. For example, "I would like to learn English vocabulary in order to be able to communicate better with my foreign friends." Or, "When I can do the rule of three in mathematics, maybe I will better understand my telephone bill or a discussion over tax increases."
Secondly, it's important to recognise how one learns. Students should ask themselves what kind of studying type they are, Kresse advises.
In addition there are numerous tricks that can be used to remember things.
"The most effective and time-saving studying is continual learning," said Korte. Students who study for 30 to 45 minutes on one subject only have to review and internalise what they already know right before a test. Rewriting notes taken during a lecture helps summarise the most important points and create a written overview. This serves to lock into memory conclusions made during class.
Another variation is the so-called mind map. This method involves writing down the central conclusions of a subject in a pattern, said Korte. The student writes a topic in the middle of a piece of paper, then all around it in a star shape, for example, writes short descriptions of the content and conclusions made in class.
Writing crib notes is also a good way to prepare for a test, said Kresse. "Crib notes show that a student can summarise the material and remember central conclusions. A student who writes crib notes often has no problem with the things he writes down, rather he can remember these things best."
Many students anguish over oral examinations because they don't occur so often. This doesn't have to be, said Kresse.
"It's important to simulate the setting of the oral exam," said Kresse. A good way to do that is to form a study group in which the members grade each other.
Another preparation technique is to visualise a test.
"Go into the room where the test will be given ahead of time," said Kresse. "Then you can imagine yourself there and the test going well. It is a strategy that can leave a student feeling positive." —DPA