M A I N N E W S
DMK backs Raja, says arrest doesn't make him guilty
Says Opposition is blowing the issue out of proportion
N Ravikumar/TNS
Chennai, February 3
The ruling DMK in Tamil Nadu today solidly supported its beleaguered propaganda secretary and former Union minister A Raja asserting that "his mere arrest will not make him guilty".
5-day CBI custody for Raja & Co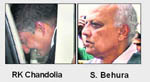 New Delhi: A Delhi court on Thursday sent ex-Telecom Minister A Raja, his former personal secretary RK Chandolia and former Telecom Secretary Siddartha Behura to to five-day CBI custody till February 8. The trio would be questioned on their alleged role in the 2G Spectrum scam. Initiating arguments, the special public prosecutor said Raja's custody was 'essential' as he had been evasive in his replies during interrogation at the CBI headquarters before his arrest.
The party's general council, the highest decision-making body, which met here, passed a resolution stating that action would be taken against the arrested DMK leader only if the charges against him were proved. The party also dismissed reports of strains in the DMK-Congress relationship, saying the alliance between the two parties had already been decided.
Accusing the Opposition of "blowing the issue out of proportions", the resolution described the charges against the former minister as "attempts to malign the party".
The resolution ends speculations on removal of Raja from the post of propaganda secretary. Flaying the Opposition for threatening to block Parliament on the issue, the DMK termed such actions as "anti-democratic", and said the Public Accounts Committee headed by an Opposition leader was already going into the CAG report.
There was no justification for the Opposition to continue the protest as the CBI had intensified its investigation into the 2G scam and arrested Raja, the resolution said.
It also recalled the earlier statement of Karunanidhi that he would not hesitate to take action against Raja if he was really proved guilty, adding the party was "an open book".
The party condemned the Sri Lankan navy for brutally killing a fisherman belonging to Tamil Nadu. Another resolution said the Centre should press the Lankan government to rehabilitate Tamils displaced by the war in their own villages. The party also sought amendment to the Constitution for providing autonomy to states besides declaring Tamil as one of the official languages.
Meanwhile, the Congress today gave enough indications that there was no trouble to its alliance with the DMK despite the party strongly backing former telecom minister A Raja and described the move as the ally's "internal matter". Congress spokesperson Abhishek Singhvi said, "It is not appropriate for any political party to comment on decisions of another party. Whatever decision, the DMK has taken or not taken is their internal matter. It is not for the Congress to comment on it."