Melody reloaded
M.L. Dhawan
Raju Bharatan's book traces the rise and fall of Indian film music

RAJU Bharatan's A Journey Down Melody Lane (Hay House India) cinematically highlights the contribution not only of music makers, singers and the lyric-writers but also of some exceptionally talented movie-makers, such as Raj Kapoor, Guru Dutt, Dev Anand, Vijay Anand and thespian Yash Chopra. The author makes no bones about the fact that on account of the publication of his numerous articles in Filmfare and Screen magazines over the years, he has been conferred the title of a 'Film Music Historian', though he is, in fact, a listener first and a chronicler later.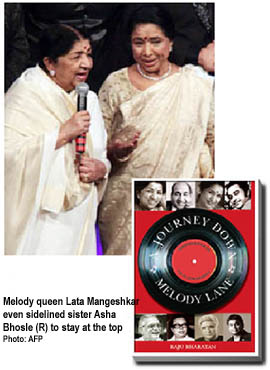 Right from the era of vintage composers such as Khemchand Prakash, Naushad and Madan Mohan, to present-day musicians such as A.R. Rahman, the author also puts in perspective the significant contribution made by singers, lyricists and composers. Regarding the contribution of Lata Mangeshkar towards the development of music in the chapter titled ' The Queen Who Became Empress', the author says that with the success of Barsa'st music, the universal appeal of her voice and tenor made her perfect for Nargis, Madhubala, Nutan.
The writer is, however, dismayed that even a legend like Lata was surpassingly clever in handling fickle fame and did not even spare her younger sister Asha Bhosle. Few know that C. Ramchandra had tuned Ae mere wattan ke logon as a duet for Asha Bhosle to begin it as Ae mere wattan ke logon, and for Lata to take it up as Zara aankh mein bhar lo paani. Since Lata and C. Ramchandra were not on talking terms those days, Lata, rang up Kavi Pradeep to express her desire to sing Ae mere wattan ke logon, provided she could do it as a solo. Pradeep compelled Ramchandra to oblige Lata and he danced to her tunes. A question repeatedly asked to this day by music lovers is: "Did Lata play fair in hijacking (from Asha) a song destined to create for the diva, a rare niche in the nation's psyche? Not only to Asha, she was unfair even to the composer C. Ramchandra. Wherever and whenever she sings Ae mere wattan ke logon, she mentions the name of Kavi Pradeep as its author but C. Ramchandra as its creator. The reason is 'When Maharashtrians quarrel, they quarrel for life.'
Regarding the ups and downs suffered by Mohammad Rafi, the author points out in the chapter, 'The Singer for All Seasons', that Rafi was a complete singer in the real sense of the term. His vast oeuvre included classical music, romantic songs, sad songs, happy and pappy songs, patriotic songs, shabads, bhajans, rock-n-roll, disco numbers, qawwalis, nattiya kalaam and much more. But with Kishore Kumar's arrival with Aradhana's numbers, Rafi started losing ground. He was disheartened by the way he had been sidelined from his prominent position.
In "The Pick of the Pack', the writer points out that Lata has a split personality. Rub her the wrong way and she won't take it. Rafi certainly got on Lata's wrong side with what he said when it came to the royalty issue.
In 'Asha Shaper as Lata Baiter', the author dwells upon the OP-Lata confrontation that began with Lata's objecting to OP overnight displacing as music director her then pet Roshan in Mehbooba in 1954. Also objecting to OP's replacing sitar prodigy Mohammed Shafi in Mangu, Lata announced to the industry that she would not ever sing for O. P. Nayyar. "But when did I ask you to sing for me, Lataji?" retorted Nayyar, surprising the industry people with his defiance of the most powerful lady in the film industry.
With the dominance of violence and vulgarity in films, the quality of music started going downhill. In the chapter, "The Great Fall", the author blames Amitabh Bachchan for the downfall and decline of melody and masti in our film music.
A.R. Rahman changed the rules of the singing overnight. Before Rahman, only O. P. Nayyar had displayed the gumption to assert that Lata Mangeshkar was eminently dispensable, that Asha had the potential to be her match. But where even Nayyar got stuck on Asha in the end, Rahman permitted no singer, coming under his baton, to feel greater than the mike that he put in front of him or her. In the cut-throat world of the Oscars and the Grammys one can not win unless one is powered by talent.
In the last chapter, 'Looking back – Looking Ahead', the author bemoans that through the last 40 years — composers from R.D. Burman to A. R. Rahman — had been carrying out revolutionary experiments in sound. While the notes 'struck' by Pancham sounded novel at that time, such an insouciant approach to manufacturing hits has led, cataclysmically, to the degeneration of film music into a base art. This is the reason today songs vanish as swiftly as do their singers and composers. Television has composers, singers and song writers, indulging in nothing less than dogfights. They do not realise how diminished they emerge.