Back of the book
Dead Like You
By Peter James
Panmacmillan.
Pages 643. Rs 299.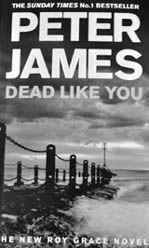 The Metropole Hotel, Brighton. After a heady New Year's Eve ball, a woman is brutally raped as she returns to her room. A week later, another woman is attacked. Both victims' shoes are taken by the offender.
Detective Superintendent Roy Grace soon realizes that these new cases bear remarkable similarities to an unsolved series of crimes in the city back in 1997. The perpetrator had been dubbed 'Shoe Man' and was believed to have raped four women before murdering his fifth victim and vanishing. Could this be a copycat, or has the Shoe Man resurfaced?
When more women are assaulted, grace becomes increasingly certain that he is dealing with the same man. And that by delving back into his past — a time in which Grace and his now missing wife Sandy appear happy together — he may find the key to unlocking the current mystery. Soon Grace and his team will find themselves in a desperate race against the clock to identify and save the life of the new fifth victim ...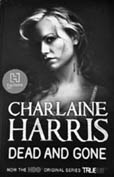 Dead and Gone
By Charlaine Harris.
The vamps have been out for years, and now the weres and shifters have decided to follow the lead of the undead and reveal their existence to the ordinary world. Sookie Stackhouse already knows about them, of course —her brother turns into a panther at the full moon, she's friend to the local were pack, and sam, her boss at merlotte's bar, is a shapeshifter. The great revelation goes well at first — then the horribly mutilated body of a were-panther is found in the parking of Merlotte's, and Sookie agrees to use her telepathic talent to track down the murderer. But there is a far greater danger than this killer threatening Bon Temps: a race of unhuman beings, older, more powerful and far more secretive than the vampires or the werewolves is preparing for war. And Sookie is an all-too human pawn in their ages-old battle ...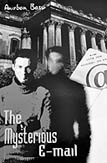 The Mysterious E-mail
By Anirban Basu.
Rupa & Co. Pages 146. Rs 195.
A business magnate — Banibrata Mazumdar greatly perturbed on the receipt of an e-mail, seeks the advice of Aki Ray — a detective by passion , and independent software consultant by profession. Aki advises him to lie low. The very next day, Mazumdar is kidnapped. Aki rushes to the spot, trying to solve the crime thread by thread, wrenching the truth from the particular incidents. Will Aki be able to solve the mystery behind this email? Will he be able to place the jigsaw puzzle of the kidnapping piece by piece?