Steaks so special
You can pack hamburger steaks in a lunch or tiffin box or enjoy these
with salad as a well balanced one-dish meal

WE have never quite understood how certain popular items in restaurant menus disappear — suddenly or slowly — become extinct, unlamented and unnoticed. Hamburger steaks belong to this category and whenever we spot this threatened species, overcome by nostalgia, we drool with moist eyes.
What is intriguing that while hamburgers, once rare and restricted to fashionable fast food joints, have become ubiquitous and the quality of the patty has improved tremendously across the land the namesake steak has all but disappeared. The only reason we can think of is that the poor dog perished due to its bad name. Steak is associated in popular imagination with 'prohibited' meats and when specified rare appears even more revolting as a raw chunk of meat best avoided.
There was a time when the Kwality in the Capital featured it prominently in its Continental menu and the IIC served it proudly as an option with fried or grilled fish and chips. Sans buns, heavy in carbohydrates that embraced the patty in a mayonnaise mist, the large patty with just coleslaw and dill pickle used to be our most preferred working lunch. Barbeque sauce enhanced it rendering it irresistible.
We were thrilled to come across readymade 'heat and eat' burger patties in a food mart recently and grabbed a packet. These failed to revive the old magic. The patties came crumbed and 'fillers' killed the taste. Heartbroken we decided to DIY from scratch at home and are happy to reassure you that it's a recipe worth reclaiming. You can pack it in a lunch or tiffin box or enjoy it with salad as a well balanced one dish meal. Just avoid that slice of processed cheese! Those who eschew meat may try this out with paneer. Cottage cheese requires stronger spicing and crumbling helps it imbibe flavours. To retain the steak shape you may use breadcrumbs or suji.
Hamburger Steak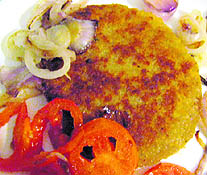 Ingredients
Mince (mutton or chicken, coarse) 250 gm
Egg one
Red chilli powder ˝ tsp
Medium-sized onions two
Medium-sized tomato one
Garlic clove (optional, crushed) one
Barbeque sauce 1 tbsp
Salt to taste
Oil to pan grill
Method
Break the egg. Whisk it lightly and mix with the mince, along with the salt and red chilli powder. Knead a little, divide into two equal portions and shape into patties. Keep aside for 15 minutes. Peel the onions and slice in rounds. Wash the tomatoes and halve. Line a thick-bottomed non-stick pan with oil, and heat it. Place the hamburger patties and pan grill on medium flame for 10 minutes — 4 to 5 minutes on each side — pressing gently but firmly with a wooden spatula. Add a little oil, if required. Remove and put in clove of garlic and the onions and when these turn lightly brown, add the BBQ sauce. Cook for about a minute and place on the plate with the patties. Lightly scorch the tomatoes and serve with the steaks.