Home away from home
Bala Mandir in Chennai provides family values to orphans. Without distinction of caste
or creed, thousands of destitute children have passed through the institution
to become responsible citizens, writes Nelson Ravi Kumar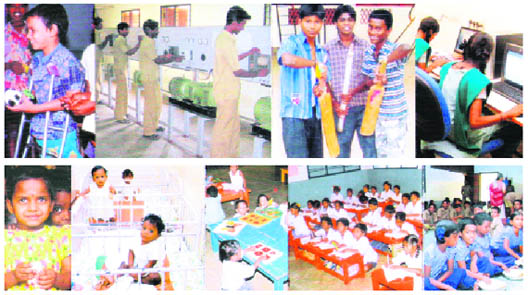 Qualities like cooperation, sharing and friendship are taught
through games, songs and dramas

MAYA Gaitonde, secretary of Bala Mandir, situated at the heart of Chennai, runs one of the most admirable childcare centres for orphaned children. She believes in providing a family atmosphere to the little ones, for whom she manifests motherly love and affection. She wants children to grow in a family atmosphere, and speaks of "de-institutionalising" such centres. "I am using this term in a positive meaning. It does not mean closing down all orphanages and childcare centres. For me it means converting the institutions into homes," says Maya.
"My endeavour is to make Bala Mandir a real home with family values and attachments for children. I won't say I have succeeded. It is my endeavour to create a home-like atmosphere," she says modestly, even while children laugh and play merrily as if they are at their own homes. Even when choosing new dresses for festive occasions, choices are given to the children, Maya reveals.
Elder children are allowed to go out freely, and the only condition is that they should intimate about their whereabouts before they leave. Here the responsibility goes hand-in-hand with freedom for the child. "Even if children make mistakes, we pardon them when they speak the truth. Children often tell lies when they feel that they will be punished for making a mistake. Here we encourage them to tell the truth," says Maya.
For girls, Bala Mandir is more than a home as it takes the responsibility of marrying them. Since 1999, the institution has conducted the marriages of 25 of their inmates, and they return to Bala Mandir during pregnancy, very much like girls having a family do. Even after marriage, counselling and legal aid is provided to the girls, Maya says, and adds that all the girls are happy with their married lives. Gender equality is inculcated through sharing of work, and there is no division of labour according to gender.
The usual allotment of work — cooking and sweeping — for girls and the rest of the manual labour for boys does not exist. Boys also cook and clean utensils, as a practical lesson for gender equality. The informal value education the children receive is as important as formal schooling, and moral values are inculcated through dramas and scriptures. Each child is treated as an individual endowed with unique traits and the right to make choices.
Values like cooperation, sharing and friendship are taught through games, songs and dramas. Moral education does not mean religious education, Maya clarifies. Admirable values from all religious scriptures and epics are taught here.
Since then, the organisation has developed in scale and service, branching out into childcare, education, healthcare and rehabilitation and vocational training centre. Besides the foundling home, about 250 children between six and 18 live happily at the children's home. There is a day care centre for the benefit of working mothers, who leave their children of
pre-school years. In Bala Mandir Vidyalaya, creative teaching methods are followed for the children of KG to class V. About 500 students from the neighbourhood and Bala Mandir attend Satyamurthi Higher Secondary School here.
Vocational training is provided through carpentry, laundry and screen-printing courses. Training courses are offered to electricians, plumbers and fitters at the industrial training centre here. Computer training is also given. Over the years, hundreds of infants and children have been absorbed into families through legal adoption procedures. Career counselling, guidance and scholarships are provided for students who pursue higher education.
Medical services are provided by Bala Mandir Vinayaka clinics. Without distinction of caste, creed or gender, thousands of orphans and destitute children have passed through Bala Mandir to become responsible and happy adults. According to Maya, Bala Mandir strives to translate the ideals of Mahatma Gandhi into tangible reality. It serves as both parent and teacher, helping the children to develop a sense of belonging.