The warrior queen
Kanwarjit Singh Kang on Rani Durgavati, an epitome of courage and patron of art
"The bravest are surely those who have the clearest vision of what is before them, glory or danger alike, and yet notwithstanding, go out to meet it." ó Thucydides (471 - 400 B.C.)
THESE are the words that can describe Rani Durgavati, who was born on October 5, 1524, in the family of Chandel Rajput emperor Keerat Rai at the fort of Kalanjar, near Banda, in Uttar Pradesh. Chandel Rajputs, who remained dominant in the Bundelkhand region, were famous as makers of the beautiful city of Khajuraho; and also for their valiant king Vidyadhar, who had repulsed the attacks of Mehmood Ghaznavi. Rani Durgavatiís further enhanced the glory of her ancestral tradition of courage and patronage of arts.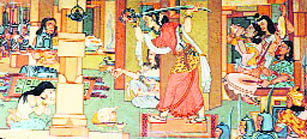 A mural depicting Rani Durgavati gearing up for the Battle of Narrai

Married to Dalpatshah, the eldest son of king Sangramshah, she was blessed with a son, Vir Narayan. After her husbandís untimely death in 1548, Durgavati became the regent, as her son was a minor. For 16 years, she administered the kingdom most ably and benevolently. She was not only endowed with beauty and charm but was also a fine horsewoman and excellent shooter. Bestowed with the qualities of a commendable warrior, she led an army of 20,000 cavalry and 1000 elephants. Petty rulers bordering her kingdom paid their tributes to her regularly.
Sher Shah Suri had appointed Sujat Khan as Governor of Mandu. When Sujat Khan died in 1556, his son Bazbahadur succeeded him. After the death of Sher Shah Suri, Bazbahadur declared himself independent and attacked Rani Durgavatiís kingdom. She repulsed the attack, which led to heavy losses to Bazbahadurís army, effectively silencing him.
Durgavati respected saints, intellectuals and scholars and extended her patronage to them. She welcomed the Vitthalnath of Vallabh community and took Diksha (a ceremonial observance undertaken with the purpose of raising one from the profane to the sacred level) from him. She engaged Padmanabha Misra to write a digest in seven volumes, named after her as Durgavati-prakasa.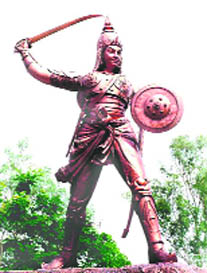 A statue of Rani Durgavati

However, only the first part could be completed and the project had to be given up due to her death. Besides various welfare activities, she built a number of lakes in her state to facilitate the irrigation of crops. In 1562, Akbar vanquished Bazbahadur. He, then, sent his forces under the command of Asaf Khan to subdue Rani Durgavati.
Pointing out the strength of Mughal forces, her advisers told her that resistance was a losing strategy. The queen, however, maintained that it was better to die respectfully than to live a disgraceful life and decided to defend her kingdom with all her might. Her sources permitted her to fight only a defensive battle and she went to Narrai situated between a hilly range on one side and two rivers Gaur and Narmada on the other. Thus, her forces were in no danger of being outflanked.
When, in the thick of the battle, Raniís commander Arjun Daswas was killed, the gallant queen mounted her favourite elephant Sarman and, with a burnished lance in her hand, inspired her troops to fight to the finish. Her forces were about to repulse the enemy when two arrows struck her, one lodged in her neck, the other pierced her temple. She pulled out the arrows but lost consciousness. This demoralised her army. When she regained consciousness, she perceived that defeat was imminent and ordered her mahout to stab her. When he refused to do so, she killed herself with her dagger. It was the 24th day of June in 1564. The place where she fell in a narrow defile in the hills between Mandla and Jabalpur is still held in reverence. Passersby often place white crystals, in which the hills in this quarter abound, as votive offerings.
In her memory, the Government of Madhya Pradesh renamed the University of Jabalpur as Rani Durgavati Vishvavidyalaya. On June 24, 1988, the Indian Government paid a tribute to her by issuing her postage stamp.
The Rani Durgavati Museum at Jabalpur, dedicated to the great queen as her memorial, has a diverse collection of sculptures, inscriptions and prehistoric relics. On its second floor are preserved letters and photographs related to Mahatma Gandhi. The walls of the museum are embellished with murals illustrating themes related to Indiaís war of Independence fought from the 16th century. These murals were painted by acclaimed painter Beohar Rammanohar Sinha and his colleagues from Santiniketan.
Bards and ballad singers of Madhya Pradesh still conjure up images of bygone chivalry and heroism. They sing particularly of the daring Rani Durgavati, repeatedly stressing on her last words: "I am overcome in battle`85God forbid that I also be overcome in name and honour."